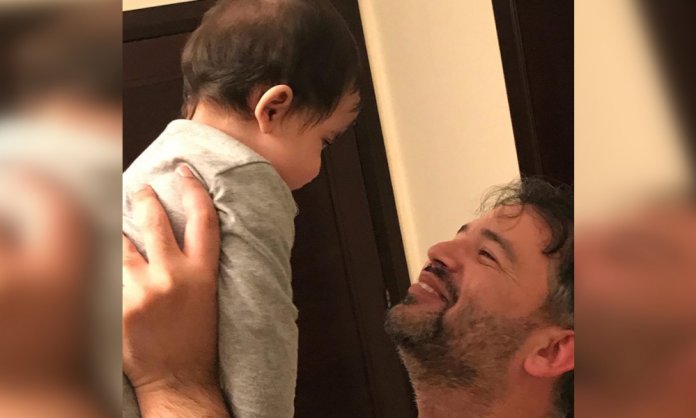 Aisha Khan in one of those very few celebrities from the past that we are still in love with. Her most popular drama Mehndi which aired on PTV, was an absolute hit! Let's not forget how adorable she looked in that drama.
Moreover, after Mehndi, Khan has worked on several other projects which the masses loved but decided to quit the showbiz industry in 2018. The announcement did turn out to be upsetting as she would not be seen on the screens anymore.
Khan announced this heartbreaking news before getting married to her fiance Major Uqbah Malik in April 2018. Yes, that was one news we had all been waiting for anxiously. A year later, the couple surprised their fans and followers with another great story, which was the birth of their daughter, Mahnoor.
Just recently, Aisha Khan shared some pictures of her beautiful family after quite some time, which she hardly does. However, she decided to hide her daughter's face using an emoji. Little did she know she would get criticized even for this!
Here are the pictures Aisha had shared a few days ago
Unfortunately, some people would always be unhappy in life and envious of others. These 'random' trolls would most likely be found on social media spreading hate among people, especially famous figures.
The troll who decided to throw their crude remarks on her pictures said,
What's the point of hiding the baby? People of the west have such adorable kids that our women put their pictures on wall during their pregnancies. And here we are hiding our desi product as if none other than us have ever given birth to a baby or we have an out of the world modus operandi of giving birth.
Now, that was clearly in bad taste.
Moments later, Aisha Khan was quick to give this woman a piece of her mind in the most polite manner. Here's what she said,
"With due respect firstly, if I like the picture I will post it… With the baby or without… But over here… You've completely missed the point… This post was a light-hearted take on how posing with a lit one is challenging. That's all."
Here's what the user said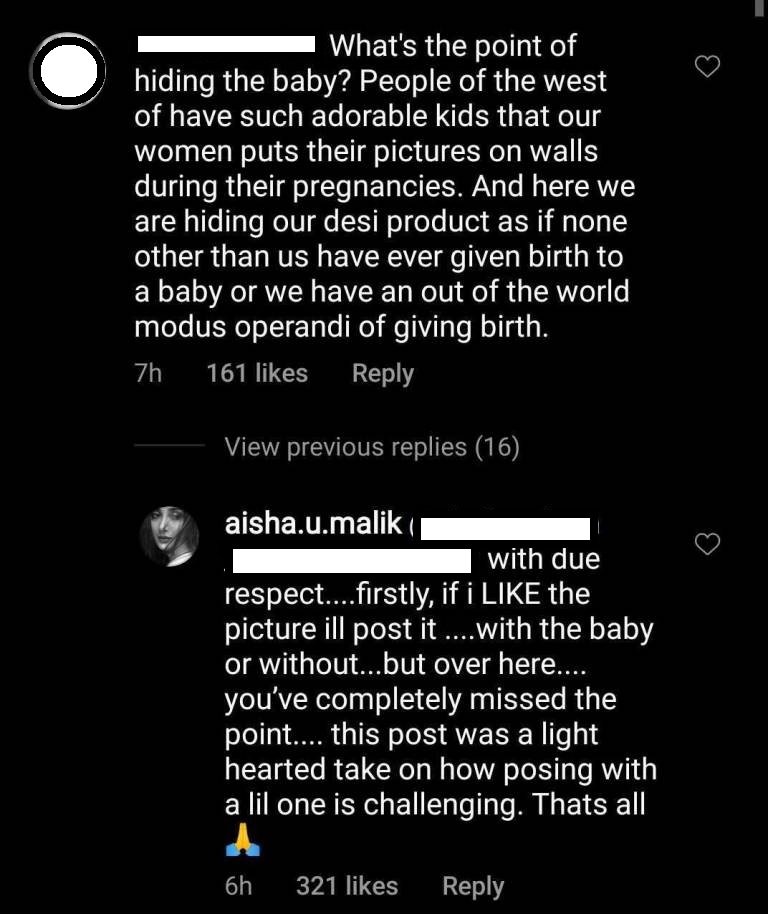 Social media trolls need to know that if they're commenting on someone's personal space, they, firstly, have no right to start preaching and teaching parents what to do. No one should impose their opinions on others.
Indeed, parents know what's best for them, and their child and no one should tell them otherwise.
What do you think of Aisha Khan's response? As a mother and standing up for her daughter, do you think Aisha Khan was right? Let us know in the comments below.
Stay tuned to Brandsynario for the latest news and updates.