There are many jobs that you can apply for when it comes to an airline. But the top jobs that come to your mind are the job of a pilot and that of the cabin crew because these are who you see the most when you board a plane. That said, who do you visualize when you think of these jobs? Most of you must have pictured a male pilot speaking as the plane takes off and the female staff that serves you with airline food. This age-old stereotype is still being reinforced by famous airlines like Airblue.
Airblue Ad For Pilots
In the ad seeking captains and first officers to fly the plane, Airblue mentions explicitly in this print ad that they seek male candidates for the jobs. It is understandable that decades ago, flying planes was considered a man's career, so that they would release such ads. But we have come way ahead when it comes to gender discrimination and bias. So if they are continuing with these policies in 2021, this shows how backward we really are.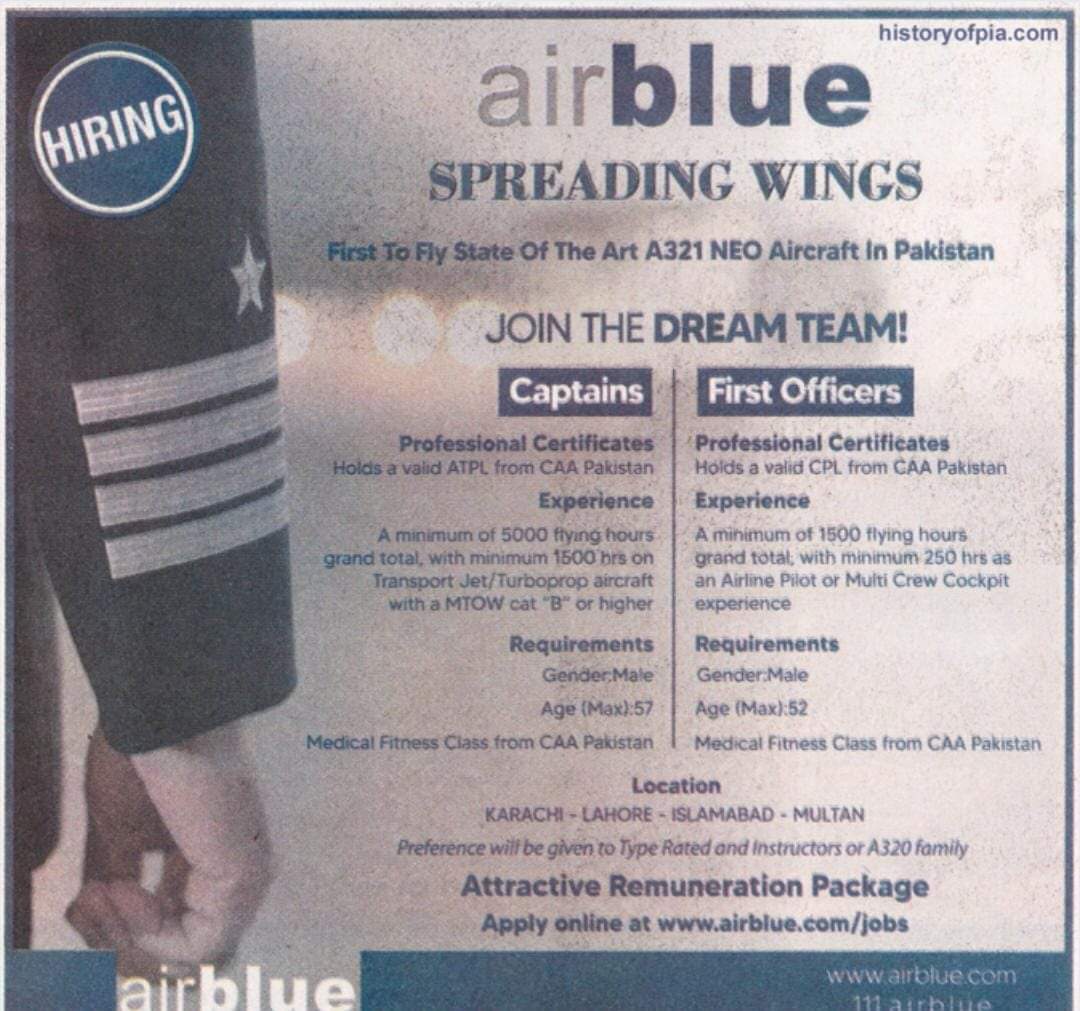 Netizens angry
Twitterati obviously was horrified. They highlighted how Pakistan has in its constitution that there should not be gender discrimination for any job, so in that regard, Airblue was defying the Pakistani constitution. They went as far as saying that females should boycott the airline on the bias against gender.
All female should bycott air blue.#BycottAirBlue#AirBlue https://t.co/Rs0WwiMRSv

— Dr.Arfana Mallah (@Arfanamallah66) February 23, 2021
Ladies #BoycottAirBlue
Ask your Father, Mother, Brother, Sister, Husband, Wife, Son, Daughter and colleagues to not to fly and cut the wings of #airblue #Discrimination #GenderBiased @airblueairline https://t.co/P3pvU8R67T

— Wreckage Only 🌟 (@WreckageOnly) February 23, 2021
Some even said that this could be the difference between the private and public sectors where the former can do whatever they wish as they have no much check and balance.
I think the point of discrimination in appointments can be considered in Public Sector but in Private Sector it is the sweet will of the employer to chose his employees which he feels are beneficial.

— Rao Athar Akhlaq (@AtharAkhlaq) February 23, 2021
Female Cabin Crew
The fact that this airline is gender-biased has another evidence. In their recent hiring cabin crew, they specifically mention they are looking for females only. For people who have traveled with international airlines, they would have seen that men can also play this part.
#WeAreHiring
Position: Cabin Crew
Location: Peshawar Airport
Walk In Interviews Date: 17th of February 2021.
Interview Venue: Khushal Hall, Pearl Continent Hotel, Peshawar. #airbluecareers #airblue #Pakistan #Hiring pic.twitter.com/UU49NftqM1

— Airblue (@airblueairline) February 15, 2021
The point is not whether the job advertisement releases a lesser gender-biased ad. The fact is that the mindsets need to change because even if they invite candidates for interviews from all genders, they may still select only males for pilots and females for cabin crew.
Stay tuned to Brandsynario for the latest news and updates!