110 views
When you launch a product, it is very important that it gets an iconic introduction. And if the brand is Adidas then you can rest assured that the launch is going to be grand. Would you not call the world's first liquid billboard iconic, grand, or majestic for launching a product line?
Adidas and the billboard
The idea behind the billboard is to launch an inclusive swimwear collection. How can one show their brand (if it's sports-related) to be inclusive? Simple; use women. Stereotypically, when sports are concerned, males are automatically assumed to be the target audience. But to make it gender inclusive, you feature women in it.
That said, women are beginning to take part in sports. But considering the dresses for sportswomen are comparatively shorter and more revealing than that of men, it excludes many women. But with this billboard promotion, Adidas has kept it inclusive of even those women who do not want to show much of their skin.
Havas developed this campaign. The basis of it was in the survey that showed only 12% women in UAE were comfortable wearing swimwear in public. The reasons are mostly body shaming and lack of privacy.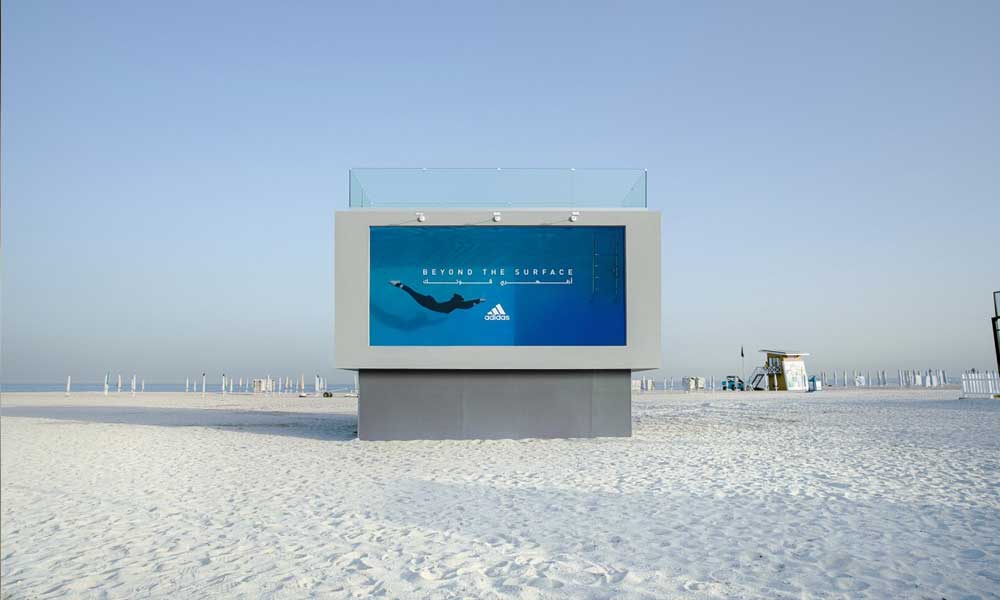 World's First Liquid Billboard
The billboard was installed on a Dubai beach. It was a 5-meter high and 3-meter deep swimming pool, made of reinforced transparent acrylic. Moreover, at one point it can hold 11,500 gallons of water (equivalent of 163 bathtubs). The billboard also had a camera fitted inside. Women, then, in proximity were invited for a swim.
Senior Brand Director at Adidas, Amrith Gopinath, said, "Our belief is that nobody should be prevented from enjoying the benefits of being in and around the water, hence the recent launch of our diversified product offering for all women and our burkini collection."
He further added,
"Each piece is also carefully crafted to ensure that additional fabric does not reduce a swimmer's ability to move in the water. The range went through a detailed testing process with consumer groups across multiple regions to help find the perfect balance of fit, features, performance and coverage."
The footage, attained from the billboard showing women in burkini, was streamed on the largest digital screens in the city. This act ensured that the promotional activity did not stay limited to only the people hanging around the billboard but to the masses, getting the most reach possible.
Stay tuned to Brandsynario for the latest news and updates!