The coronavirus can cause a neurological condition in human hosts. It has been associated with the development of neuropsychiatric symptoms. These include seizure activity, encephalomyelitis, acute flaccid paralysis, cerebral venous sinus thrombosis, Guillain-Barré syndrome as cerebrovascular disease.
Last year ten reports of acute transverse myelitis (ATM) attributed to SARS-CoV2, and others were submitted to study the correlation between both. However, the study now suggests that the chances of a person getting an ATM are relatively positive after getting infected with the virus. The research was done after a case was discovered in Panama.
About The Neurological Condition 
Transverse myelitis is an inflammation of the spinal cord and can be caused by infections, immune system disorders, and other disorders that may damage or destroy myelin. Myelin serves as a defensive sheath that allows electrical impulses to transmit quickly and efficiently along with the nerve cells.
It is to be noted that there is no cure for transverse myelitis. The treatment is aimed at addressing symptoms and managing complications.

The Researchers Statement 
"We found ATM to be an unexpectedly frequent neurological complication of COVID-19," write the researchers. "Most cases (68 percent) had a latency of 10 days to 6 weeks. That may indicate post-infectious neurological complications mediated by the host's response to the virus."
"This review confirms that ATM is not uncommon as a neurological complication associated with COVID-19 infection around the world. It is responsible perhaps for 1.2 percent of all neurological complications caused by this coronavirus." Researchers concluded.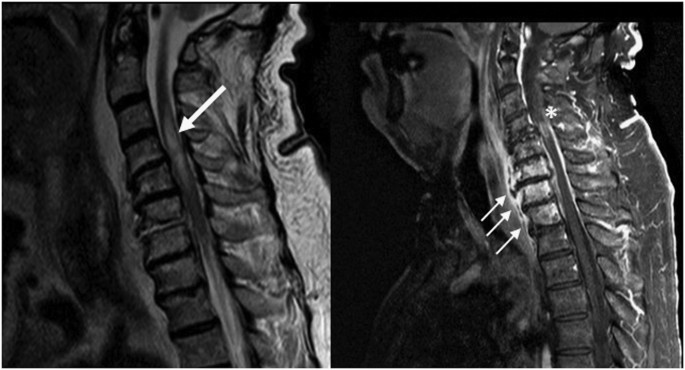 The team also noted that three ATM cases occurred in Astra-Zeneca vaccine trials."The pathogenesis of ATM remains unknown, but it is conceivable that SARS-CoV-2 antigens – perhaps also present in the AZD1222 COVID-19 vaccine or its chimpanzee adenovirus adjuvant – may induce immune mechanisms leading to the myelitis," they write.
Further studies will help find more answers and the antigens involved. However, it's important to note that we're still a long way from understanding everything that COVID-19 brings with it, even as vaccines roll out across the world.
Stay tuned to Brandsynario for the latest news and updates.