Kitkat, the world-famous chocolate, is celebrating its 85th anniversary. They intend their global campaign to reflect the longevity of the brand alongside the modernness incorporated in it. But here is the kicker. They are allowing their consumers to come up with a slogan that they can use and taking a break from their own slogan.
Kitkat is Turning 85!
The brand has announced that its campaign needs a slogan, and this time, the opportunity is on the shoulders of consumers. While they come up with witty captions, they can use the hashtag #ABreakForHaveABreak because the brand will be tracking this hashtag on Wunderman Thompson's AI slogan generator.
If the brand decides on a slogan, well, the winner will get to have an 85-hour vacation at a luxury hotel. Yes, 85-hours, to signify the anniversary. And the luxury hotel stay is already significant considering the pandemic infested world where people have been confined to their houses. So through this, Kitkat offers its consumers a break from the monotonous, tedious, and frustrating routine.
What's the Plan
So how exactly is Kitkat incorporating the 85 year legacy in the campaign? They are bringing in the J. Walter Thompson veteran Jeremy Bullmore. Jeremey joined J. Walter Thompson in 1954 as a trainee copywriter. He will be reviewing the campaign for them and choosing the best slogan, and consequently, the winner.
The 85th anniversary required the brand to be innovative with its ideas this Halloween. And it's all because of the pandemic. See, the epidemic requires social distancing and sanitizers to prevent the spread of the virus. And Halloween is all about trick or treat. Surveys have indicated that almost 43% of Americans will not be doing that. Yet, 62% of Americans are still going to be buying candies.
So while they look for an alternative slogan, the brand will be taking a break from their signature slogan, "Have a break, have a KitKat."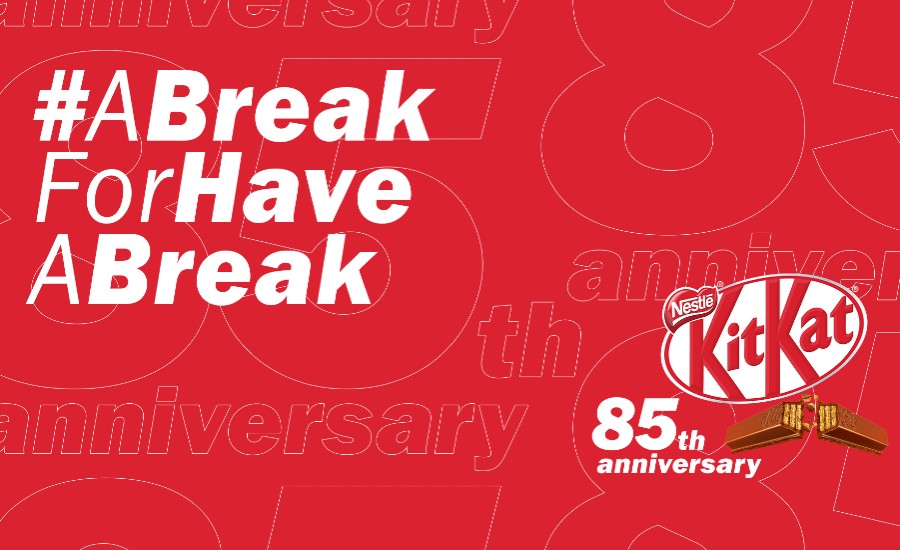 Bas Korsten, the global chief creative officer at Wunderman Thompson, said, "As a creative, I'm honored and privileged to work for such an iconic brand. KitKat's advertising history is one of the richest in the world, and the relationship we have with the brand is one of the longest in the world. And although, after all those decades, the famous slogan 'Have a break, have a KitKat' is getting a well-deserved temporary break, we won't have a break until we ensure that the next 85 years of KitKat history is as exciting as the first."
Stay tuned to Brandsynario for the latest news and updates!