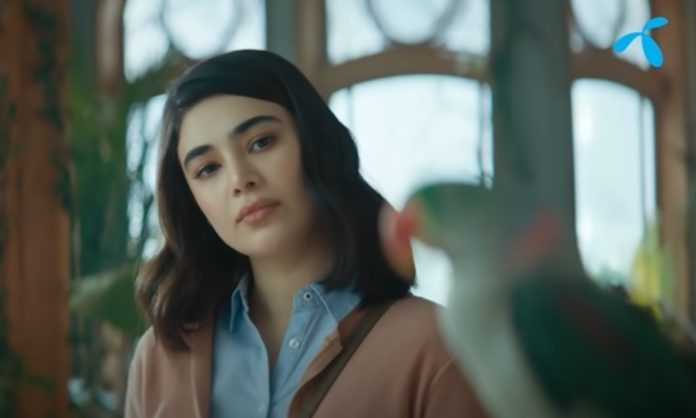 Telenor Pakistan, this January, launched their campaign 'More Se Zyada Faida', with a fun, quirky, animation-based communication, featuring actor/influencer Saheefa Jabbar and her chirpy and witty parrot 'Mithu' – the star of the TVC.
Built upon the element of 'a pleasant surprise and deliverance', along with the minglish wordplay, the brand has conveyed its offerings to create value beyond expectations for its customers.
The story focuses on an ordinary-looking parrot Jabbar chooses to buy because she is low on cash and cannot afford to buy the bigger, better-looking one she really wants. However, as the story unravels, her purchase results in a pleasant surprise as the 'ordinary' parrot she has just bought turns out to be an extraordinary 'talking parrot' – equally extraordinary is the expression on Jabbar's face once she hears it talking "Ab Chun Hi Liya Hai Tou Sharmana Kaisa… Houn Nahi Main Koi Aesa Wesa."
Commenting on the communication, Umair Mohsin, Chief Marketing Officer, Telenor Pakistan, says, "More Se Zyada Faida reflects as an apt translation of our brand promise, where we delight consumers by providing MORE than they expect."
He says, "For Telenor Pakistan, the customers remain the focal-point and the company is continuously striving to be the value add-on in the lives of over 49 million Pakistanis." Hence, they wanted to offer value that not only builds on the brand but also strategically increases brand consideration preference; resulting in higher brand love and equity. "We also intended to communicate the concept of value that Telenor offers through its services, emerging as a trusted everyday partner," he says.
Since customers are at the heart of what Telenor does, Mohsin says the brand understands that competition may not only be based on price in every instance, hence, it is important to look for ways to create true value. For this, the brand conducted rigorous, comprehensive behavioral studies before the campaign that entailed scrutinizing customers' consumption and purchase patterns as well as defining their usage and preference, according to which they could provide offers that are best suited to them.
"What is more pleasant than surprisingly getting a talking parrot, which you weren't willing to buy in the first place, and that too with an intriguing personality?" questions Mohsin and adds that, "in the TVC, Jabbar gets more out of less spend, more joy and more value… more of every experience with Telenor."
In order to create maximum impact, added recall, as well as "a layer of entertainment and visual delight", Telenor has come up with sequential ads (thematic and tactical) for this quarter. This will ensure that the brand's message stays constant with improved top-of-mind for customers.
According to Mohsin, the campaign has received an overwhelming response from customers, with the key protagonist 'Mithu' (whose voiceover was done by Fahad Mustafa) receiving a lot of traction.
Going forward, Mohsin says since Telenor's brand promise revolves around 'More Se Zyada Faida', the same strategy will be adopted in the campaigns ahead which will hopefully be delighting its userbase again.