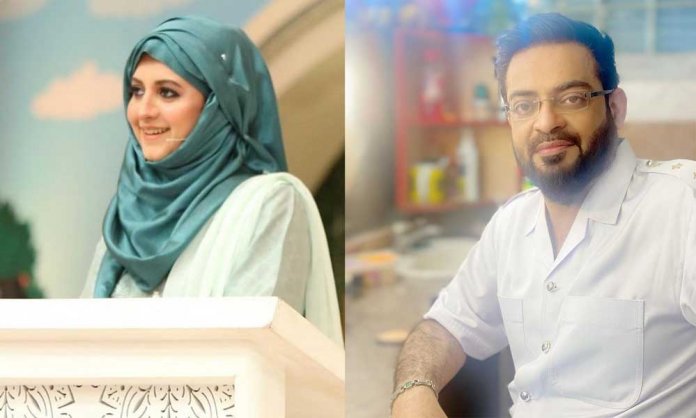 Aamir Liaquat is famous for not just his religious shows but also for how he says 'Aam khaaye ga?' He was married and had children with his wife. They looked happy, but then again, you never know what really happens behind closed doors, not until they tell you.
The Case of Multiple Marriages
He made news when the news for his second marriage went viral. He had married an actress by the name of Tuba. As the famous celebrities like to prove that they are happily married and are balancing between their two wives in an ideal manner, Aamir Liaquat also did that. But clearly, he wasn't able to. And this is exactly what women mean when they are against men marrying multiple times. While men try to say that religion gives them the right, the women really imply that they know very well men are incapable of balancing love and responsibility for all of them.
And Aamir Liaquat just proved the women's point all over again.
Aamir Liaquat First Wife
Syed Bushra Iqbal, his first wife, took to Instagram and Twitter that she is divorced. She further clarified the way she was divorced, and it was indeed very irresponsible. She mentioned, 'divorcing me is one thing, but doing it in front of Tuba on call at her request was perhaps the most painful and traumatic thing for my children and I.'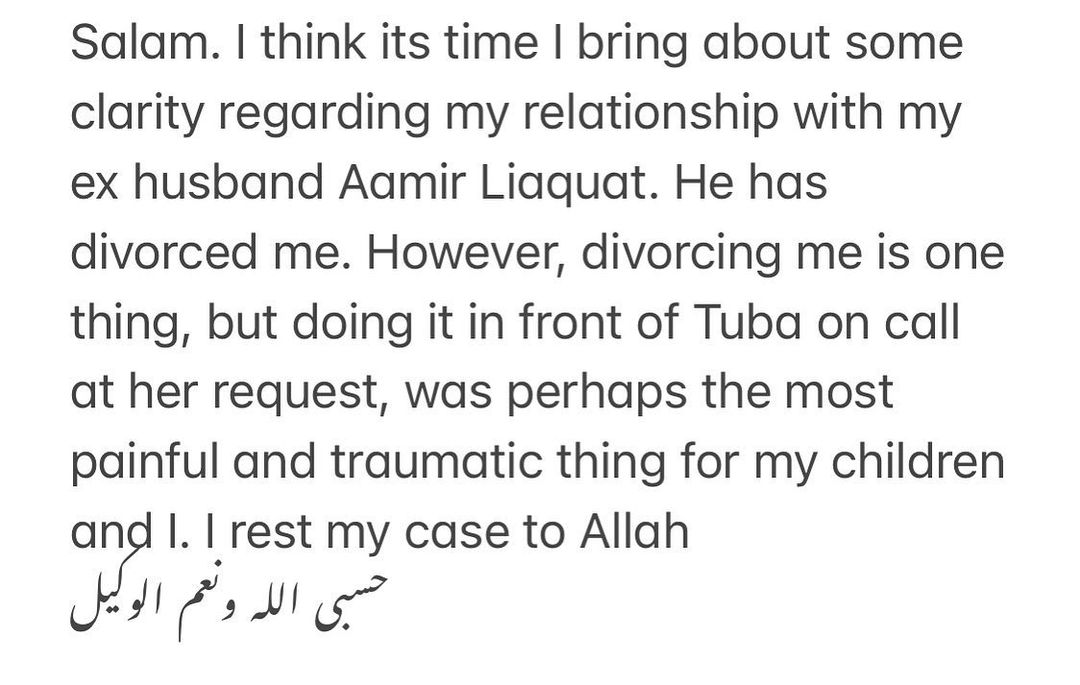 Reactions of social media users
People were not just shocked but wholeheartedly supported her. They told her to practice sabr because karma will take care of both the perpetrators in her case.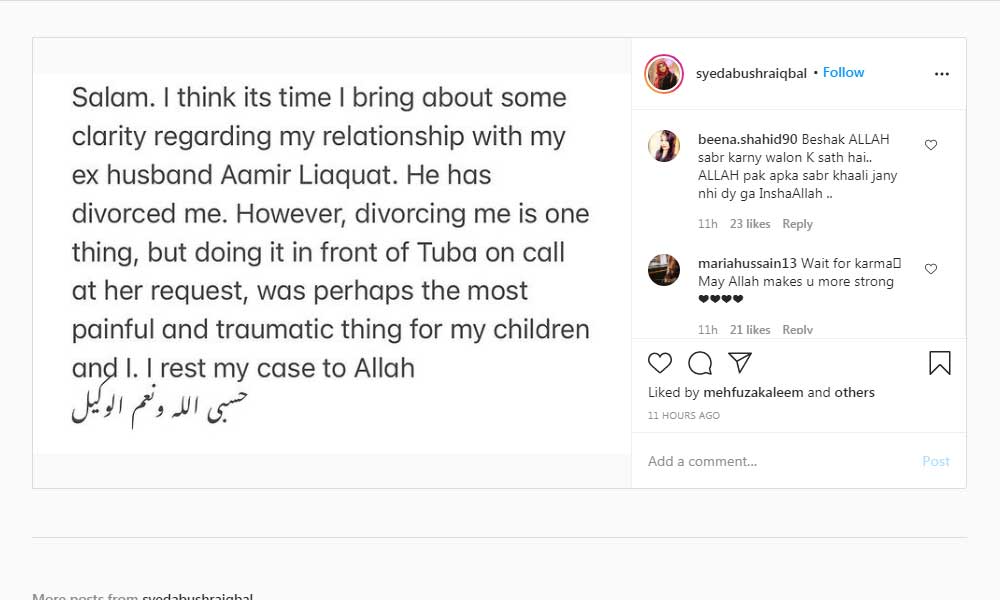 Bushra had also notified her fans on Twitter as well. They were all unanimously supporting her. Mostly, the people wanted to tell her that getting out of this relationship was better for her, considering this situation must be nothing but toxic for her.
You have always been so graceful and strong. Don't take any pain, Allah has actually removed a toxic relation from your life. There is no point continuing with a man who isn't loyal. Prayers

— Uzmaahsan (@docuzmayusuf) December 31, 2020
Moreover, some even started bashing Tuba since Bushra had named her to be the reason for the divorce. But the good part is that Tuba was not being bashed in isolation. Aamir Liaquat was also slammed equally for his actions and not being able to make better decisions.
Lanat aisi ourtoon py, jo doosri ourtoon ka ghar berbad kar ky apna ghar basati hain,or lanat aisy mardoon py ,jo apni bv,bachoon ko barbad kar ky apny aish ky liy apni hawas ky liy doosri ourat ky ho jaty hain! Allah sab ko wafadar sathi naseeb fermaey. Aameen !

— 🍁 Muqaddas Fatima 🍁 (@main_shaam_si) December 31, 2020
Most importantly, though, she received quite a lot of prayers.
Such a strong women you are… Our prayers always with u and ur family❤️..
Allah Ap ko hamesha salamat rkha💙

— Ams Naqvi (@ams_naqvi) December 31, 2020
Whatever became the reason for this divorce, whatever was the situation which led to Aamir Liaquat doing this act, I do agree with Bushra on the way this act came to pass.
Stay tuned to Brandsynario for the latest news and updates!