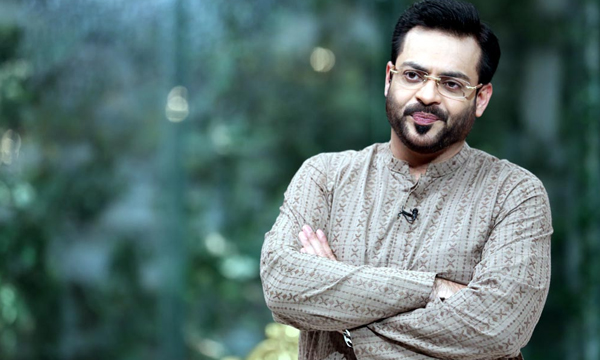 Just yesterday, Aamir Liaquat gleefully declared in a tweet that he is now the new president of Channel 24.
While his fans couldn't be happier that their favorite televangelist is back in business, the rest were skeptical till how long his new job will last!
I would like to announce that I have joined Channel 24 as President Network. Soon you will see my programs from @24NewsHD Need prayers 🙂 #AamirLiaquat

— Aamir Liaquat Husain (@AamirLiaquat) December 12, 2017
However, as per the latest report by Dawn, Aamir Bhai has landed himself in hot water as Islamabad High Court has barred him from making an appearance on T.V till further notice.
Aamir Liaquat Becomes President of a New Channel After Leaving BOL!
SO WHAT DID LIAQUAT DO THIS TIME?
Well, we are sure he did not see this one coming!
A petition was filed by citizen Muhammad Abbas to ban Liaquat from using any media be it television, print or social media
The petitioner accused:
"Liaquat used that show (Aalim Online) for a number of years to create a social and religious divide in the country"
The petitioner's lawyer, Barrister Shoaib Razaq even made a more shocking allegation that:
"Amir Liaquat has no Islamic degree or certificate yet he calls himself 'aalim'"
PEMRA's name was also dragged in and was the media-watchdog was blamed for not taking measures against the scholar-turned-entertainer.
IHC judge Justice Shaukat Aziz Siddiqui, okay-ed the interim measure. He has now ordered the federal government, PEMRA, the Pakistan Telecommunication Authority (PTA) and Aamir Liaquat to file their responses.
See how social media is reacting to the news!
Breaking News ————– کیس کی سماعت
Dr. @AamirLiaquat once again banned 😒
Is this a justice to blame an innocent & fair person like Dr. #AamirLiaquat ? 😡
Fans response awaited !!#WeLoveALH pic.twitter.com/I1hqSQ8hDS

— معصوم شریف انسان (@farrukhzx) December 13, 2017
IHC bans #AamirLiaquat from hosting, appearing in any manner, including but not limited to as as guest, analyst, reporter, actor in audio video beeper in any electronic media. IHC also directs to block all social media accounts of #AamirLiaquat

— Asmat Mallick (@AsmatMallick) December 13, 2017
Let's see what happens next!