Aagha Ali recently trolled a fan who was trying to troll him and we have to say, poetic justice sure is funny!
Trolled For Too Many Girlfriends
Aagha Ali recently put up a picture with his wife, Hina Altaf. The couple regularly shares their pictures on social media and is a delight to see. In this picture, dressed casually, the two are posing together adorably. Aagha Ali is also depicting himself to be the cliched, selfless husband in the caption: "aap khush toh hum khush."
View this post on Instagram
However, one netizen, who was unaware of their marriage, was not happy in any way. This netizen thought the two were not yet married and were in the 'boyfriend-girlfriend' territory and so she imploded!
Check Out The Comment Here: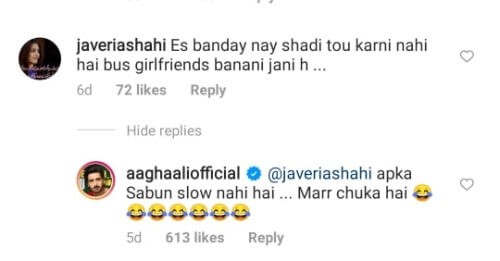 Aagha Ali Does Not Back Down
Having seen the comment, you must have seen Aagha Ali's response too. Ali is not someone who backs down from a fight. Throwback to when he asked people to confront him directly instead of joking about him behind screens… Anyhow, Ali clapped back here too.
This form of poetic justice where for once a comment was literally refuted as well as trolled is a sight for sore eyes. We wonder how the netizen is feeling at the moment, hoping she took the joke in the same spirit.
Pakistanis Have A National Comeback
Pakistanis have a national comeback in any fight and it has to do with Lifebuoy's ad that seems to never get out of our heads. "Apka sabun slow hai kya?" is what you slap someone in the face with each time they ask a dense question.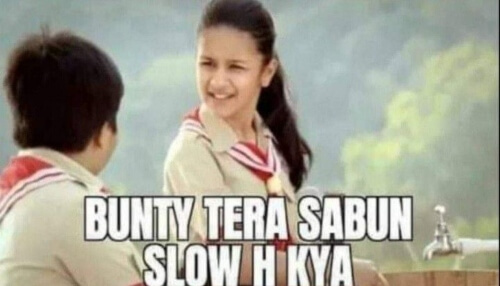 However, Ali took this a step further with his comedic streak and said that you aren't slow at catching up, you're simply dead! Honestly speaking, nobody expects nobody to be keeping track on Aagha Ali and Hina Altaf. However, not knowing that they are married requires one to be living under a rock.
More Fame After Marriage
How Aagha Ali and Hina Altaf got more famous after their wedding is a story known to many. It involved that classic and most romantic remark on the part of a husband, asking his wife to never get fat.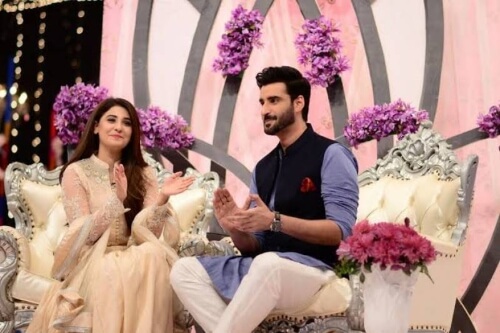 This beautiful streak of body-shaming and fat-shaming is something that was boasted by the couple on national television. Recently after that, Ali also got called out for making fun of Pathans! This guy is a gift that keeps on giving.
Stay tuned to Brandsynario for the latest news and updates.