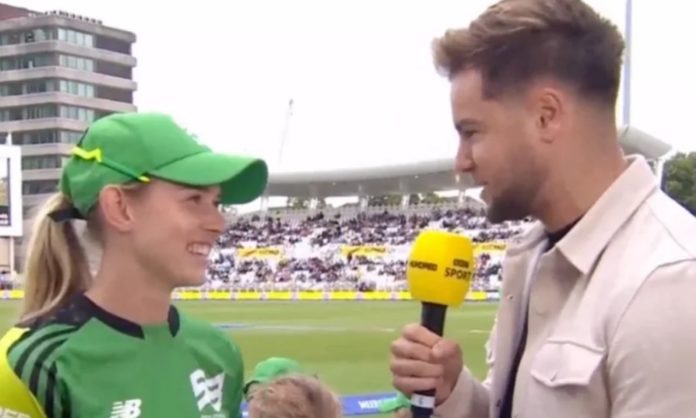 The British Broadcasting Corporation BBC has now taken action against Chris Hughes and if you're guessing that it's because of something unprofessional he did while live broadcasting, it's not. I mean it was unprofessional but a different kind of unprofessional, let's say he let the man inside of him get the best of him at the wrong time.
While interviewing Australian all-rounder Maitlan Brown from the Southern Brave team during The Hundred tournament coverage, Hughes referred to her as "a little Barbie." This comment sparked widespread criticism from viewers and cricket enthusiasts.
The absolute state of this @BBCSport

"Batsman"

"You're a bit of a Barbie yourself"

So much great young journalistic cricket talent in the UK, and you hire that clown @chrishughes_22, because demographics, innit pic.twitter.com/f7FwAtQjR9

— Always Look On The Bright Cider Life 🍎🏏🍎🏏🍎 (@somersetpodcast) August 1, 2023
Maitlan Brown shared how her team bonded over watching the movie "Barbie" ahead of the tournament. In response, Hughes quipped, "You're a little Barbie yourself, aren't you, with your blue eyes." As Brown laughed, he added, "She's blushing now." 
Was It Really That Bad?
Social media soon exploded with backlash against Hughes' remarks, calling them sexist and inappropriate. The BBC immediately addressed the issue, stating that they had counseled Hughes and reaffirmed that such comments were unsuitable for broadcast. But was it really that bad? It is not the first time a flirty moment on the field has been caught by the camera, so was it just blown way out of proportion or was it really that big of a deal? Here are some responses.
Mountains out of molehills?

— Jon Hayes (@jonboy_avfc) August 1, 2023
Seems you're calling for him to be sacked because of this one interview. That's completely OTT and nasty. Yes it was unprofessional, but his boss just needs to tell him not to do it again and to apologise to the player if she wants an apology. End of.

— Bennee (@Bennee46244442) August 2, 2023
Chris is actually quite an accomplished and keen cricketer, so he wasn't just picked out of the blue. The comment was a bit of friendly banter, certainly not worth these silly complaints.

— Tokyogreen (@Tokyogreen) August 3, 2023
Chris Gayle was shunned by the Big Bash for similar sexism. Please remove this person from your coverage @bbcsport @bbctms

— Random Female (@a_female_random) August 2, 2023
Goo goo wah wah, she was loving it.

— Maximus 🇬🇧 🐺 🌲 (@landofangle) August 2, 2023
How dare he offer a compliment to this batsman, I mean batswoman, I mean batter..

Probably not the greatest of interview but for goodness sakes, take it easy people.

— David Neef (@DavidNeef) August 3, 2023
@chrishughes_22 should be sacked immediately. Absolutely cringeworthy, sexist.

— fuz (@fuzi_logic) August 2, 2023
Despite his background in cricket and experience as a presenter for live horse racing coverage on ITV, Hughes' recent remarks have sparked concerns about portraying female athletes in the media. This incident could be a poignant reminder of the significance of respectful and gender-sensitive language in sports media because it highlights the need for broadcasters and presenters to be mindful of their words and refrain from perpetuating stereotypes or objectifying athletes, regardless of gender. But let's be honest, a little friendly banter never hurt anyone!
Stay tuned to Brandsyanrio for more news and updates.