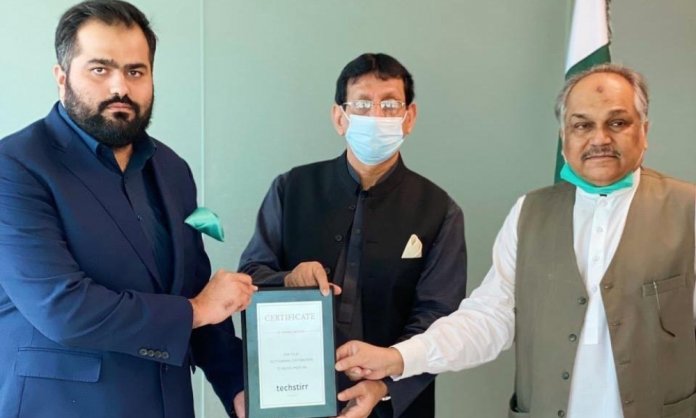 Techstirr, a leading global tech giant, has just started its operations in Pakistan. With the estimated increase of 24% – 142% in this year's online sales in the Pakistani market, the company leaders saw the immense potential in the country's I.T. sector.
The mission of Techstirr is to revolutionize the industrial sector of the country with its advanced strategic technological solutions and information technology portfolio. The company mainly focuses on the following areas: SaaS-based Solutions, Artificial Intelligence, Blockchain Technology, Mobile App Development, Big Data, Cyber Security, Technical Consultancy, and other comprehensive data-driven solutions.
The Federal Ministers for I.T. and Telecommunication Syed Amin Ul Haque and Shoaib Ahmad Siddiqui formally welcomed The Chief Executive Officer (CEO) of Techstirr (Pvt). Ltd, Abdur Rehman Chinoy on Friday, 7th August 2020, and lauded its aims to enrich Pakistan's I.T. sector.
Techstirr has offices in London, Dubai, New York, and has now started its operations in Karachi. The beginning of Techstirr's services in Pakistan is bound to create sizable opportunities in various industrial sectors that have yet to adapt to the technological practices of today's world.
The organization intends to create over 5,000+ jobs in the I.T. sector in the medium term and plans to drive forward the initiative of a digital Pakistan. The Tech giant aims to enrich Pakistan's I.T. sector with global expertise in Tech, Software Development, Digital Analytics, Cyber Security, and much more.
The company works on facilitating organizations, businesses, and multinational enterprises with the latest strategic digital transformations. The company has a total of four offices worldwide and boasts employees from several nationalities. Techstirr's flagship office in Pakistan will be based in I.I. Chundrigar Road, Karachi.