Surfing on the waves like a pro was none other than a 9-year-old girl from Balochistan. Social media is in awe of the little girl surfing in the Pasni area of Balochistan.
People are coming together to wish her well, pray for her successful future, and applaud her for her bravery. Her name is still unknown, but that is not holding anyone back from appreciating her efforts.
Nine year Baloch girl spotted sprinting through waves at a local beach. At least I've never seen anyone surfing in Pakistan. Have you? Little champ. Never ever stop. Keep pushing till you make it to World Surf League someday. InshaAllah! pic.twitter.com/s7cpfT9nLO

— Ali (@AleyFarooq_) July 6, 2020
PAKISTAN ZINDABAD: 9 year old Baloch girl Surfing And Skateboarding prodigy with waves battles in Chahbahar 😍

PC: Online#Skateboarding #Surfing #Balochistan #Pakistan pic.twitter.com/D4By81Lwn2

— Khel Shel (@khelshel) July 6, 2020
Surfing is not a common sport in Pakistan. The Clifton Beach in Karachi is often cited as one place to surf, but there are rarely surfers there. Those who even visit the beach otherwise complain about the level of pollution there. However, this girl found her place, and she owned it like a pro.
Nine-year old surfing champ from the Iranian side of Balochistan. Just look at her surfing those waves like nobody's business! 🌊
More power to this little queen. pic.twitter.com/fabyPIohj1

— Aisha Memon (@Aishamemon509) July 6, 2020
Pakistani Youth Making Us Proud
Nothing makes the people of any land happier than seeing the younger generation succeed. To be able to find your passion at such a young age and to excel in the field is extraordinary. Names like Arfa Karim, Malala Yousafzai, and Shaheer Khan Niazi are just some other examples. They all made us proud with their remarkable achievements at the youngest of ages. 
Pakistan Needs To Support Its Youth More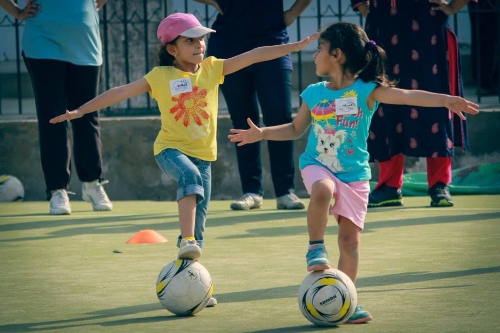 Seeing this girl surfing so solidly has made everyone proud. However, have we ever thought about how much our country has supported her? Our guesses are not so much. Pakistan rarely has institutes where sports like surfing can be taught. Private lessons require you to sell an arm and a leg. Her parents probably prepared this brave girl.
More significant investment and support in such areas are bound to encourage more boys and girls. They will not only become excellent at the sport but will also be able to go international.
She's Challenging Cultural Norms
In a country where young girls are mistreated, judged, and oppressed, this girl is surfing fearlessly. Many other girls her age are married or not allowed to leave their house. Many are denied their right to education.
However, this 9-year-old is a change in the right direction. Kudos to her parents, who are raising their girls to be brave and take on the world as it is.  In addition to that, pursuing sports is not typical for girls in Pakistan.
Aside from the taunts of being too manly, professionally, female games are more scarce. We're hoping by the time this girl grows up, she takes pride in her country also. 
Moreover, many of the people applauding her right now are those who would shame her had she been older. Instead of focusing on her talent, much of the society would have focused on her fitted suit. Or perhaps, why her swimming suit does not have a hijab attached to it. It is important to remember that we need to play our part in making the country safer for girls.
What do you think? Let us know in the comments below!
Stay tuned to Brandsynario for the latest news and updates.