Being a celebrity has its perks, but it also comes with some downsides. The disadvantages of being popular include having zero privacy; paparazzi are always prepared to catch them in action.
From Mahira Khan to Iqra Aziz and Osman Khalid Butt to Hamza Ali Abbasi – no celebrity has been able to dodge the bullet of trolling, and if they lash back, they face the music.
However, there are times when celebs keep it hush when they are under the fire and other times – they don't hold back but be vocal and give the haters a taste of their own medicine. One such personality is model Nadia Hussain who never hesitates to shut haters up.
Pakistani model Nadia Hussain is the first celebrity that pops up in our minds. Nadia has always been targeted for appearance and being vocal about many topics. Moreover, there have been several instances where the model has taken matters into her own hands and lashed back at her haters.
She recently went ahead on her social media and flared up, stating how she's had it with people who type mean comments under her posts. 
Let us list down the times Nadia Hussain found herself amid a drama. 
The time when she was trolled for her make-up lessons. 
She gave a tutorial on how to contour, highlight, and apply blush on to provide you with a prominent jawline. The model was trolled immensely, and gossipmongers called her bhoot.
2. The time when she shared a throwback picture of her pregnancy days
Nadia shared an old photo from 2012 with a very apparent baby bump saluting all mothers in a heartfelt caption. The audience attacked her and called her names for being too open and shameless.
3. The time when she was ridiculed after sharing a no make up look.
The trolls did not miss the opportunity to ruin her moment. Several people came forward in an attempt to troll her. People called her khoji Tand horror face. So much of everyone's dismay, they were mostly women, and Nadia did what she does best – she shut them up.
4. When she shared a post with abusive language 
People were quick to respond to let the model know that this was an incorrect way to handle the predicament.
5. When she shared a private conversation with a user 
A fan asked Nadia to give her a discount on her beauty service, but not only she denied but also posted a screenshot of her interview. Her post garnered enough hate, so she had to remove it quickly.
Netizens considered posting private chats online is unfair and advised her just to ignore them while some were straight-up cruel, calling out her attitude.
6. When people slammed at her for applying nail paint during the month of Ramadan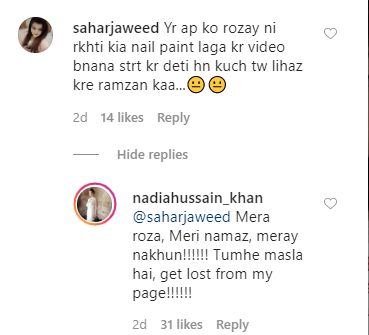 Several people called out Nadia Hussain for misbehaving with the people, but she didn't bother enough to respond.
7. When she forced a user to apologize 
As one of her followers posted a comment on the model's Instagram post about what he termed "celebrities' rude attitude" and used foul language for her and other celebrities, she taught him a much-needed lesson.