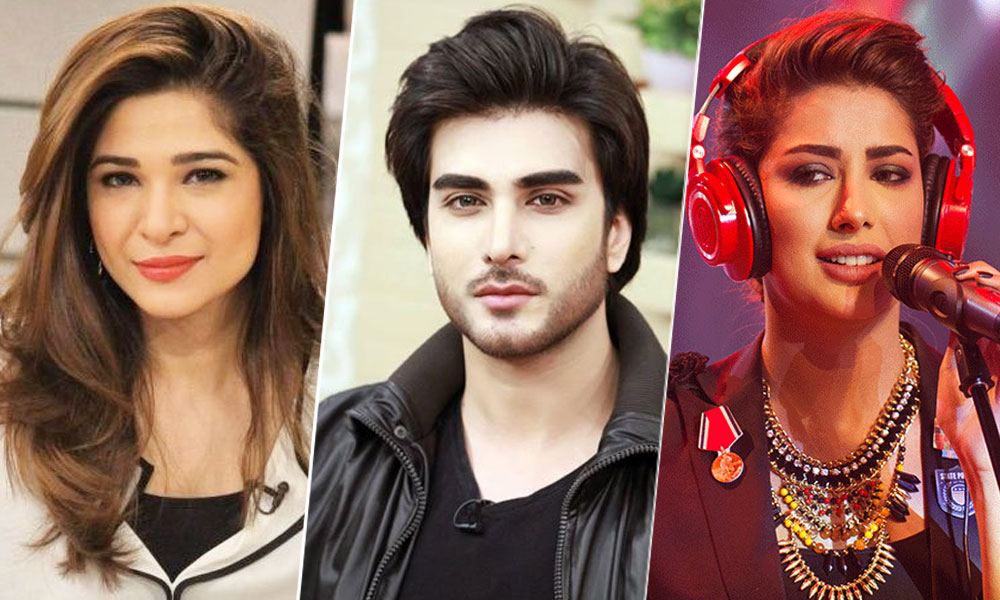 Pakistan is a land with an abundance of talent, our actors and singers are powerhouse performers with a popularity that crosses the border reaching the likes of Bollywood.
As stars keep trying out new challenges in order to re-invent themselves, there are some stars who should have stuck to what they do best instead of swimming in new waters.
Here are some actors who tried turning into singers but failed miserably at it! Would have been best if they continued doing what they are best at instead of opting for auto-tuning!
Check out the list of actors here!
1. Mehwish Hayat
The actress made a debut into the singing industry of Pakistan with the release of her song on a Coke Studio Season 9 episode. She sang a duet with Shiraz Uppal a renowned singer and composer.
Fans did not like her singing debut and were not impressed by the actress's attempt on 'Tu Hi Tu' with Shiraz Uppal. Although kudos to her for taking up the challenge!
2. Urwa Hocane
Farhan Saeed's blushing bride, Urwa Hocane made her debut with song, 'Ao Lay Kar Chaloun.' The actress who started out as a VJ has tried her hand at modelling as well as acting and has now marked off singing on her list too.
Watch the Video for Ao Lay Kar Chaloun Here!
3. Ayesha Omer
The Bulbulay actress has acclaimed great fame over the years of her acting career. And then decided to start a singing career, heavily laden with auto-tuning the song Laage Re Nain. It was not received with appreciation from song-lovers across Pakistan.
Watch Ayesha's 'Laage Re Nain' here!
4. Imran Abbas
The actor who attained success in Bollywood and is a popular face of the Pakistani drama industry, Imran Abbas believes he has a knack for singing. The audience begs to differ. Let us know what you think after watching the video below.
Here's a snapshot of Imran Abbas as a singing sensation!
5.Agha Ali
The rising actor is well known throughout the Pakistani drama industry. Often playing the villain, rebel and the bad boy, Agha Ali showed fans his soft corner when he released his music video, 'Maa'. Although being a touching tribute to mothers, we were not impressed due to all the auto tuning that was evident in the video.
What do you think?
6. Mathira
The drama queen of Pakistan, Mathira has tried out everything, from hosting to modeling and will soon be seen in an upcoming movie, Tum Hee Ho which is set to release next month. However, did you know Mathira also experimented with singing?
Here's a dose of Mathira's singing for you!
We would definitely recommend her to not think about heading towards singing again!
7. Veena Malik
Everyone knows Veena Malik as a formef item girl and she gained popularity after her stint in India's biggest reality show Big Boss. The performer's debut in the singing world came as a jolt of surprise to everyone. Believe us this was not one of the good surprises!
Please be prepared to be scarred for life!
What did you think of the above mentioned Pakistani actors heading into the Pakistani singing industry? Let us know in the comments below!
Stay tuned to Brandsynario for latest news and updates.