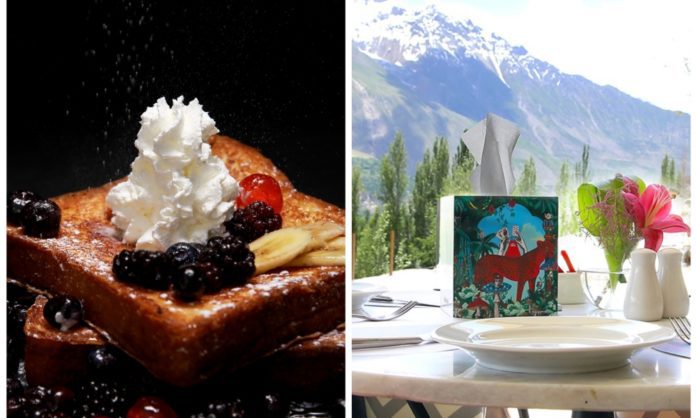 Are you planning a trip to Hunza? While the incredible landscapes might be your main attraction, have you considered the mouth-watering culinary journey that awaits you? From traditional Hunza flavors to international favorites, this region is a foodie paradise waiting to be discovered. Imagine a cozy café with stunning views or a bustling restaurant offering traditional specialties – curious yet? Check out our curated list of must-visit eateries in Hunza, each offering a unique blend of charm and flavor, promising more than just a meal.  So, here we go!
Yak Grill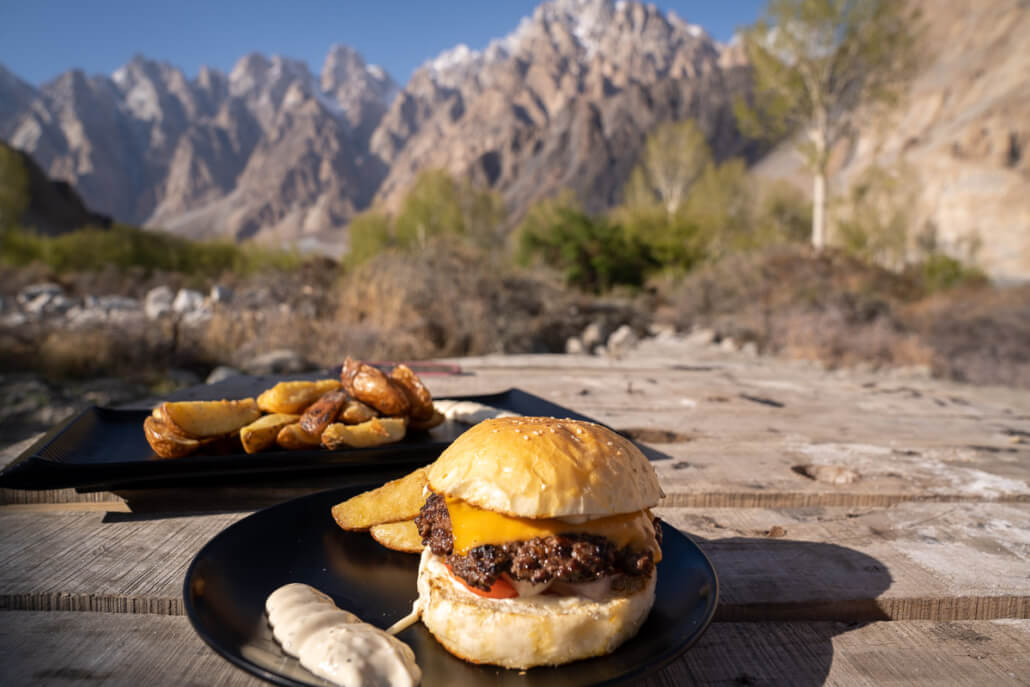 First on our list is the Yak Grill, an unassuming-looking restaurant located on the roadside in Passu with a view of the awesome Passu Cones. But don't be fooled – there's nothing unassuming about their fantastic flavors. Here you'll find a variety of Yak dishes including Yak Steaks, Yak Karahi, and of course the famous — and very 'grammable — Yak Burger, a true culinary masterpiece. Don't forget to try their Passu potatoes that take the experience to a level that's truly sublime.
Yak Grill's indoor and outdoor spaces are always bustling, but should you get a second to look around, you can soak in the breathtaking view of the majestic landscape. It's no wonder tourists flock to this beloved spot whenever they find themselves in Hunza!
Café de Hunza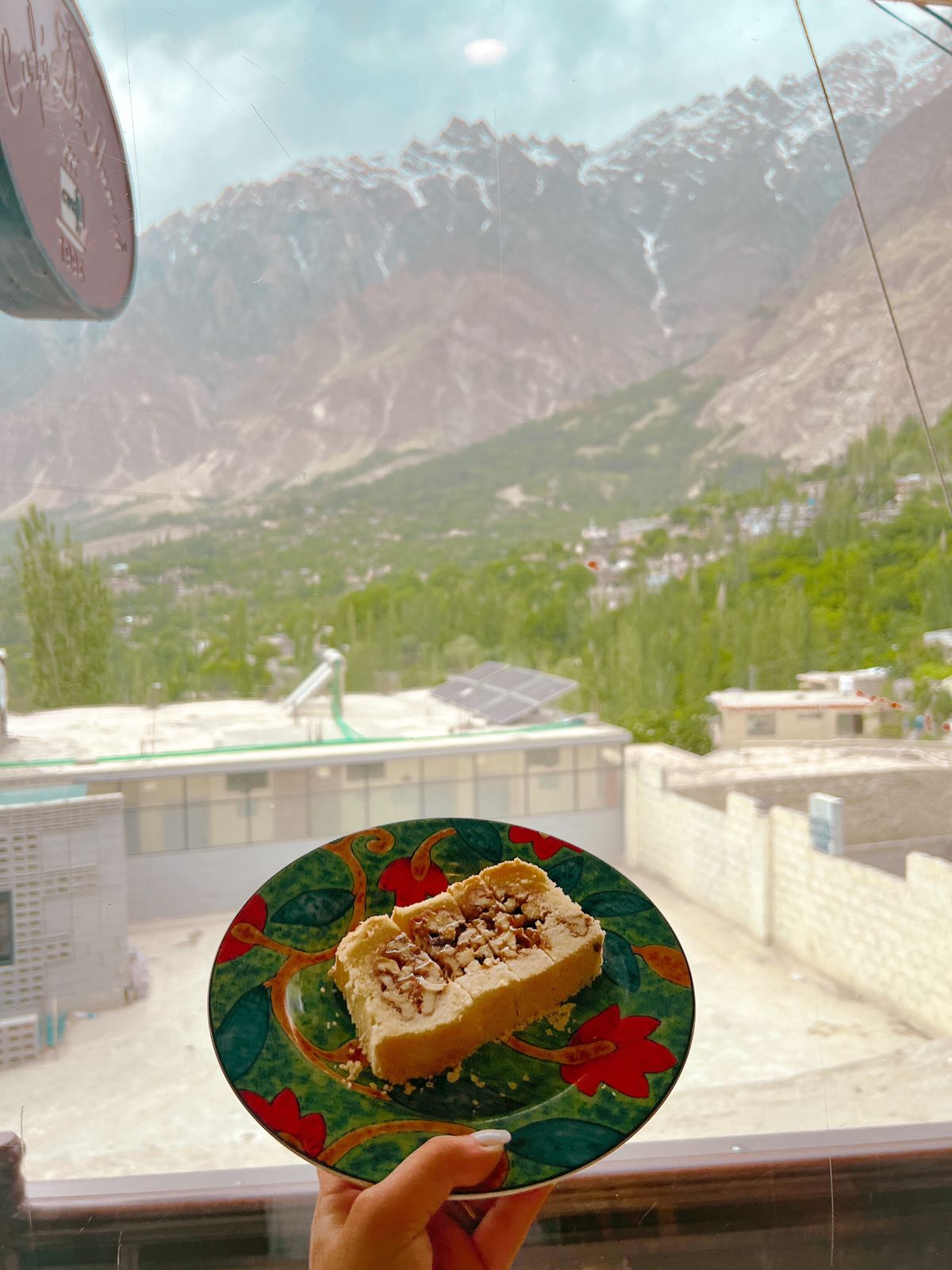 If you are planning a trip to Hunza, you've probably come across this name in your searches! Located in Karimabad, Café de Hunza is a cozy little café, famous for its Walnut Cake. Any trip to the Karimabad Bazaar seems incomplete without stopping by the cafe and treating yourself to a heavenly slice of the rich Café de Hunza Walnut Cake. 
Despite its name, the famous 'cake' more accurately resembles a walnut pie, with its deliciously crumbly, melt-in-your-mouth shell filled with ample walnuts dipped in a sugary sauce. The filling is crunchy and gooey, and just the right amount of sweet. It is perfect with a cup of milky tea and even better with refreshing local Hunza green tea (if the richness seems a bit much). Organic jams and apricot oil are also available for sale at the café. Missing out on this experience is like missing out on the essence of Hunza itself! 
P.S. If you're a fan of Chicken Cheese Sandwiches, Café de Hunza makes them like no other!
The Art Café by Ambiance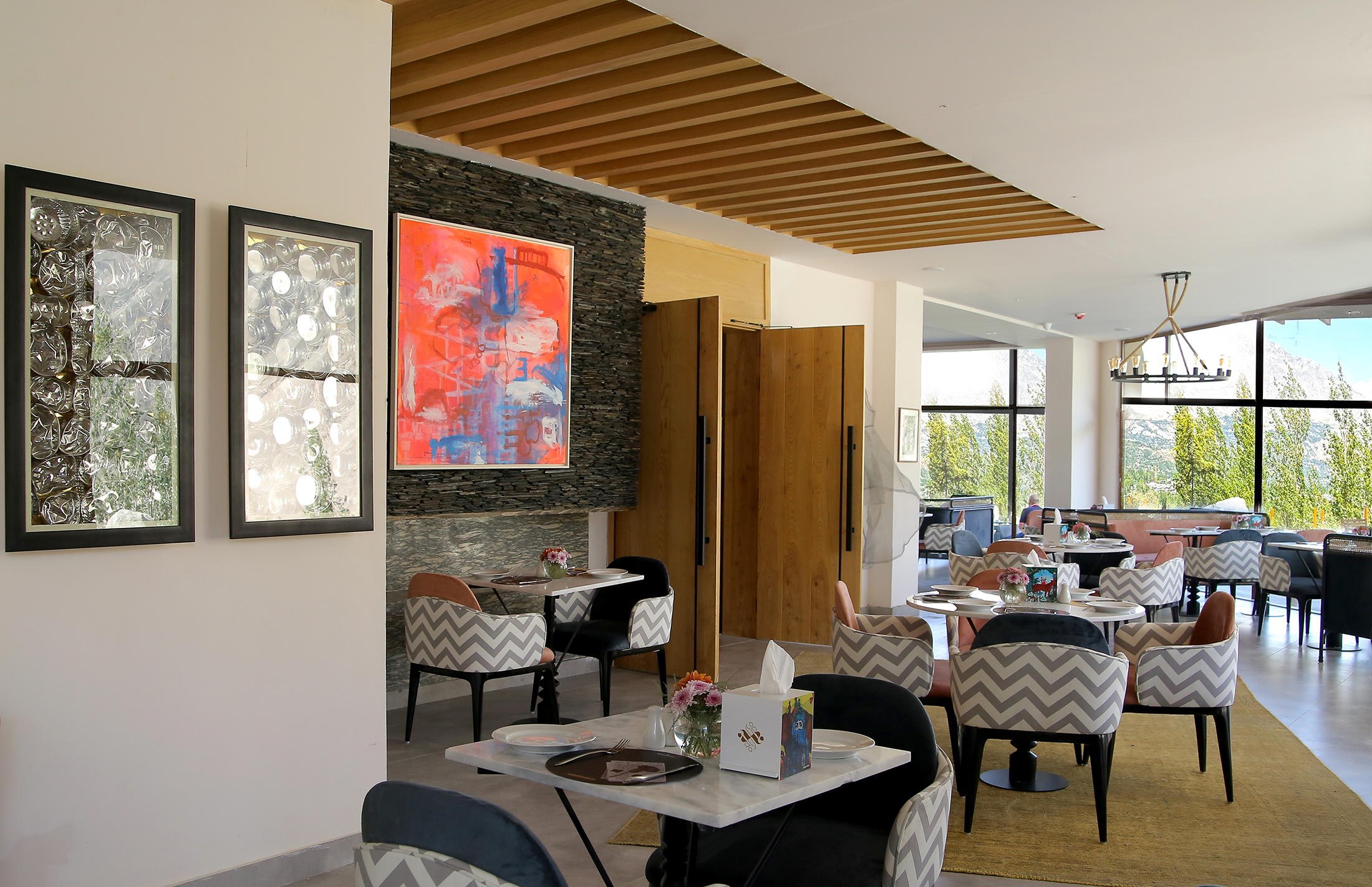 Located inside Ambiance Resort Hunza, in Aliabad (one of the best hotels in Hunza!), The Art Café offers a refreshing and contemporary setting that seamlessly blends art and culinary indulgence for an experience unlike any other in Hunza. As you savor the delicious food, you'll also be treated to magnificent views of the iconic Rakaposhi, Ultar Peaks, and the Shimshal range. The vibrant contemporary art pieces by artists from Gilgit-Baltistan and other parts of Pakistan displayed throughout the unique café add an extra helping of artistic inspiration to your dining experience.
The menu boasts a wide selection of comfort food, local cuisine, and Pakistani favorites, catering to a variety of tastes. The Art Café is best known for its signature French Toast, easily the best in Hunza, and maybe even in all of Pakistan! Yes, it's THAT good: buttery bread served with sliced banana, a hint of cinnamon, and a drizzle of warm honey – heaven! Another must-have is their patty and melted cheese, in a fresh bun served, the ultimate comfort classic with a thick, juicy beef patty, and melted cheese, in a fresh bun, served with coleslaw and fries. The café also serves a Hunza special Walnut Chicken in a thick, creamy, walnut gravy that will leave you craving more. 
The Art Café is more than just a dining experience, it's a journey into the artistic spirit of Ambiance Resort itself – one place to definitely include in your Hunza itinerary.
Kha Basi Restaurant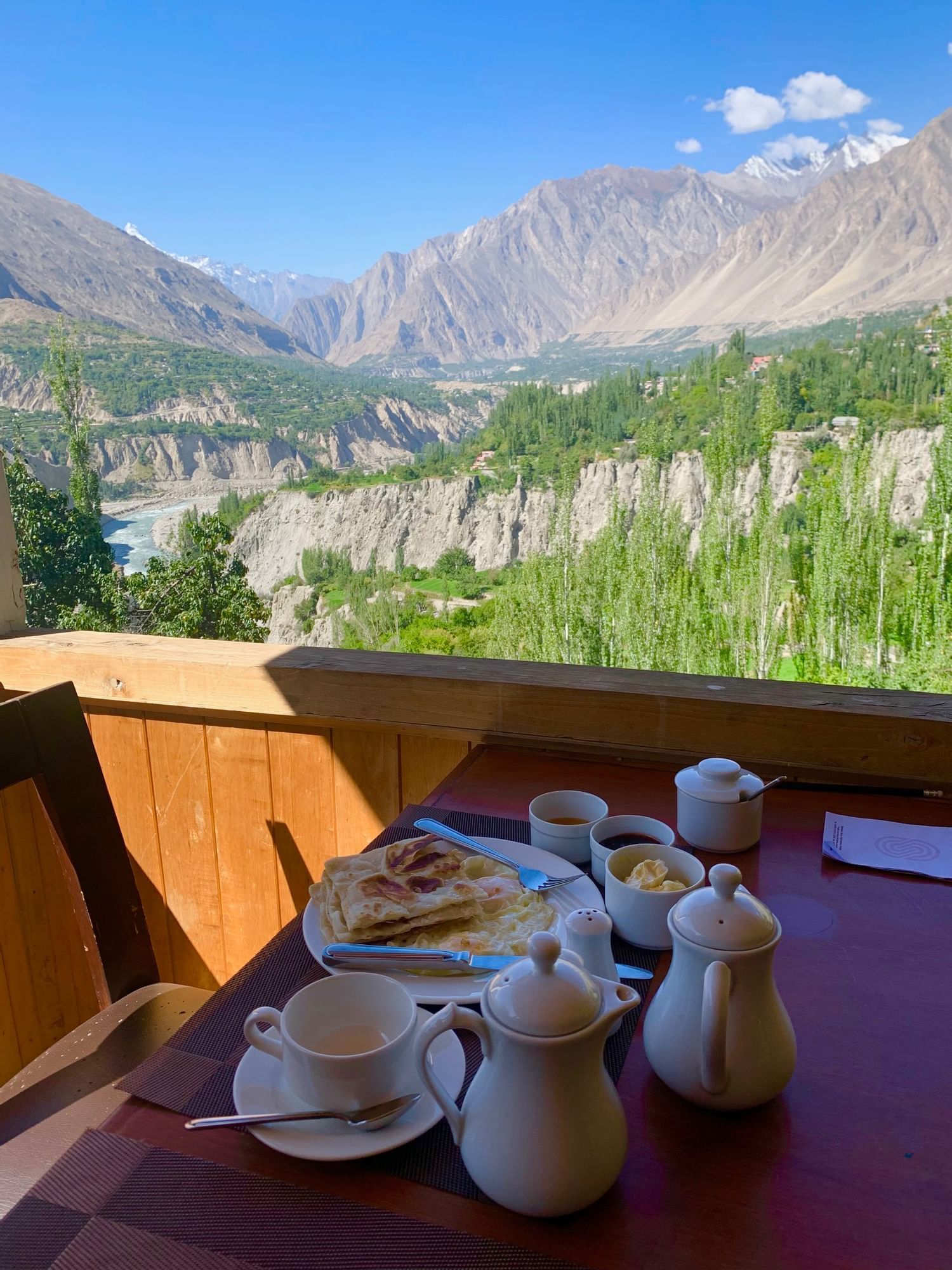 If you are looking for a quintessentially traditional Hunza experience, Kha Basi Café is the place to go. Located a few steps from Altit Fort, it once served as a summerhouse of the royal family of Hunza and features pictures and artifacts of the bygone royal era. Set up in the fort's stunning fruit orchard "the Kha Basi", it is surrounded by towering old trees and the historic "Rani pond" (swimming pond of the princesses). The greenery here is a soothing balm compared to the stark, rocky landscapes of the region, much like an oasis for the soul. Overlooking the mountains of Hunza/Nagar and the Karakoram Highway running alongside the Hunza River, the Kha Basi Café has both lovely views and a traditional taste.
The café is run by Serena Hotels and offers local specialties such as Dawdo Soup (made with fresh homemade noodles and mutton), Burustz Berikutz (a layered dish of flattened bread filled with local cheese, apricot kernel oil, mint, and spring onions), Chap Shuro (meat layered bread), Hoilo Garma (spinach and fresh noodles) and Tumuro Chai (local herbal tea) besides Continental and Pakistani cuisine. What sets this café apart is its local, all-female staff, a testament to Hunza's progressive society. The Kha Basi Café not only offers a serene dining atmosphere but also embodies the warmth and cultural beauty of the Hunza Valley.
Rewayat Hunza

Originally a popular restaurant in Islamabad, Rewayat has expanded its reach to the charming Ganish village of Hunza, which dates back almost 1,000 years and is the oldest living village in Gilgit-Baltistan. Rewayat, however, has opted to retain its own slightly quirky ethos of a truck-art-inspired dhaba theme, complete with chaarpai as an outdoor seating option. 
Visitors seem to enjoy the upbeat atmosphere and take to its Pakistani food with gusto. In particular, it is famous for its live barbeque, rewayati chai, and Lahori nashta (make sure to order the ballon wala paratha!). Helpings are generous and shared barbeque platters make it a fun, shared experience at a place with a unique character that's all things Pakistani.
Pizza Pamir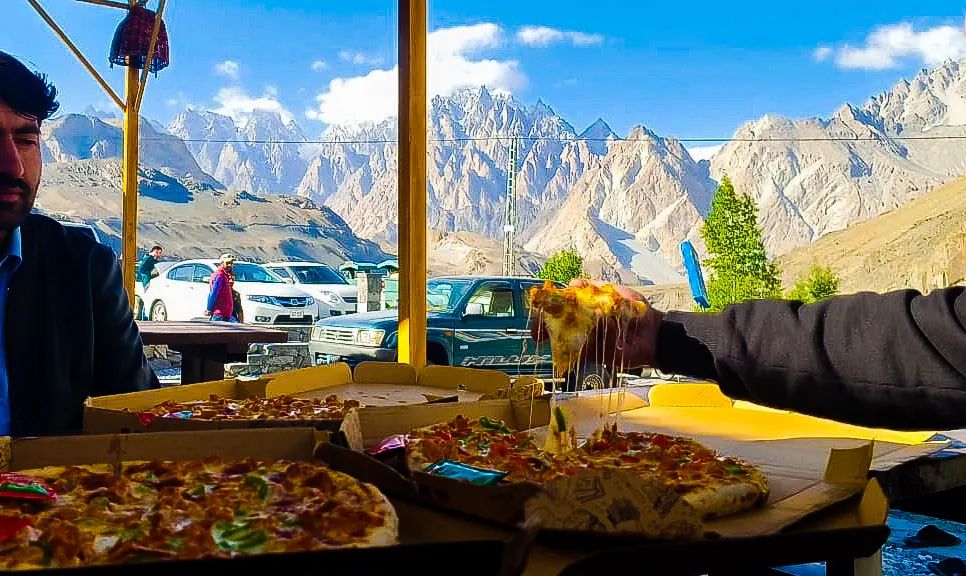 Can you imagine biting into a slice of delicious, freshly baked pizza while you're surrounded by the majesty of towering mountain peaks? At Pizza Pamir, this is not just a dream but a scrumptious reality! This unmissable eatery, with its branches sprinkled across Hunza in Aliabad, Karimabad, Hussaini Village, and Attabad Lake, treats you to the perfect blend of traditional Italian fare and a dash of local flavor.
The pizzeria offers a diverse menu bringing the organic taste of mountain herbs to the Italian favorite. Its specialty is the Yak pizza with its distinct flavor of organic herbs and apricot oil dressing. As you bite into the pizza, you experience an explosion of flavors, from the tangy herbs to the meaty Yak, all wonderfully bound together by the mellow apricot oil. Pizza Pamir delivers a flavorful adventure as vibrant and diverse as the landscapes of Hunza itself, ensuring that every pizza lover finds their slice of heaven in the mountains.
Glacier Breeze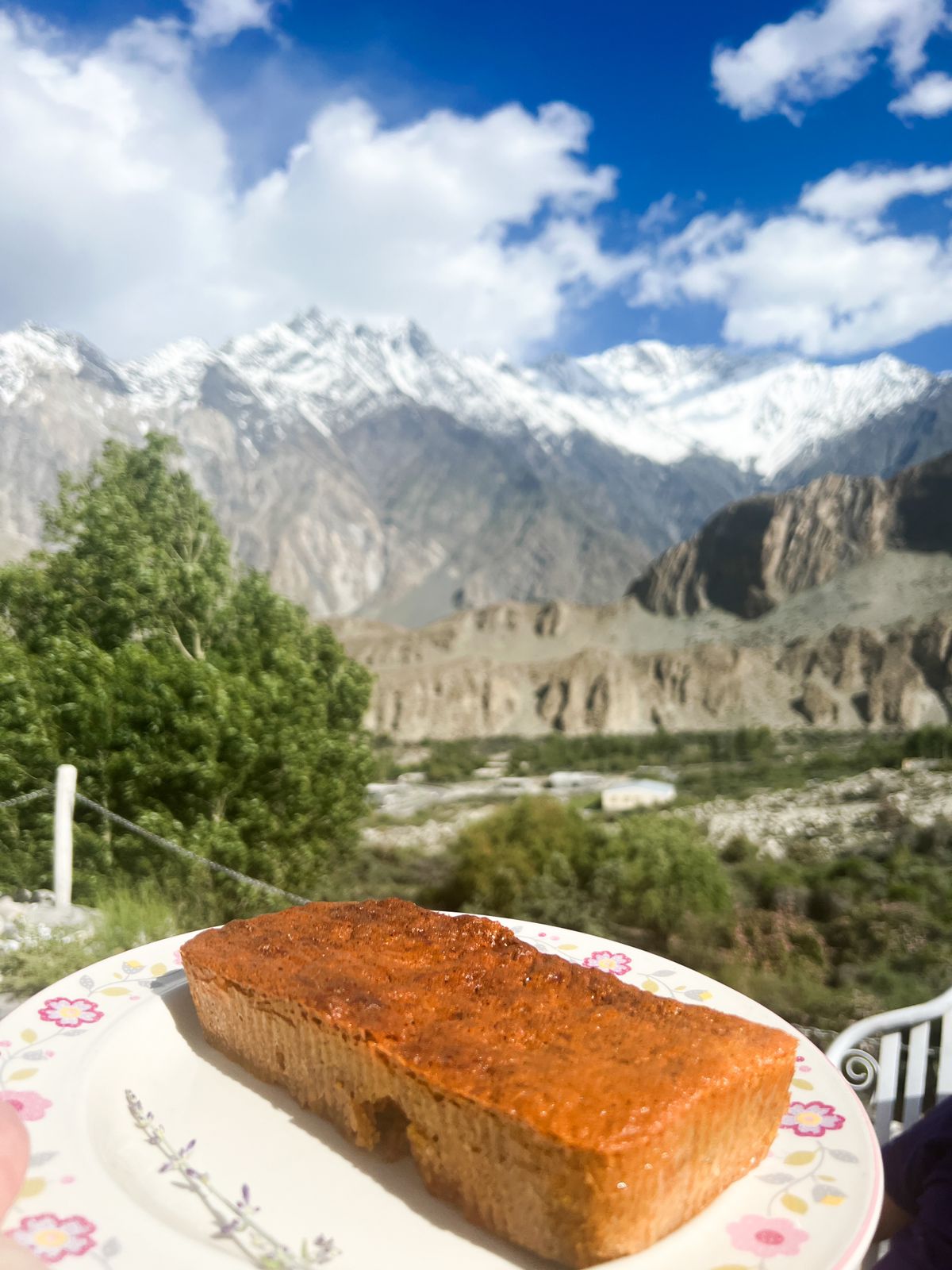 Perched on a hill, Glacier Breeze is a quaint café offering a front-row seat to the spectacular natural theater of the Passu Cones and Cathedral. Be prepared to climb a lot of stairs, but it's totally worth the feast for your senses that awaits. You'll find yourself amidst imposing mountains, under the watchful gaze of the awe-inspiring Batura glacier, accompanied by the symphony of its icy stream.
Take a moment to breathe in the crisp mountain air and prepare yourself for a culinary treat. Your taste buds will rejoice as you savor Glacier Breeze's near-miraculous Apricot Cake. Each fresh, warm slice is soft and brimming with the unmatched, sun-kissed sweetness of Hunza apricots baked to perfection. But wait, there's more! Pair this mouthwatering delight with a steaming cup of chai, and you're not just enjoying a match made in heaven – you're practically dining in heaven (come to think of it!)
These one-of-a-kind food encounters will leave you longing to return to Hunza for more culinary adventures. So, pack your bags, bring your appetite, and embark on a gastronomic journey through the enchanting valley of Hunza! 
Stay tuned to Brandsynario for more news and updates.