With the summer heat beating down on us, nothing is more tempting than drinking something chilled to beat the heat. And if the drink can provide you with tons of benefits and be delicious at the same time, then well, we are all up for it!
Sugarcane juice – or more popularly referred to as 'Ganne ka juice' – is a favorite among the locals here.
Fast Facts About Sugarcane Juice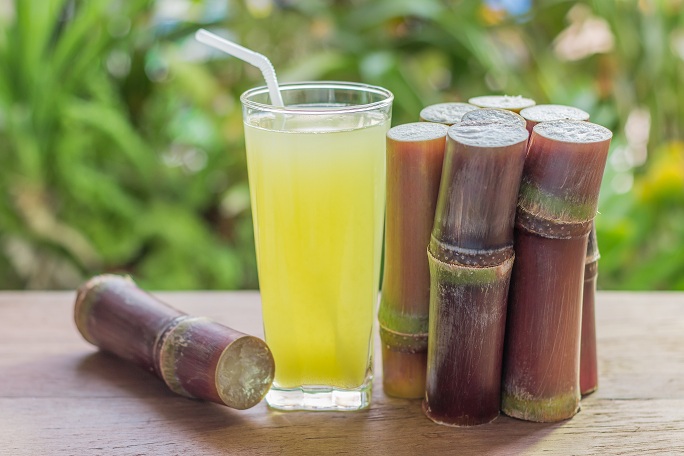 Sugar cane juice is made by crushing the sugar cane stalks.
Popular around the world – it is a particular favorite among the locals in Central and South America as well as South East Asia.
It's naturally sweet.
High in calories with an 8-ounce serving of raw sugar cane juice containing 180 calories.
Contains 30 grams of sugar.
It's Fat-Free.
Rich in fiber – 13 grams of dietary fiber per serving.
Not only does it taste absolutely divine but is also filled with oodles of health benefits for you.
https://www.youtube.com/watch?v=pieAFLSz-7s
Known to contain significant levels of calcium, iron, potassium, zinc and various amino acids; sugarcane juice can boost your health in a number of ways.
If you are feeling low on energy, drink a glass of sugarcane juice. Packed with natural sugars, it's known to visibly increase energy levels.
Feeling fatigued and dehydrated? Sugarcane juice is an excellent choice to drive away that "sleepy" feeling and making you feel more awake.
It's a perfect antidote for those with the problematic skin by visibly improving acne prone skin or dealing with signs of aging, wrinkles, discoloration or blemishes and scars.
For those women who are pregnant, a glass of this juice can help to boost metabolism, reduce morning sickness, improve digestion as well as boost energy levels.
Since sugarcane contains minerals such as calcium, it has been used to fight tooth decay as well as freshen breath.
Strengthen your bones with a glass of this juice since it has been known to boost calcium, potassium, iron, and magnesium.
Find it difficult to control your stress? Amino acids found in this juice can help in balancing your stress hormone levels as well as induce sleep.
Sugarcane juice is really good for kidneys and helps them to function properly. It is also used to treat kidney stones as well as urinary tract infection (UTI).
The juice from sugarcane has also been proven effective in strengthening the liver, it is often suggested as a cure for jaundice.
Do you love drinking this delicious juice in summers too?
Stay tuned to Brandsynario for more updates and news.