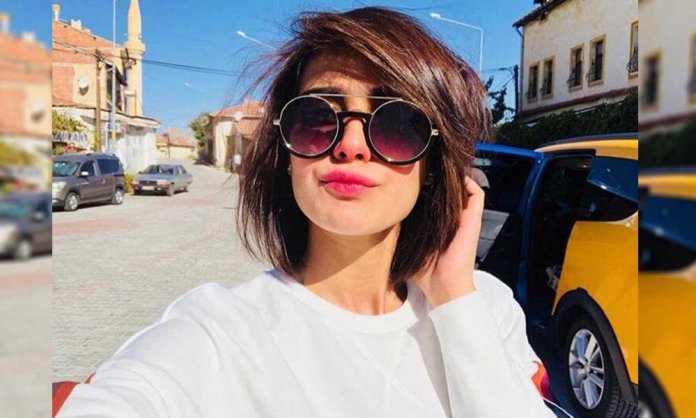 With 2019 just around the corner, it's time to relive the most popular beauty trends of 2018 to glam ourselves up for a new year!
Many of our favorite starlets were seen flaunting these glamorous trends- the beauty bloggers couldn't stop talking about how to 'Do It Yourself'!
From becoming the part of fashion shows to taking over your Instagram feed, here's is a list of top 7 beauty trends that took Pakistan by storm in 2018!
1. The Bob Cut
Gone are the days when the beauty of a woman was complemented to her flaunting long hair.
The short-hair look has been adopted by many Pakistani starlets who know how to carry this rocking hairstyle and it is certainly the topmost beauty trend of 2018!
Iqra Aziz looks even more gorgeous in this hairstyle!
The dazzling short-hair look of Kubra Khan
2. Highlighter Under Foundation and The Glow Pro Look

A no-makeup lustrous look that makes your skin appear naturally dewy. Sounds dreamy, no?
Just take a look at the awe-so-stunning Sonya Hussain!
Using a highlighter under foundation became a much popular beauty trend of the year and still is
The radiant skin has become a must part of everyday makeup.
The Glow Pro look was also a major focus in PLBW18.
3. Vivid Shadows and Futuristic Eyes
Another makeup trend that took 2018 by storm was the use of vivid shadows to give an enhanced shimmering look to the eyes.
Sonya Hussain flaunting that blue eye shade is giving us major goals!
The blue and gold glitter eye make up by Nabila and Fatima Nasir Mua in PLBW18 was one of the highlights of the show.
The futuristic eye look by Zara Peerzada from the sixties with a solid color on the lids and a contrasting shade on the crease was also a noteworthy look in PLBW18.
4. Bold Lip Colors
The use of bold lip colors was also one of the highlights this year as many divas were seen flaunting these dark shades.
The gorgeous Neelam Muneer!
The Vampire lips of PLBW18 might look quite edgy to be used in everyday life but it was bold enough to steal the spotlight!
5. Braids and Accessories
Accessorizing your hair is not only fun but it also gives you a chic-look when done right!
These hair extravaganzas by Nabila's were trending everywhere!
The braided look of Sonya Hussain became the highlight of HSA'18!
6. Vibrant Bridal Dresses
Where this year was full of weddings, these weddings were all about colors where the brides were ensembled in gorgeous dresses of bright and vivid colors.
Famous fashion designers like HSY, Kamiar Rokni, Wardha Saleem and Nomi Ansari introduced these lively colors to the ramp!
Our latest bride Faiza Saleem looking stunning on her big day wearing Nomi Ansari!
7. Cat Eye Retro Shades
These extreme cat eye sunglasses also got their fair share of attention in 2018 where many models and actresses were seen wearing them!
Model Zara Peerzada took this look to a whole new level!
While Alyzeh Gabol looked as stunning as ever!