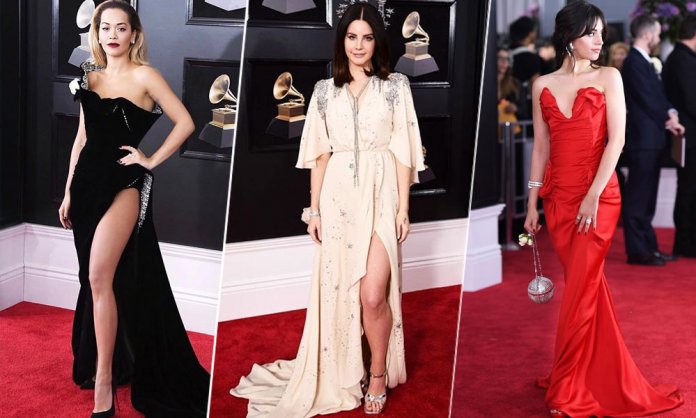 The stars of Hollywood came out in full force at the Madison Square Garden, New York City, on the 28th January 2018. Yes! It was all about the fiesta más grandiose, the 60th Annual Grammy Awards Ceremony.
The show called out to some very talented singers. Almost every singer was witnessed at the Grande music festival. A mass variety of fashion could be seen on the red carpet.
While some of the celebs dressed to impress, some dressed so averagely, that we couldn't resist saying 'meh' to them at the very first glance.
Best Dressed Celebs at the Grammy Awards:
Lana Del Ray:
Del Ray looked heavenly in an ivory, vintage gown by Gucci. She won our vote and leads this list.
To the 60th annual #GRAMMYs in New York, nominee @LanaDelRey in a custom #Gucci silk gown with star embroideries, soft draped V-neck and rope necklace, metallic sandals and silver headpiece with crystal stars. @RecordingAcad #AlessandroMichele pic.twitter.com/lakJoukoDn

— gucci (@gucci) January 29, 2018
Lady Gaga:
The melodious diva added drama to the Grammy's Red carpet as she flaunts her Georgio Armani massive black train gown.
Chrissy Teigen
Mommy-to-be dazzled in silver as she walked hand in hand with her husband, John Legend. Chrissy pulled out all stops and was all smiles at the award ceremony.
Camila Cabello
The Havana girl smoldered in a red silk gown. From her hairdo to jewelry, to her dress, everything was on fleek.
I try to channel the flamenco emoji for as many events as possible #Grammys pic.twitter.com/UnUkvNYUmO

— camila (@Camila_Cabello) January 29, 2018
Rita Ora
The diva dazzled in the sleek black dress gown by Ralph and Russo that was fit for a queen!
Zayn Malik
The macho man proved that investing in pink may be the smartest thing you do all year. Zayn looked no less than a prince charming in a pink suit stitched by Richard James.
#GRAMMYs pic.twitter.com/4KnJt0nuxa

— inZAYN (@inZAYN) January 29, 2018
Jaden Smith
The Karate Kid proved to be the Z-gen kid, for whom the rules don't apply. Jaden Smith wore a really cool outfit to a very formal ceremony and totally rocked the show!
Everything Vision pic.twitter.com/PC6u1y12Iq

— Jaden Smith (@officialjaden) January 29, 2018
Worst Outfits At The Grammy Awards:
And following are the celebrities who failed to impress us, therefore, missing the mark.
Coco Austin
Coco undoubtedly leads the list of Worst Dressed Celebrities at the Grammys.
Grammy Night!
Some more photos from last night .The group family shot is Tesha's (Ice's older daughter) and Lil Ice (Ice's son) pic.twitter.com/iH1ggpt32Q

— Coco (@cocosworld) January 29, 2018
The two halves of her dress were actually held together by what looks to be elastic cords. We wonder what the Hollywood diva was actually thinking while buying this dress.
Patrick Starrr
Always known as the one who dresses to impress with looks that could kill. Starrr didn't quite make the mark at the Grammys this year with the bright Pink and Purple dress with a bejeweled belt, and a train tailed coat.
#GRAMMYs 💕 pic.twitter.com/0axtGDyGby

— PATRICKSTARRR (@patrickstarrr) January 28, 2018
Jenny McCarthy
Jenny took the Monday blues too seriously that she got all blue on Sunday eve. Not only did her blue hair look hideous, but also her ill-fitted dress and bizarre mesh gloves made her look like a cartoon villain.
Jenny McCarthy needs a vaccination against this tryhard hair. #grammys pic.twitter.com/9GVZ2m6YoD

— shauna (@goldengateblond) January 29, 2018
We have a question for her. Who wears sunglasses to an evening event?
Pink
Pink was witnessed ruffling some pink and purple feathers by Armani. The bizarre gown did not look decent enough for an event like this. We wonder how many birds had to sacrifice their lives for this dress of Pink.
GoldLink
GoldLink took "superheroes wear their underwear on their pants" too seriously, and wore leather studded underpants on his jean at the Red Carpet.
Goldlink at the #GRAMMYs pic.twitter.com/b1U7gEpyOb

— DC Maryland Virginia (@DMVFollowers) January 29, 2018
Kali Uchis
Kali, Y U do this??
Ava Max
Ava wore a dress which looked more like a Pakistani sofa cover or a bed sheet than a formal dress. Ava really needs to change her stylist now.
Do you agree with our list? Let us know in the comments below and stay tuned to Brandsynario for more updates!