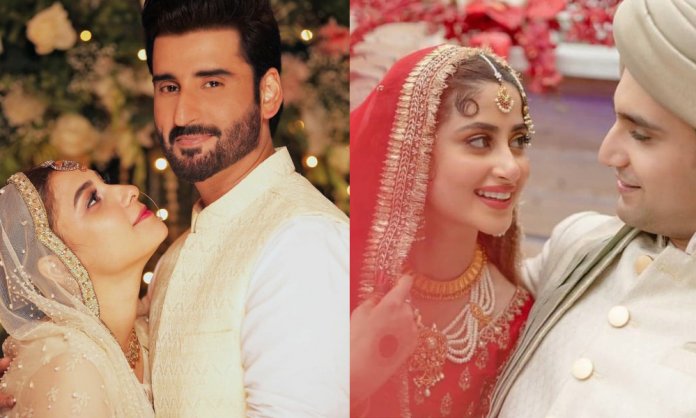 In the wake of COVID-19, lives have been put on hold everywhere. The global pandemic is not just impacting the economy and healthcare systems around the world but is also upending events with large groups of people coming together, like weddings.
However, some of the Pakistani celebrities got hitched during the lockdown in intimate ceremonies with their loved ones. Well, you know what they say, desperate times call for drastic measures!
So, without any further ado, let's cut to the chase and have a look at the newly-weds who got nikkahfied during the lockdown.
1. Sajal Aly and Ahad Raza Mir
The couple had a destination wedding in Abu Dhabi on March 14, 2020. The families and close friends of the couple traveled to Zaya Nurai Island, Abu Dhabi, where the marriage took place. The duo tied the knot there, and upon arrival in Pakistan, Covid-19 began to spread all across the country, and new cases were being reported daily.
2. Samina Ahmed and Manzar Sehbai
The duo tied the knot on April 4, 2020, in Lahore and opted for a simple Nikkah ceremony where their immediate family and close friends gathered together to celebrate their love.
3. Nimra Khan and Raja Iftekhar Azam
Another couple who opted for an intimate Nikkah ceremony was Nimra Khan and Raja Iftekhar on April 19, 2020. The duo looked picture perfect on their big day, and the shots were a feast for the sore eyes.
4. Hina Altaf and Agha Ali
Hina Altaf and Agha Ali were wed on May 22, 2020. The couple chose the blessed day of Jummah tul Wida for their Nikkah and shared pictures online. The news of their marriage still came as a pleasant surprise since it was kept under wraps until the final announcement.
5. Faryal Mehmood and Daniyal Raheel
The couple tied the knot on May 28, 2020, in Lahore. It was an intimate ceremony, and the duo has announced that they will have a grand wedding once things cool down.
6. Shahroz Sabzwari and Sadaf Kanwal 
Pakistani actor Shahroz Sabzwari and model Sadaf Kanwal tied the knot recently, but it was not any other quarantine wedding. The pictures have gone viral, and the marriage sparked controversy online.
The above Pakistani celebs have proved that love conquers all and you don't need a huge crowd to be present on your big day as long as the bride and groom themselves are happy with the arrangement and get to live happily ever after!