These Pakistani celebrity couples are the definition of a power couple, and we can't get enough of them!
1. Ayeza Khan and Danish Taimoor
Ayeza Khan is currently meeting new heights in her career, and every time she gets an opportunity, she awards it to her husband. He's supportive, cares for the kids when she's not around, and likes her business manager too!
View this post on Instagram
 All the while, Danish Taimoor is also an actor himself and juggles his own work. The two successful actors have two adorable children whom they cherish.
2. Ahad Raza Mir and Sajal Aly
Another celebrity pairing that has us swooning always! Both are successful actors who fell in love and are now married whilst continuing their work more determined than before. Sajal just won an award in Dubai and Ahad was there in the crowd to support her as always.
View this post on Instagram
Though they are loved dearly, they have expressed their desire to keep their private life just that, private.
3. Sadaf Fawad Khan and Fawad Khan
Whenever Fawad Khan spoke about his wife during interviews, he set a standard for how men should always refer to their wives. The two are still as in love as they were when in college and there could be nothing more heartwarming. Sadaf Fawad Khan runs her on the eponymous designer label while the heartthrob of the country establishes himself even further as an actor!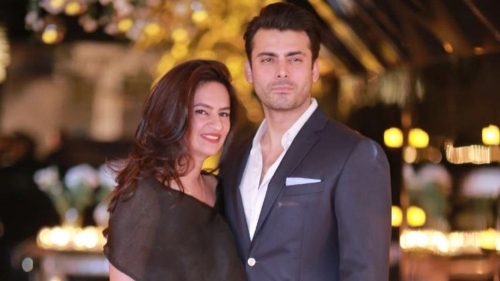 4. Sania Mirza and Shoaib Malik
These two have to be our favorite because of how unlikely their love story was. They gave a new name to the union of India and Pakistan, one that was full of love as opposed to the enemy narrative we have grown up with. Tennis ace Sania Mirza and Pakistan's cricket champion Shoaib Malik have been together for over a decade now.
View this post on Instagram
5. Fahad Mirza and Sarwat Gillani
Another couple for the ages has to be this one. Fahad Mirza is an incredibly successful plastic surgeon whose work is not only coveted but is also miraculous for many. Sarwat Gillani, as we all know and love, is a phenomenal actress whose recent endeavor has left the country shook. The two are picture perfect and have two beyond adorable sons together.
View this post on Instagram
6. Muneeb Butt and Aiman Khan
Last but not least for sure! This couple is hard-working, talented, and charming altogether. When the two are not delivering incredible performances, they're either playing with their cutest daughter or they're globe-trotting on mini-adventures. What's not to love?
View this post on Instagram
Stay tuned to Brandsynario for the latest news and updates.