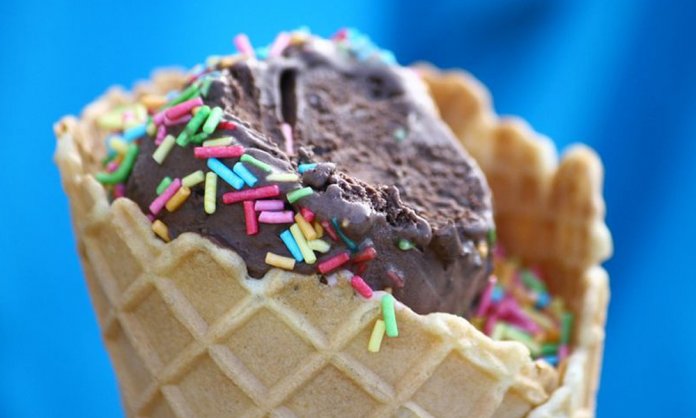 The weather in Karachi is usually hot around the year and despite a small burst of winter, the Karachiites consider themselves 'hot' and 'humid' due to suffering summers all year.
To break away from the 'uncool' weather, people in the city throng to Ice Cream Parlors to quench their thirst and keep their temperature in check.
We bring you six such ice cream parlors that are unique in their own way and give tough competition to all the international outlets in the city, making Karachi proud and cool at the same time.
1) Kaybees
Kaybees is one of the oldest Ice Cream shops in the city; they have now taken over the city expanding from one outlet in Mohammad Ali Society to half a dozen ones in Karachi including one at Khadda Market, another in Defence Market followed by one in Hyderi and another in the newly opened Nueplex at Rashid Minhas Road.
The 'mix' Ice Cream Cone and Cup are what makes Kaybees a crowd favorite as people from all parts of the city visit their outlets to check out Chocolate Vanilla, Chocolate Coffee and Mango flavors that aren't found anywhere else.
Yes, they did close a couple of their outlets in malls but that's because their outlets and restaurants are doing better, keeping the waiters busy with orders. It remains an all-time favorite for families because their snacks are also an added bonus as you get to treat your stomach and taste buds at the same time, at the same place.
2) Dip Shop
Igloo's Dip Shop may not be the oldest Ice Cream parlor in the city but it is one of the most loved for its uniqueness; when they introduced Mix In a couple of decades back, it became a sensation and regular followers of the outlet ensure they don't miss their favorite ice cream when they are in Karachi.
Their two most successful branches are in Schon Circle Clifton and opposite Expo Center where people are always present, especially loyal customers. Where else would you be able to get a stick of Kit Kat mixed in with your favorite ice cream flavor with nuts and toppings as per your liking? Nowhere as the trend was started by Dip Shop and remains exclusive to them, despite many copycats spread over the city.
3) Ice Berg
Whenever you think of Blueberry Ice Cream, you instantly think of Ice Berg at Saddar because they provide young and old with heavenly flavors at nominal rates. The reason they are so popular is that they continue to provide their services as caterers to weddings in the city and most of the time when people fall in love with Ice Creams at Valimas or Shaadis, Ice Berg is the reason.
Besides Blueberry they also specialize in Kino, Vanilla, and Chocolate flavors and now can be purchased from both the Saddar branch or the one at Bukhari Commercial, Defence.
4) Hot Spot Cafe
Situated near the famous 26th Street in Defence, Hot Spot Cafe is the best place to eat if you love your ice cream as much as films; laced with posters of iconic films, the place gives you creeps in a good way. Take your friends and colleagues if you are in the mood to have a dessert after a goodnight meal and if you are in the vicinity then don't forget to treat your taste buds to what this Cafe offers.
Not only does in a deal in traditional Ice Creams but you can also get Ice Cream Cake, Waffle Cones, and other stuff at nominal rates. The ambiance is perfect for a date with friends and you will return after your first visit with another bunch of friends, such as the place's impact on your mind.
5) Rajoo Ice Cream
If you have lived in Karachi then you may have had Rajoo Ice Cream for sure because the brand has now taken over the city because of its low-price and high-quality ice cream.
Just like its competitor Baloch Ice Cream and Peshawari Ice Cream, Rajoo is now one of the leading local Ice Cream Parlors where you get Peshawari Ice Cream, Crunch Ice Cream and Kulfis that taste different to anything you might have experienced before.
They have outlets in all parts of the city including Defence, Clifton, and other areas, making them accessible to all so don't be surprised if you meet a fellow Rajoo fan because the fandom is increasing day by day.
6) Lush Crush
Move aside Jet Sport, Lush Crush is here with its organic ice lollies that will remind the old of their youth and give the young something they have never experienced before. The Ice Lollies available at the Bukhari outlet of the new sensation in town in worth your money as it isn't harmful like traditional ice lollies and isn't very heavy on the pocket too.
Instead of wasting your time at unnecessary tea parathas, go to Lush Crush and join the many who have fallen in love with the Ice Cream parlor. The handmade Ice Pops are something you will not forget for a long time!