Food dishes that can be used as both, full-time meals, as well as snacks, are the most favorite cuisines. While there are many such dishes, kachoris take the lead. But it is not always that you will find the best-prepared kachori. In fact, if you are a kachori lover, you would have gone from place to place in search of the best one. If you haven't, we are here to make life easy for you by listing down the 5 places you can get the best kachoris in Karachi.
While you may be aware that some of the thelas sell the best kachoris, in these COVID times, they are not visible on the streets anymore. So, let's list down places that can deliver online.
1. Shamim's Food & Dessert House
Shamim's Food & Dessert House not only makes superb kachoris but the accompanying assortments are also one that will leave you licking your fingers. The speciality in this category for this particular seller is daal kachori with aalu tarkari.
2. We Make It
Most people claim that the kachori ordered from here is the best kachori they have ever tasted. It looks like a dumpling though. But if they got the taste right, looks are secondary, right?
3. Ready To Eat By Shumaila
It is not always that you crave some masala, at times, you also want something sweet. Hence, put aside qeema kachori and daal kachori, because we also have meethi kachori for you.
4. Hunger Crave
Qeema Kachori for as little as PKR 100! Hunger Crave is selling perfect-looking qeema kachori. The only downside is that you cannot have it delivered the moment you crave it. For delivery orders, you have to make the booking at least one-day prior to receiving it.
5. Karachi Kart
Karachi Kart, at Bahadurabad, is selling kachori that not only is available for 'take away' but they also deliver. The special kachori is served with its usual assortments in the following two ways: They either prepare 4 pieces platter which costs PKR 60, or they sell a dozen kachoris for PKR 120. Clearly, they want you to go for the second option.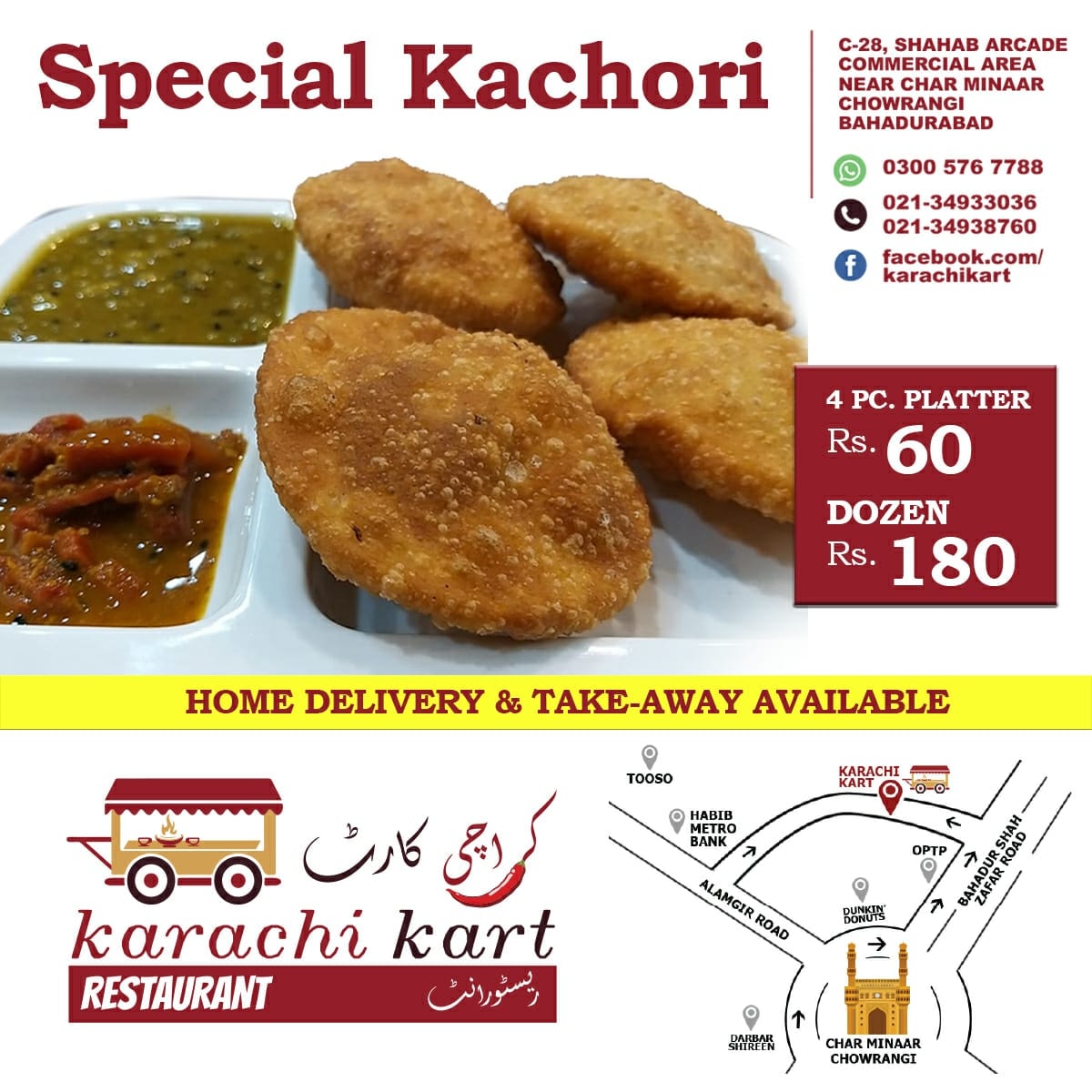 If you are craving kachoris in Karachi, order from any of these places, and let us know if these places actually qualify to be on the list. We are also ready to make updates so if you think we missed out on an important place, tell us.
Stay tuned to Brandsynario for the latest news and updates!