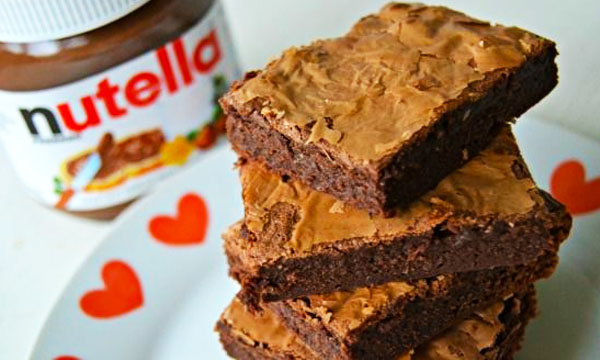 All hail, Nutella! That chocolate paradise in a jar is like the God of all things sweet and lovable. All those who have a crippling penchant for the choco-hazelnut spread will know how blissful it is to sneak spoonfuls of the deliciousness, straight from the pot of yum.
But it even gets better once you start cooking with it!
We have rounded up some insanely effortless Nutella dessert recipes for you that will make your day, your month, or even your whole year! Don't forget to thank us later. Happy munching!
1. Nutella Brownie
If you are crazy about classic chocolate brownies, then you are bound to fall in love with Nutella brownies even more. Indulge in this cracked, perfectly gooey treat, and you will feel like you are in the seventh heaven for sure.
So ridiculously easy, even kids can easily bake them! View the delicious 3-ingredient recipe here.
https://www.youtube.com/watch?v=n_LaSNgMtd4
2. Nutella Mug Cake
Want to eat a chocolate cake?  Too lazy to bake a big one for yourself? Then fix your craving with a simple, one-off Nutella lava mug cake. Rich, intense, and super chocolaty, this instant, one-mug dark dessert is a delicious way to satisfy a sweet tooth. The best part is that it gets ready in less than five minutes!
Check out this fool-proof recipe of Nutella mug cake.
https://www.youtube.com/watch?v=zHBqUgPEa_0
3. Nutella Cookies
Soft, nutty, and chewy with rich, creamy chocolate hazelnut lava in the center; you will just not have enough of this divine delicacy called Nutella cookies.  Devour them oven-hot fresh with a cup of coffee or chai, and it tastes amazeballs!
See what you need to do to have Nutella Cookies made to perfection!
https://www.youtube.com/watch?v=9LmJWfAE27o
4. Nutella French Toast
Kick start your morning with a dose of Nutella for breakfast! This Nutella loaded French toast is like a dream come true for every chocolate lover. Now say goodbye to missing breakfast and say hello to more Nutellaaaaa!
View the incredibly easy recipe for Nutella French toast here.
https://www.youtube.com/watch?v=E1NMaXQzxeI
5. Nutella Popsicles
We saved the best for last! This velvety, yummy, and silky delicacy Nutella Popsicles is a culinary must for all Nutella fans.  When the blistering summer weather is being unbearable, this 2-ingredient sweet and satisfying treat is guaranteed to refresh you. Plus, you don't need a Popsicle machine for it. Get those handy Popsicle stands from your nearest market, and you are good to go!
See how to make the impressive dessert here.
https://www.youtube.com/watch?v=iv5ppqrmNBU
Love this post? Let us know in the comments below.