Did you refuse to hang out with friends recently because you were out of money, and payday was still a week away? Do you always find yourself planning to travel but always cancel due to a shortage of cash? Do you wonder where your money disappears?
Well, worry no more because, with money-saving apps, you will always make informed financial decisions. And more importantly, these apps are available on both Android and Apple to play stores, so the type of your phone will not hinder in adopting a financially healthy lifestyle.
1. Wallet
After downloading all the money-saving apps and finally being able to go on vacations, what happens is, you spend much more than you planned. With Wallet, you can track your savings even if you are traveling. How cool is that?
Since it supports international currencies too, so if you are traveling outside the country, rest assured Wallet will keep track of your spendings and nudge you every time you are about to make a risky (financial) decision. Other types of arrangements are entirely your responsibility.
It also syncs up with your banking apps to keep track of even those spendings that you consider minimal and irrelevant. Overall, the app is free, but to unlock some of its features, a subscription fee is required.
2. Pocket Guard
Pocket Guard is another app that you can have on your smartphone of any type since this, too, is available of Google and Apple's store. This money-saving app also syncs with mobile banking apps to keep track of your purchases and bills and analyzes the previous spendings. The rough estimates it provides tells you how much you should spend and how much will make you run into debt.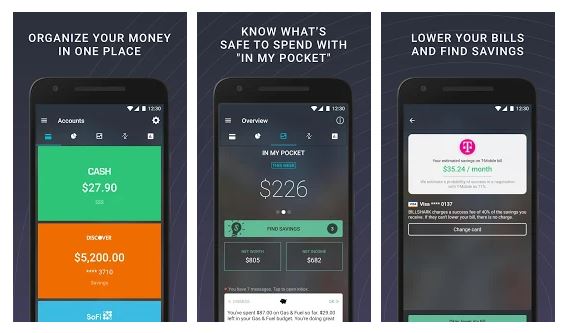 3. Home Budget with Sync
Home Budget with Sync is an app that allows it's users to handle the financial matters of the household by keeping track of the purchases. This way, the user can review their spending so that they make the right alterations to save money.
The family sharing feature synchronizes the purchase and expenditure of the whole family, so all are aware of what spending to cut down on for money saving. The app helps the user set a budget to follow along with handling the income in the way the user wants. The family members can use the app individually to save money for themselves too.
4. The Bonus: Wela
Okay, this fantastic app is another money-saving app, but this one is only available on iOS, so apologies to Android people. What this app does is, it makes categories of spending. For instance, one category is of the must-expenses; the expenses, for example, rent and utility bills that need to be paid no matter what. Another critical feature it has is that it is linked to another app, Al Chabot. Al Chabot allows the user to get expert advice that is tailor-made for their specific case.
5. Hysab Kytab
Developed by Createch, Hysab Kytab is another money-saving app that enables the user to set a goal, plan a budget, review charts, and track expenses. But the simplified visual representation of costs is critical here.
Not only is it easy on the eye, but a clean way of representation makes it easier for a layperson to understand their financials instead of going to a third-party expert for the explanation of the data.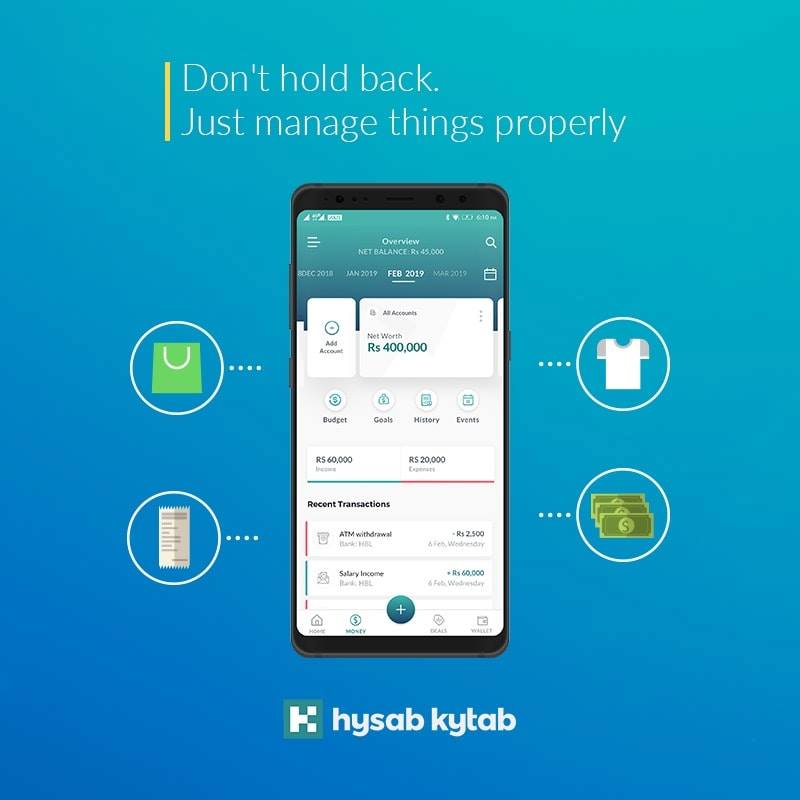 Overall, almost all money-saving apps provide the service of tracking incomes and expenses, analyze your past spending, and guide you on your future ones. So rather than focusing on finding that one app that will give you the best result, the very first step towards attaining a financially healthy lifestyle is to download at least one app right away.
For more news and updates, stay tuned to Brandsynario!