Strawberries are in season, and what better way to enjoy this season than to indulge in strawberry desserts. They can store for as long as six months to a year, so create a strawberry stash and enjoy them even off-season.
To store them, buy a bunch of strawberries clean them under running cold water. After that, spread butter paper in the tray and freeze them in the freezer for 4-5 hours. Once they're completely frozen, transfer them to a zip lock bag ad enjoy as long as you want.
Strawberries make the perfect summer desserts, from shakes to smoothie bowls and cheesecakes. If this makes you want to indulge and impulsively buy some for yourself. Then, have a look at these strawberry dessert recipes, which will surely be a treat for your tastebuds.
1. Easy No-Bake Strawberry Cheesecake
This no-bake strawberry dessert is the perfect alternative to a strawberry cake. It's a cold and refreshing, creamy, frozen dessert made with fresh strawberries and a crunchy graham cracker layer.
Ingredients
GRAHAM CRACKER CRUST:
2 1/2 cups ground graham crackers
1/4 cup sugar
7 Tbsp butter, melted
FILLING:
3 cups heavy cream
12 oz cream cheese
1/2 cup powder sugar
1/4 teaspoon lemon juice
TOP OF CAKE:

2 cups strawberries, cut into half or slice

SAUCE:

1 cup boiling water

1/4 cup sugar

1 tbsp lemon juice

2.5 tbsp cornstarch

Food color
Instructions
Put parchment paper in the cake tin and leave it aside.
GRAHAM CRACKERS CRUST – Put graham crackers in the food processor and crumble them. Combine graham cracker crumbs, sugar, and butter in a medium bowl. Spread the mixture evenly in the cake tin and shape using hands. Leave it in the fridge while you prepare the cheesecake filling.
CHEESECAKE FILLING – In a large dish, whisk heavy cream with an electric mixer using medium speed for about 4 minutes. Then, whisk for about a minute at a maximum speed. In a separate medium dish, mix cream cheese, powdered sugar, and lemon juice with an electric mixer at a medium speed for about a minute. Put it in the bowl with heavy cream and mix briefly until well combined. Take the cake tin out of the fridge and spread cheesecake filling evenly over the graham crust layer.
TOP OF CAKE – Cut strawberries in half or slice them and place them over the whipping cream. Put the cake tin back to the fridge.
SAUCE – Boil some water in a medium-sized pan, using moderate heat. Mix cornstarch and sugar and put them into boiling water. Add lemon juice and cook on moderate heat until it thickens. Remove from heat. You can add a few drops of red food color if you wish. Leave to cool at room temperature and put over the strawberries.

Image source: https://www.pinterest.com/
2. Strawberry Smoothie Bowl
Smoothie bowls are all the rage this season. They are famous among people who want to have healthy alternatives for their breakfast.
Ingredients
1 cup

 unsweetened almond milk

2 cup

s frozen strawberries

2

 bananas

4

 pitted dates
Instructions
Add all ingredients to a blender.  Blend until smooth.
Divide smoothie between 2 large bowls and top with desired toppings.
Crunchy granola, fresh sliced strawberries, and sliced bananas work best as toppings in this recipe.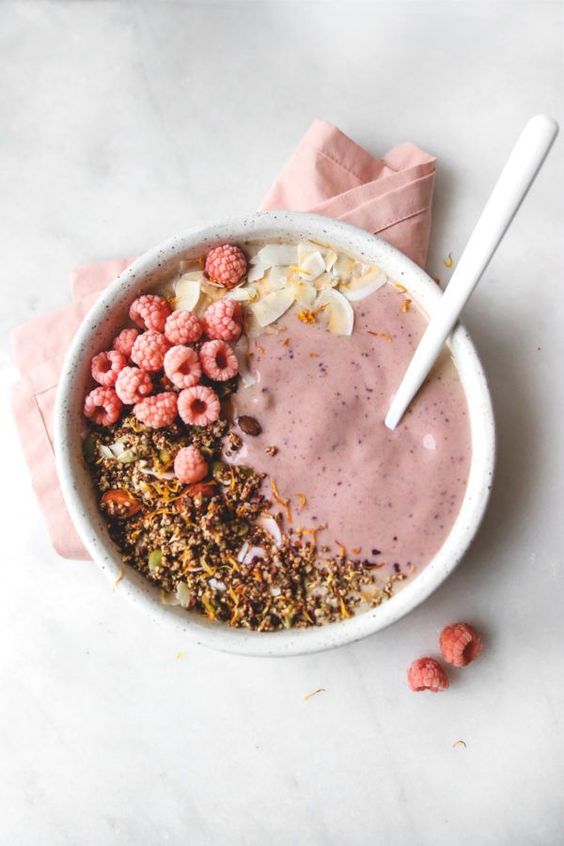 3. Easy Strawberry Shortcake Trifle
Ingredients
1

 

cup

 

heavy cream

3

 

Tablespoons

 

sugar

1/2

 

teaspoon

 

vanilla

1

 

loaf

 

pound cake

, cut into cubes

2

 

cups

 

strawberries

, chopped
Instructions:
In a medium bowl or the bowl of a stand mixer, beat the heavy cream on medium-low speed until light and fluffy. Add the sugar and vanilla, and beat until soft peaks form.

Next, chop the strawberries. Then cut the pound cake into 1-inch cubes.

To assemble the trifle, divide the pound cake in half and distribute evenly between six individual serving glasses. Sprinkle half the strawberries over the top, then add a dollop of whipped cream. Repeat with the remaining pound cake, strawberries, and whipped cream.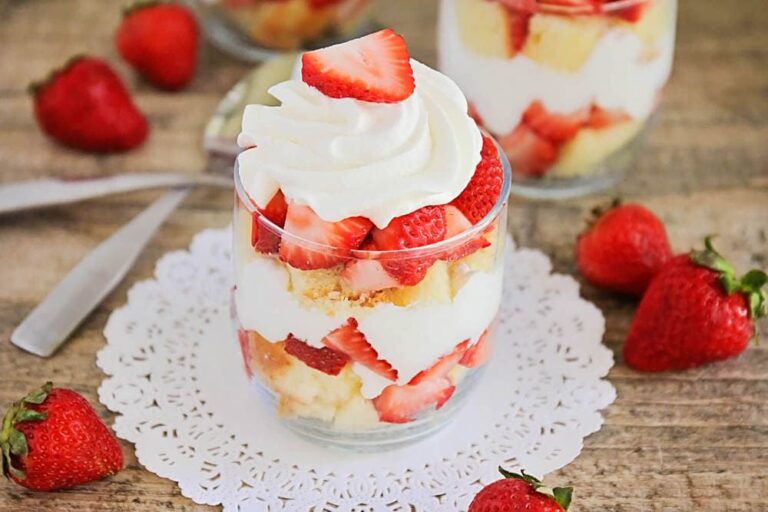 4. 3 Ingredient Strawberry Mousse
This 3 ingredient strawberry mouse is a perfect quick fix dessert.
Ingredients
1 pound fresh strawberries, equal to one 16 oz container
2 tbsp sugar, honey, or maple syrup
1 & 1/2 cups heavy cream or full-fat coconut cream
Instructions
Thoroughly wash the strawberries.
Slice the stems off the strawberries
Place strawberries and sugar in a blender and mix until pureed (about 2-3 minutes)
Set aside.
Pour cream into a bowl and mix on high until soft peaks form.
Once you have soft peaks, gently fold the strawberry puree into the cream until everything is well combined.
Divide the strawberry mousse into smaller containers and refrigerate for 30-60 minutes
Mousse can be stored in a covered container for up to 3 days.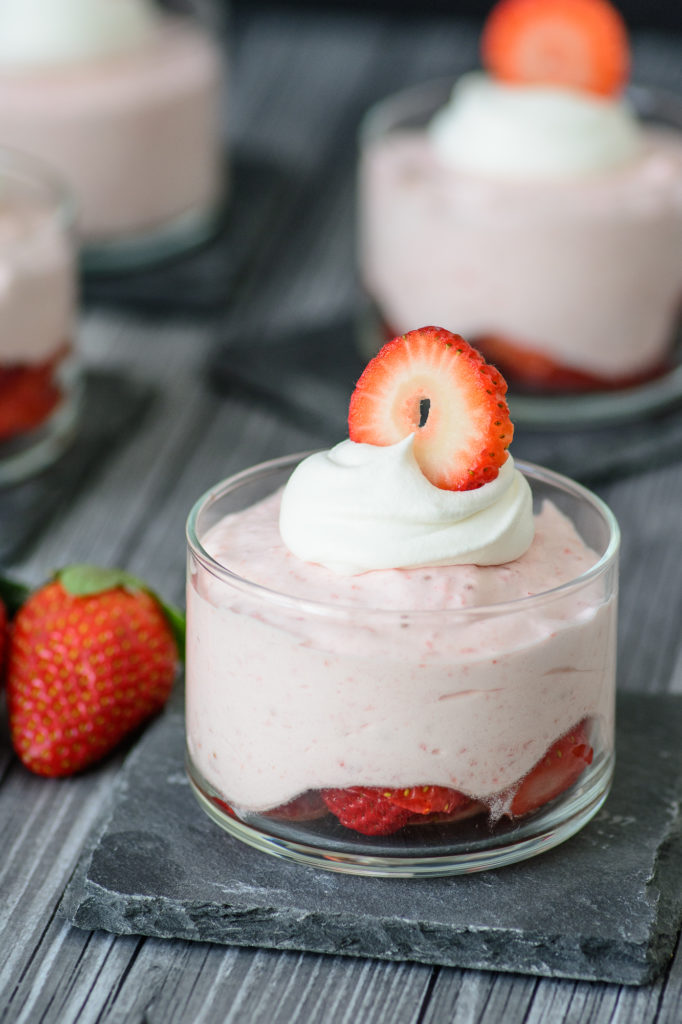 5. 3 Ingredient Easy Strawberry Sorbet
The quick strawberry sorbet does not need an ice cream maker to beat the heat.
Ingredients
16

 

oz

 

(approx. 3 cups) fresh or frozen strawberries

2

 

tbsp

 

raw honey,

 

as needed for sweetness⠀

1/4

 

cup

 

warm water,

 

as needed to loosen
Instructions
If the strawberries are not yet frozen, freeze the strawberries until completely solid, which should take 1-2 hours.
Place the frozen strawberries into the bowl of a food processor or heavy-duty blender.
Blend until smooth. ⠀
Add warm water and press with a spatula to help along, as needed.
Taste when smooth, and add raw honey, as needed, for sweetness.
Eat immediately for a softer texture, transfer into a freezer-safe container and freeze for 1-2 hours or until firm.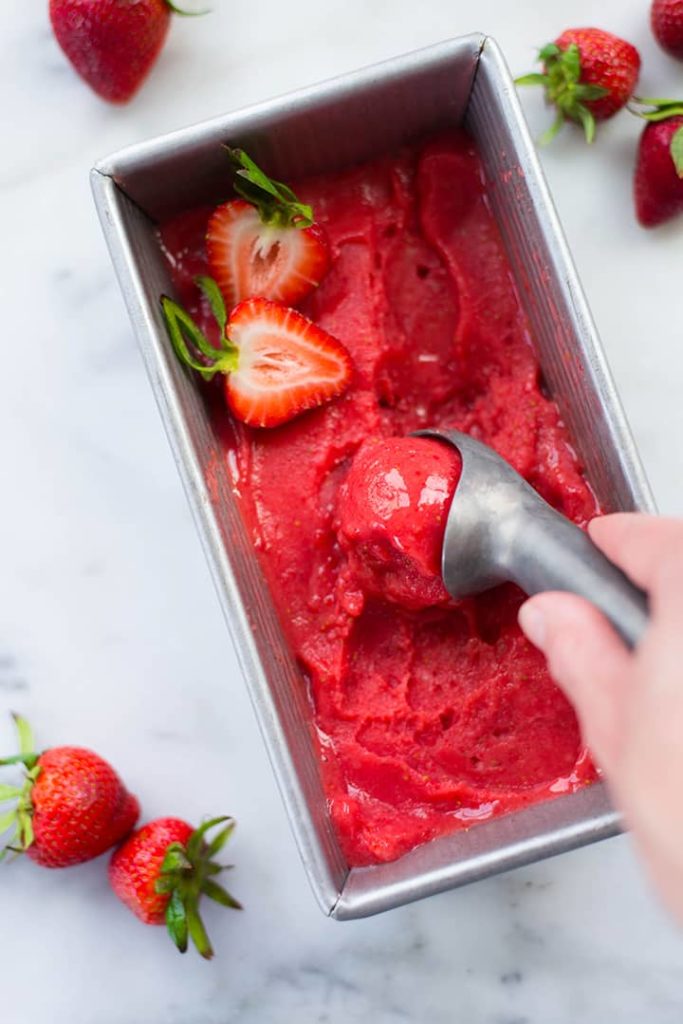 Stay tuned to Brandsynario for the latest news and updates.