Desserts make life sweet, literally. So we go crazy over cookies, cakes, brownies, and whatnot. What is the other constant in your life, you know, other than desserts? Potato chips, hands down. So potato chips make a good snack, and to cure your sweet craving, you can have dessert. But what if I were to tell you that you can have both at the same time?
Intriguing, right?
So let's look at five desserts that can be made with potato chips.
1.

Potato Chip Toffee
So first off, we have potato chips toffee. To make this, you need some Lays Wavy potato chips. Now spread the chips in a pan. Ensure that the chips make a whole layer of it. Alongside that, make toffee in a separate saucepan. Now pour the melted toffee mixture over the layer of chips. Put the pan in the oven. After some time, take it out and add chocolate chips to it. Put it back in the oven. When you take it out again, smooth out the chocolate. Sprinkle the crushed Lays chips on the chocolate.
2.

Sweet and Salty Potato Chip Cookies
For this recipe, you have to preheat the oven to 350 degrees. Get cream, butter, white sugar, and brown sugar. To this mixture, add eggs, flour, salt, baking soda, and vanilla. Don't forget to add potato chips and chocolate chips. Put it all in the fridge for an hour. Now roll them in balls and put them on a tray on which you have spread the non-stick baking sheets. You only need to bake for 11 minutes, et voila, the sweet and salty potato chip cookies are ready to be devoured.
3.

Chocolate Covered Potato Chip Blondies
To make blondies, cream the butter and sugar in a bowl until it is all fluffy. You can now add salt, vanilla, and eggs. Bring in the baking powder and flour into the scene. The mixture should be thoroughly mixed. Now spread it all evenly on the oiled pan and put it in the preheated oven (350°F) for at least 20 minutes.
Meanwhile, melt the butter and marshmallows in a large saucepan. Now, shut off the heat and add the potato chips. Stir until fully coated. Now quickly spread it on the cooled blondies. To cover it with chocolate, you need to microwave chocolate for 30 seconds. And then pour the melting on the blondies.
4.

Potato Chip Krispy Treats
Take the ruffles and crush them until they are bite-size. After that, melt the butter at medium heat and add marshmallows until it all melts. Now shut off the heat and add the ruffles to it. The best way to go will be to put it into a perfect square. Let it cool off, and then cut it.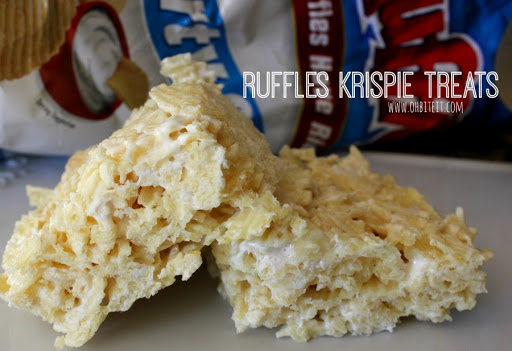 5. Chocolate Covered Caramel Potato Chip Brownies
First of all, you need to make brownies. If you don't know how to make them, well, GOOGLE it! Once you are done making brownies, take potato chips and thoroughly soak them in the caramel you have just covered your brownies with. Now cover it all up with the melted chocolate.
So what do you say? wOuld you try making these desserts? If yes, do share your experience with us.
Stay tuned to Brandsynario for the latest news and updates!