Banana Bread is more than just bread. It is a healthy option for all diet-conscious people while being delicious at the same time. The best part about banana bread is that you can actually store it for up to five days without going stale, and if you want to enjoy it longer, you can easily freeze the slices and enjoy them later.
If you haven't tried banana bread, then you are really missing out. And if you love to bake, take a look at these banana bread recipes, which you must try at least once.
1. Easy One Bowl Banana Bread 
This easy bread recipe is a perfect hassle-free option when you need a quick healthy dessert fix. Just roll the ingredients in a bowl, mix them up and shove them in the oven. Could it get any simpler than that?
Ingredients
 3-4 ripe bananas, mashed
 1/3 cup butter, melted
 3/4 cup granulated sugar
 1 egg, beaten
 1 teaspoon vanilla
 1 teaspoon baking soda
 1 teaspoon baking powder
 1/4 teaspoon cinnamon
 1/8 teaspoon salt
 1 1/2 cups all-purpose flour
 1 cup chopped walnuts, plus extra for topping if desired
Instruction
Preheat oven to 350 degrees F. Lightly grease and flour an 8.5×4.5-inch loaf pan or spray with baking spray.
In a large bowl, combine the mashed bananas with the melted butter, then add the sugar, egg, and vanilla. Stir well with a large wooden spoon.
Sprinkle the baking soda, baking powder, cinnamon, and salt over the banana mixture. Stir to combine.
Add flour and walnuts or chocolate chips (if desired), and stir just until no streaks of flour remain. Pour the batter into the prepared loaf pan.
Bake for 50-60 minutes, until a knife inserted in the center of the loaf, comes out clean. Cool in the pan for 10 minutes, then turn out onto a wire rack and cool completely. Slice into 10 thick slices and serve.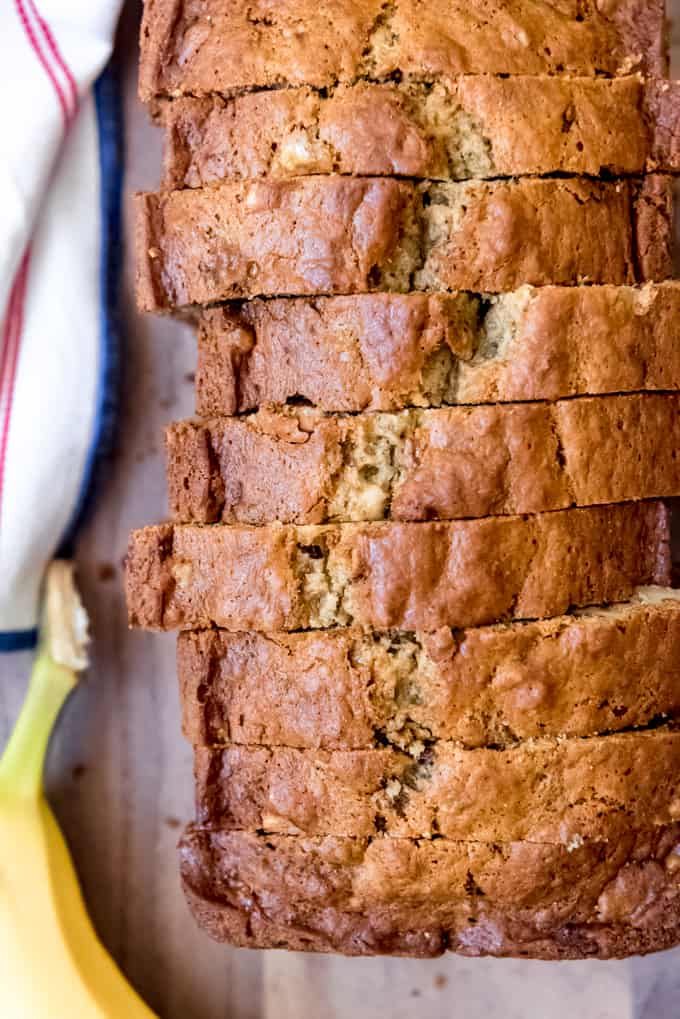 2. Peanut Butter Chocolate Chip Banana Bread
If you like your dessert extra sweet, then this combination of peanut butter and chocolate chips in banana bread is for you.
Ingredients
 

cups

 

all-purpose flour

1

 

cup

 

granulated sugar

1

teaspoon

 

baking powder

1teaspoon

 

baking soda

1 

teaspoon

 

salt

1

 

teaspoon

 

pumpkin pie spice

1½

 

cup

 

mashed banana

 about 3-4 bananas

1/2

 

cup

 

applesauce

 unsweetened or sweetened

1/2

 

cup

 

creamy peanut butter

1/4

 

cup

 

canola OR vegetable oil

2

 

large

 

eggs

2

 

teaspoons

 

vanilla extract

1

 

cup

 

miniature semi-sweet chocolate chips
Instructions
Heat oven to 350°. Spray two 8×4-inch loaf pans with cooking spray.  You can also use 4-5 miniature loaf pans instead. There is too much batter for just one 9×5-inch loaf pan, so don't try and do that.
In a large mixing bowl, combine flour, sugar, baking powder, baking soda, salt, and pumpkin pie spice. Stir with a whisk to break up any clumps.
In a separate smaller bowl, combine the mashed bananas, applesauce, peanut butter, oil, eggs, and vanilla extract. Use a whisk (I use the same one from before) and mix it.
Pour the wet ingredients into the dry and stir together with a rubber spatula or wooden spoon. Stir in the chocolate chips.
Divide the batter between the two pans. Each pan should only be about half full. Sprinkle some additional chocolate chips on top (if wanted).
Bake for 45-50 minutes. Cover loosely with foil (just lay a piece of tin foil over the top of the loaf pans) for the last 15 minutes of cooking, so the bread does not get too brown.
Let the bread cool in the pan for about 15-20 minutes and then take it out and let cool on a cooling rack completely. Or eat a piece warm with butter! Yum!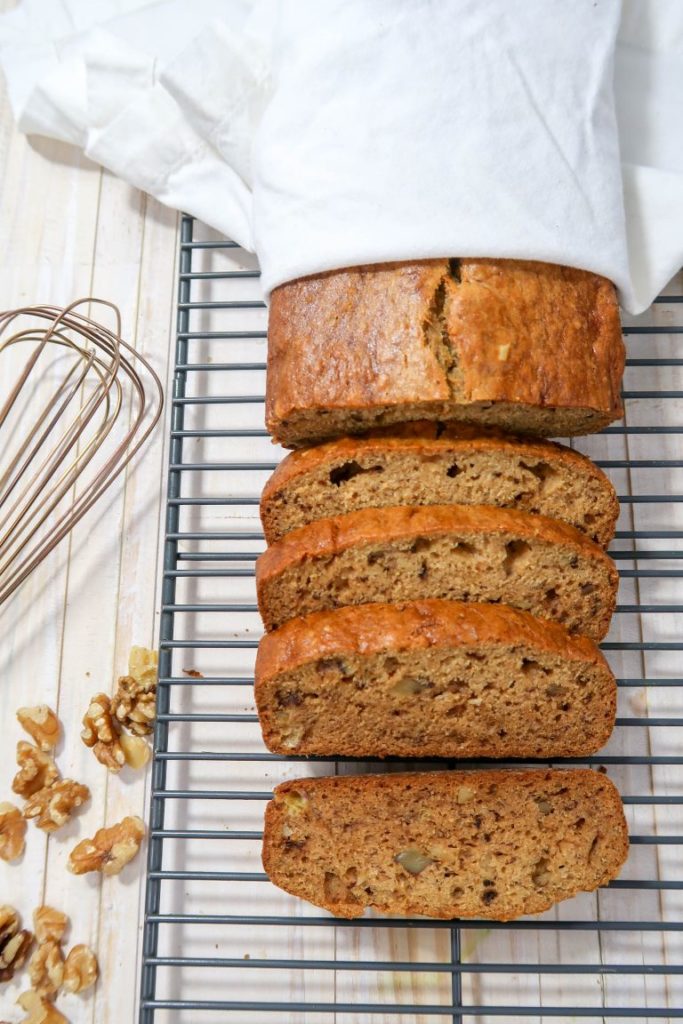 3. Banana Walnut Bread Recipe
Easy to make delicious, moist, and sweet banana bread is made with simple ingredients.
Ingredients
 

2

 

cups

 

flour

 

— all-purpose

 

2

 

tsp

 

baking powder

 

1/4

 

tsp

 

salt

 

1/2

 

tsp

 

cinnamon

 

— optional

 

1/2

 

cup

 

butter

 

— melted

 

1/2

 

cup

 

sugar

 

1/4

 

cup

 

light brown sugar

 

2

 

large eggs

 

1

 

tsp

 

vanilla extract

 

4

 

medium ripe bananas

 

— mashed (1 3/4 – 2 cups)

 

1/2

 

cup

 

walnuts or pecans
Instructions
Preheat oven to 350 F. Sprays a 9×5-inch loaf pan with cooking spray.

In a bowl, combine the dry ingredients – flour, baking powder, salt, and cinnamon.

In a separate bowl, beat together butter and sugar for 3 minutes, until well incorporated.

Add the vanilla and eggs. Beat for 2 more minutes.

Add in the bananas and whisk to combine.

Add the dry ingredients and mix until just combined. Do not overtax the batter because the bread will be tough.

Bake for 60-70 minutes until the toothpick inserted comes out clean. Cover with aluminum foil halfway through so the top does not burn.

Image source: https://cookinglsl.com/
4. Copycat Starbucks Banana Bread Recipe
Ingredients
2 cups flour
1 teaspoon baking soda
¼ teaspoon salt
1 egg
1⅛ cup sugar
½ cup vegetable or canola oil
2 tablespoons buttermilk or milk
½ teaspoon vanilla
3 bananas mashed very well
½ cup chopped walnuts
Instructions
Preheat oven to 325 degrees.
Add flour, baking soda, and salt to a small bowl and set aside.
Mix egg, sugar, and oil and stir until well combined
Add the dry ingredients to the wet and stir well. The mixture will be thick and dry.
Next, add milk, vanilla, and bananas and stir until incorporated.
Mix in walnuts and pour into a loaf pan.
Cook 50-75 minutes, regularly checking until a knife comes out clean.

Image source: https://gimmedelicious.com/
5. Low-Fat Banana Bread
Ingredients
1 1/4 cups flour
1/4 tsp salt
3/4 tsp baking soda
2 1/2 – 3 ripe bananas, mashed
1/4 cup apple sauce
1/2 cup brown sugar
2 tbs butter, softened
1/2 tsp vanilla extract
2 egg whites
walnuts (optional)
Instructions
Preheat oven to 350 degrees Fahrenheit
Whisk flour, baking soda, and salt in a small bowl. Set aside.
Blend softened butter and sugar. Add egg whites, mashed bananas, apple sauce, and vanilla extract and beat until thickened and smooth.
Slowly add the flour mixture (I add a small amount at a time). Add walnuts if using.
Pour into a prepared bread pan and bake for about 50 minutes or until a fork comes out of the center clean.

Image source: https://www.whatwouldcathyeat.com/
Stay tuned to Brandsynario for the latest news and updates.