Streets of Pakistan were decked with green and white as we celebrated the 74th Independence Day. How did Pakistanis commemorate the day of Azaadi amidst the pandemic?
The Jashn-e-Azadi Celebrations
Every year the day is looked forward to by all Pakistanis. Usual scenario entails youngsters on bikes and trucks with huge, blaring speakers, all decked in green. They have their mini jhandas in hands; children will be dressed in green and white and pressed against windows. Roads are blocked, but they are beautiful.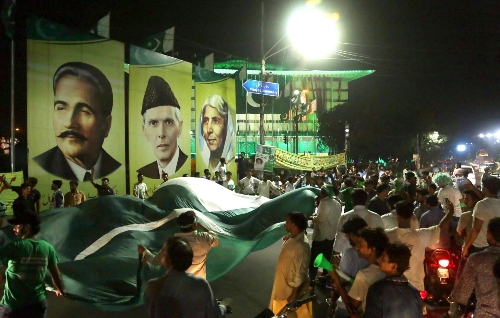 However, this year the celebrations were different yet not too much!
Independence Day During Coronavirus
Many people had to adapt to the situation and improvise. Here are some of the categories you must have noted:
1. The Stay At Home Celebration
Many chose to stay at home and make do with the white and green outfits they already had in their kitchens. They cooked up their favourite dishes at home, watched movies, and called it a day.
2. The Mini Party Throwers
Then some had a more passionate patriotic streak in them. They decorated their houses with white and green and called some friends and family over. Of course, in a socially distanced manner while following all SOPs!
3. The Instagram Patriot
There's always an Instagram fanatic in the lot whose life begins and ends with the app. These were the ones who wrote long paragraphs on stories, posted a lot of pictures on the 'gram. People in this category lead the campaign of patriotism on the micro-blogging site. Jinnah is their ultimate idol for the day.
4. The Rowdy Lot
Of course, there are those too for whom the love for the country trumps their fear of a pandemic. They decorated their cars and trucks, and they took to the streets. This lot mainly consists of young boys whom you would not want to face. They are possessed by a manic spirit and are unstoppable.
No one had any mask one while they danced on the streets. The roads were blocked to the extent that people were stuck in traffic for hours. The cluster of cars on the street also seemed aesthetically pleasing to many who whipped out their drones for a picture.
So which one of these was you? Let us know in the comments below.
Stay tuned to Brandsynario for the latest news and updates.