Actress Ghana Ali does not shy away from critics and trolls. She does not give in to what she feels strongly about just because an internet troll gave her a hard time. In fact, if she is not schooling the troll, she makes sure that her response trolls them right back.
Always impressed by her way of dealing with these cowards who get their courage from the safety of computer screens, we have compiled the times she best dealt with them.
Ghana Ali right after her wedding
The trolling increased when she announced her marriage. She got bullied when a rumor surfaced that her husband was already married and that she was his second wife. But she mostly ignores it when the bullying and the trolling are directed towards her. She chose not to take that route when the target shifted to her husband.
She had posted a picture where she was posing. This was after her wedding.
Body-shaming troll
A troll who thought he was funny, commented on that picture. He asked whether the husband was expecting or not. Not only was he insulting the idea of pregnancy by making it out to be a joke but also body-shaming the husband.
Ghana responded: No honey your brain probably is.
Burn!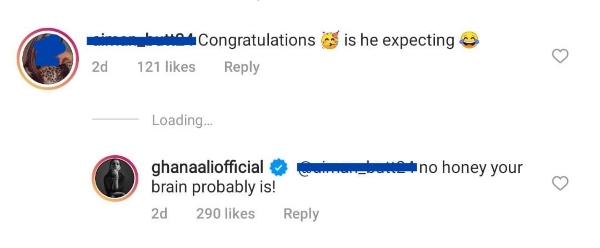 Another body shamer
Another troll chose the same picture to ask a not-so-innocent question. He asked whether you can even find clothes for his size. Her response was iconic. She said that she does but if she is unable to she can always get it made on order. Of course, if the troll was a tailor, her problem would be solved.
She posted some pictures recently. Both the couple looked really cute together.
Witty response to an 'ugly' comment
A troll put aside all ethics and outright commented, 'So ugly.' This is something you should not say to anyone even if you are friends with them. But Ghana needed no one as her advocate. She responded with, "Just like your mind."
Wit on point, ma'am.
Done with putting up with trolls
People must have commented on her husband's black dress. Instead of replying to each one of them, she edited her own caption. In that caption, she said that if anyone has an issue with her husband's dressing, they can totally unfollow her because she won't take anybody's "crap" anymore.

Now, that's how you deal with trolls. You go, girl!
Stay tuned to Brandsynario for the latest news and updates!