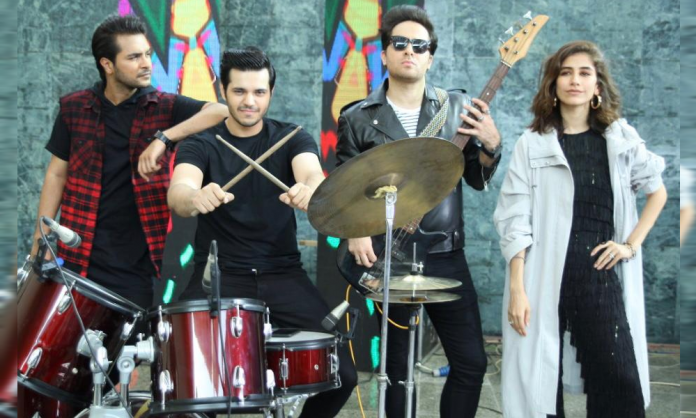 One of Pakistan's most renowned biscuit brands recently launched a stellar drama called Candi Meray Dost Meray Yaar.
The story revolves around 4 friends: Zoya (Syra Sharoz), Sherry (Haroon Shahid), and Zain (Asim Azhar) and Mohib (Hamza Tariq Jameel) who are all band members and share a passion for music .
But, somehow cruel fate causes them to part ways. However, Zoya is keen on reuniting them during her grand-wedding.
Over the course of days, Zoya's efforts to reunite the band becomes her first priority, even though her wedding is imminent and this gets her family worried.
We see Sherry willing to make amends as Zain also comes around to the idea of a reunion of all the friends.
But will this reunion help the squad rekindle their friendship?
Nonetheless, we must admit that amidst this sweet and sour friendship, each character in this story has left us all a valuable lesson
1. Undying Faith and Hope is a Must
From the first episode, Zoya's character inspires us to be hopeful. Despite all the years that have passed she believes that her friends will once again reunite during her wedding. She carries a candle of faith and shows us that being optimistic truly has its fruits if you really want to run after your goal.
2. Passion for Perfection Makes Him Strive Ahead
Sherry is portrayed as the mature one making the band a success with a long-term plan. However, in his desire to make the band successful, he takes onwership, making decisions that others are not often on-board with. Nonetheless, he has always tried to think about the band which has taken him far in life.
3. Heartbreaks and Aches are a Part of Life
Zain, being the youngest member of the band, has always done everything possible to seem serious and mature in front of others. Although he wants his own space and privacy, he tries to do his best to act like a responsible adult as we have seen in Episode 1 and 4.
4. Being the 'Misfit' is actually 'Alright'!
Mohib is one character that we all can relate to at some given point in time. He is going through a rough patch, caught up with the wrong people and is financially strained. He may not have any credit balance in his phone, or cash in the wallet, yet he is always there for his friends because nothing else matters.
The series has shown how all the characters have put behind their past for a bright future and each one of them has grown from their own personal experiences as artists and human beings.
Catch all the Episodes of Candi Meray Dost Meray Yaar Below!
https://www.youtube.com/playlist?list=PLdZNFVCDo_1dxllGlle3J6WqEHtO2gQHj
There are many other lessons we have leaned throughout all the episodes. Which one has been your favorite?