In this hot heat, cherries are the ideal fruit to consume. They are low in calories and high in fibre, vitamins, minerals, and nutrients. Each fruit also contains potassium, magnesium, and calcium. They include antioxidants such as beta-carotene as well as the vital mineral choline. Pakistan is also the 48th highest producer of cherries, so make sure you consume all the cherries provided. To luxuriate in the deliciousness of fresh cherries, try these three dishes.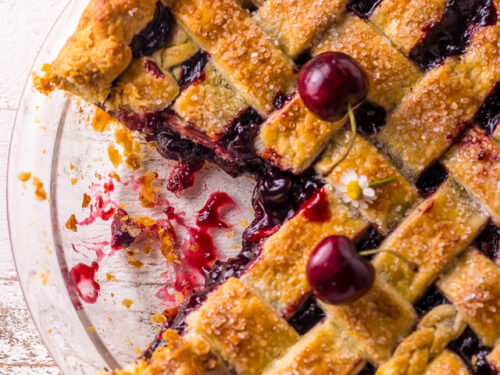 Ingredients:
Chilled pie dough for top and bottom 9-inch pie
6 cups pitted fresh cherries
1/4 cup (30 grams) cornstarch
2/3 to 3/4 cup (135 to 150 grams) sugar, adjusted accordingly to sweetness of cherries
1 teaspoon vanilla extract
1/4 teaspoon almond extract
1 tablespoon lemon juice
1/8 teaspoon salt
1 tablespoon cold unsalted butter, cut into small squares
1 egg yolk
1 tablespoon heavy or whipping cream
Additional sugar for topping crust (coarse sugar is a nice option)
Directions:
·         Make filling
Heat oven to 400 degrees F.
In a large bowl, stir sugar, cornstarch, vanilla extract, almond extract, lemon juice and the salt together then add cherries. Gently toss to combine. Set aside.
Prepare and fill the crust
Remove half of dough from refrigerator and let sit at room temperature for 5 minutes. On a lightly floured surface, roll out dough to a 13-inch (1/8-inch thick) circle. (Occasionally, check if dough is sticking to the surface — add a small amount of flour when necessary).
Check for size by inverting pie dish over dough round. Look for a 1-inch edge around the pie dish. Carefully press the dough into the dish.
Spoon cherry pie filling into pie crust. Discard most of the liquid pooled at the bottom of the bowl. Dot filling with little squares of cold butter.
Roll out second half of dough then top pie. Use a knife or pair of kitchen scissors to trim dough to within 3/4-inch of the edge of the dish.
Fold edges of top crust underneath edges of bottom crust, pressing the edge to seal it so that it creates a thicker, 1/4-inch border that rests on the lip of the dish. Then, crimp edges by pressing the pointer finger of one hand against the edge of the dough from the inside of the dish while gently pressing with two knuckles of the other hand from the outside Refrigerate dough at least 20 minutes or freeze for 5 minutes before baking.
Just before baking, make egg wash by whisking egg yolk and cream together in a small bowl. Use a pastry brush to brush over the top crust. Then, sprinkle with 1 tablespoon of sugar. Then, cut 3 to 4 slits in top of pie.
Bake for 20 minutes then reduce oven temperature to 350 degrees F and bake an additional 30 to 40 minutes longer, or until the crust is golden and the filling is thick and bubbling. Cool pie at least 2 hours, preferably 3, before cutting to allow filling to set.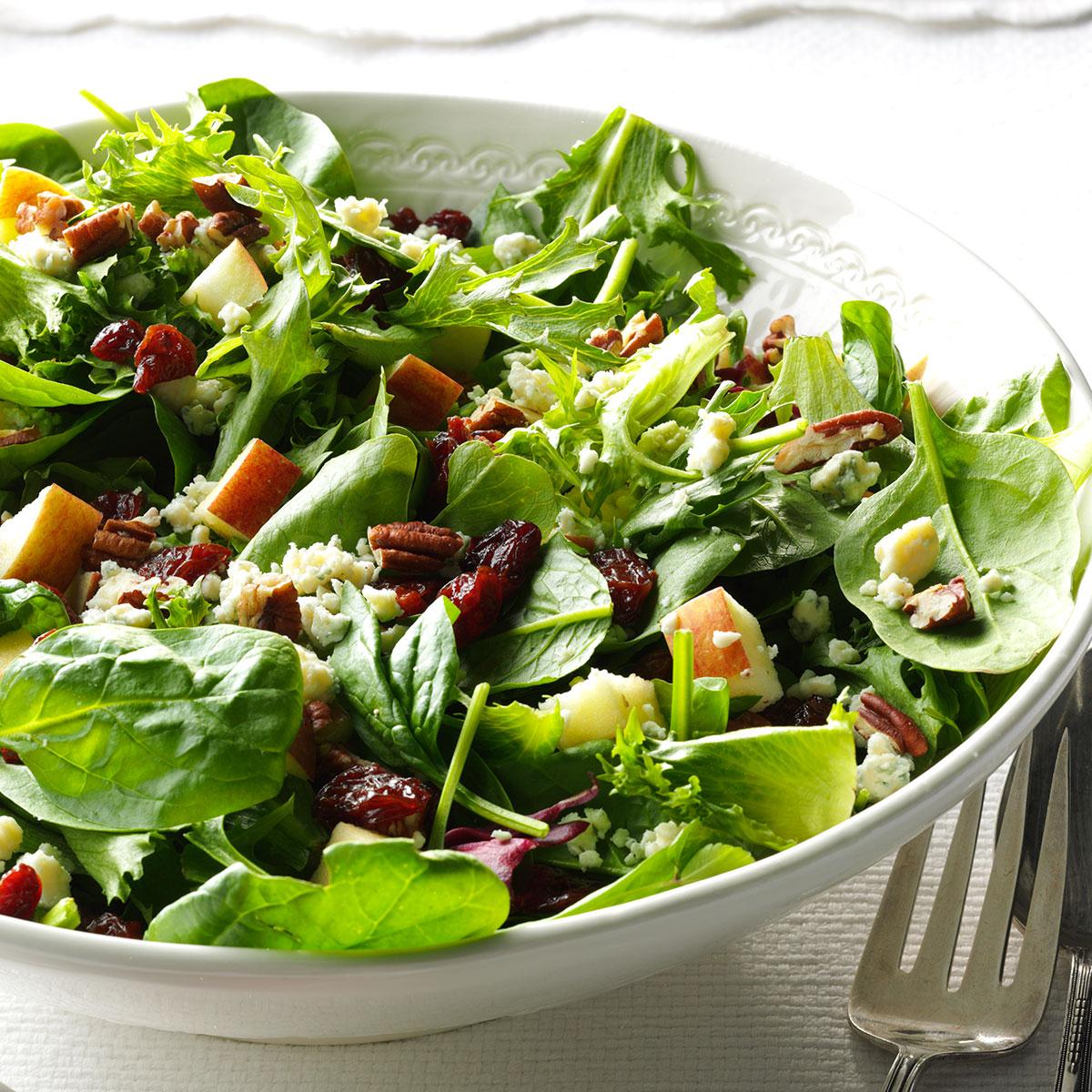 Ingredients
7 ounces fresh baby spinach (about 9 cups)
3 ounces spring mix salad greens (about 5 cups)
1 large apple, chopped
1/2 cup coarsely chopped pecans/walnuts, toasted
1/2 cup fresh cherries
1/4 cup crumbled feta cheese
Dressing:
1/4 cup fresh cherries
1/4 cup vinegar
3 tablespoons cider vinegar
1 tablespoon sugar
2 tablespoons olive oil
Directions
In a large bowl, combine the first 6 ingredients.
Place cherries, vinegars, preserves and sugar in a blender. While processing, gradually add oil in a steady stream. Drizzle over salad; toss to coat.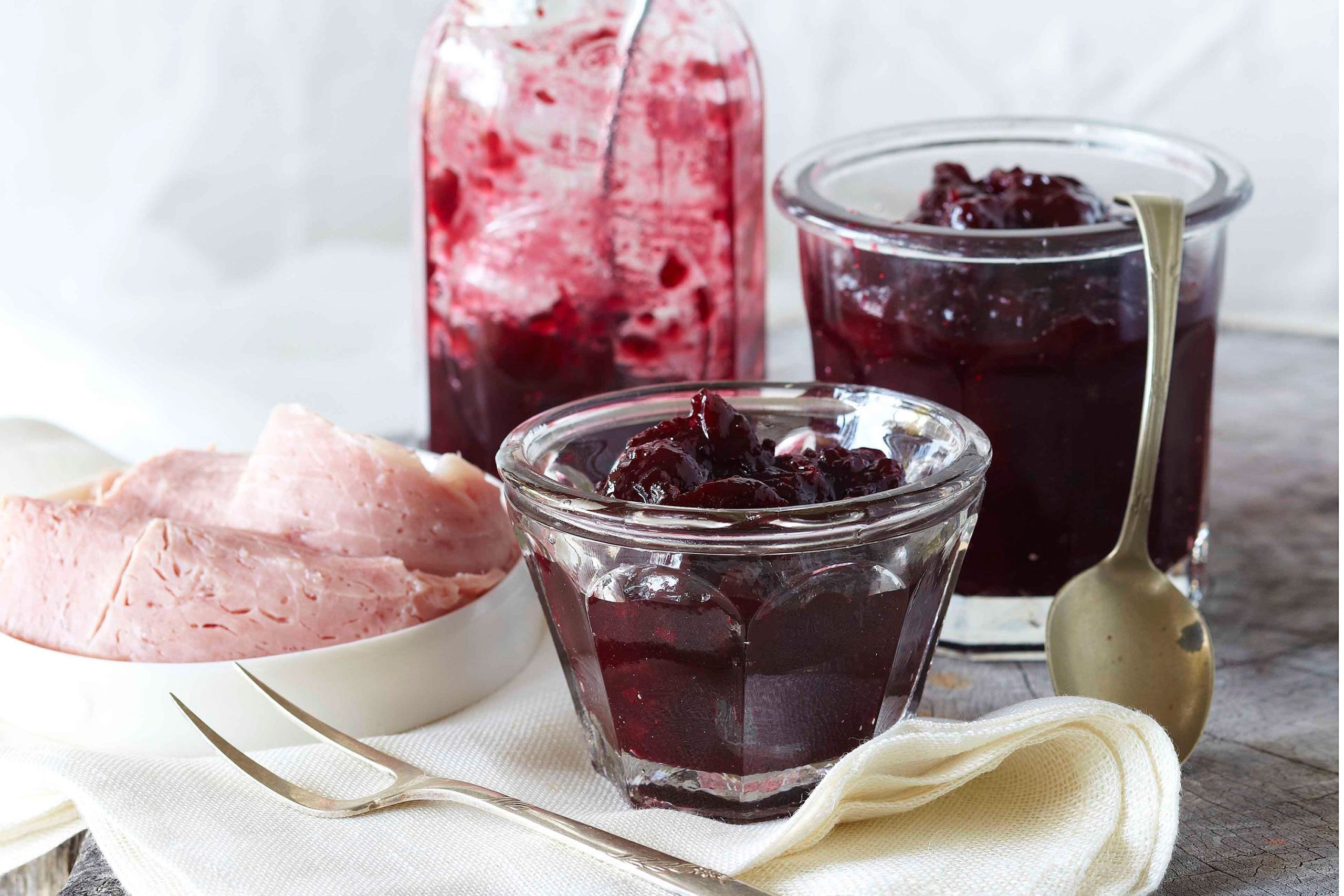 Ingredients
3 cups fresh or frozen pitted tart cherries, thawed
1 large sweet onion, finely chopped
1 small green pepper, chopped
1 small sweet red pepper, chopped
1/3 cup packed brown sugar
1/4 cup balsamic vinegar
2 teaspoons minced fresh gingerroot
1-1/2 teaspoons grated orange zest
1/2 teaspoon ground cardamom
1/4 teaspoon salt
1/4 teaspoon crushed red pepper flakes
1/4 teaspoon ground allspice
Directions
In a large saucepan, combine all ingredients. Bring to a boil. Reduce heat; simmer, uncovered, for 45-50 minutes or until vegetables are tender and mixture achieves desired thickness, stirring occasionally. Serve warm or chilled. Refrigerate leftovers.