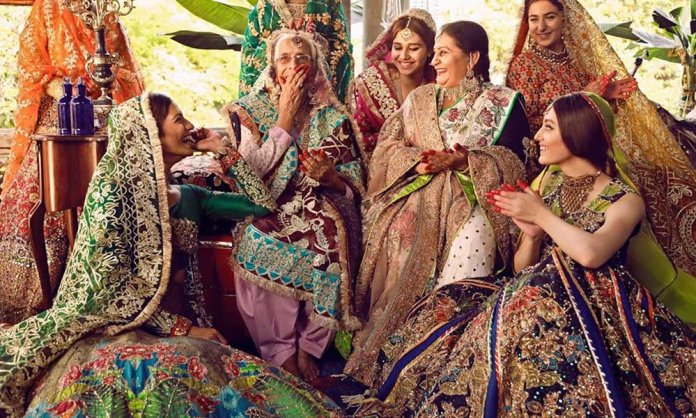 The Shaadi season is here and we know that all the brides and their bridesmaids are keeping a hawk's eye on all the fashion magazines, Instagram profiles and Facebook pages for some wedding inspiration.
We understand that you want the best for your wedding but following everything randomly isn't going to help you find that dream lehenga, heavy dupatta or those classy high heels for your big day.
Picking the right shaadi jora or sherwani is a daunting task to say the least, especially when your wedding is fast approaching and fashion keeps changing faster than you could even say 'wedding!'
If you want a dazzling designer jora for your big day or just want inspiration, these are the 10 Pakistani fashion designers that you should stalk on Instagram!
Take a look!
1. Faraz Mannan
Faraz Mannan is admired worldwide because of his innovative and classical collections. The royal ad luxurious bridal collection by Mannan comprises of stunning lehngas and hand-embroidered gowns with antique gold and silk thread work.
Let go of the heavy embellishments and opt for traditional red and hues of pink, which will aid you to retain the traditional look while adding a fresh feel to your outfit. Adding intricate embroidery and stonework to the sleeves can help to keep the dress light so it doesn't weigh you down.
2. Elan 
Elan is certainly opulent, luxurious and elegant, the fusing Swarovski crystals with dapka and zardozi work that is heavily embellished on bridal wear is reflective of Elan's signature aesthetic.
Elan also introduces The contemporary style apparels for women of the modern world, whether it's a bespoken pantsuit or a beautiful floral gown, one may look absolutely loveable wearing it.
With Elan, you really can't go wrong. You can opt for a heavy dupatta and kameez if you wish to be at ease at your big day and this will certainly make it a lot easier to walk in.
3. Zainab Chottani 
From choosing the right color palette to the heavy but intricate embellishment, Chottani tends to work her magic wand and create a masterpiece every time. Her work speaks for itself.
The glamorous statement shirts bring out the beauty with embroidery on asymmetrical borders enhanced with silver kora dabka and sequins motif and finessed with Swarovski buttons.
4. Republic Womenswear 
This is a personal favorite. Republic Womenswear has become a name synonymous with its dazzling ensembles intricate designs and a blend of traditional yet contemporary designs. The brand tends to focus on creating experimental silhouettes through couture garments.
We recommend you to opt for a relaxed glam chic look that won't go out of trend and effortless yet exquisite style. You can choose from the red hues to keep the look traditional or go for a shirt piece that has diamontes for a classy and modern look.
5. Nomi Ansari 
Ansari's extravagant bridal collection carries a hint of modernism along with the underlying taste of tradition. Nomi Ansari truly depicts the heritage, history and rich culture of Pakistan by featuring the magnificent bridal gowns adorned with heavy work that brings multitudes of impeccable skills.
The mesmerizing and glorious collection by Ansari is an essence of art that every woman would slay in. Nomi Ansari has been designing his masterpieces for quite some now and his work screams royal. The Nomia Ansari brides always seem as if they've walked out of a fairy-tale book.
6. Ali Xeeshan 
Revered for his irreverent approach towards fashion, Ali Xeeshan took to the industry by a storm with his unorthodox interpretation of the fashion world and his unprecedented creativity which quickly made him one of the most sought after names in the industry.
Ali Xeeshan's major creative force has been his ability to think outside the box. When striking designs meet bold creativity that's when an Ali Xeeshan ensemble is born. Working on the cutting edge of contemporary fashion.
7. Misha Lakhani 
Another designer that we think you must consider when on a hunt for your bridal dress is Misha Lakhani who knows what would fit you best. From modern to chic to a traditional bride – Lakhani is clear-sighted about her pieces.
They say that a bride looks perfect in hues of red but that decision comes down to you. Whether you want to steer clear of red and opt for chantilly lace, go for a black shade at your wedding or try something white – it's your big day!
8. Tena Durrani 
Tena Durrani is a vision to behold in extraordinary couture encrusted with dazzling Swarovski crystals, beads, pearl, and applique work. This renowned fashion designer creates masterpieces with delicate sequins and dabka handwork.
Each of her dress looks divine. On the contemporary side, the slinky gowns are undoubtedly luxurious, glamorous and sizzling, available in many bold and elegant colors that you can try and decide for yourself.
9. Farah Talib Aziz 
The brand FTA is synonymous with fun, flirty tunics with a funky flair. Farah's unique sense of aesthetics and design have helped her make a name for herself in an extremely competitive bridal and pret industry.
FTA brides are truly a vision which is why we'd recommend you keep her on your list. From the heavy embellishments to the flowy lehengas, FTA manages to create a sensational jora for your big day.
10. Uzma Babar 
Uzma Babar has established an acute recognition among her discerning audience for the ability to work with traditional cultural artistry, merging design with an array of modern and classic cuts and drapery.
From fashion-forward peplums with heavily worked gharara's to traditional angharkha's with cascading dupattas- each look is a statement in itself and fit to make any girl feel like royalty on their special day.
Let us know which design are you opting for on your big day!