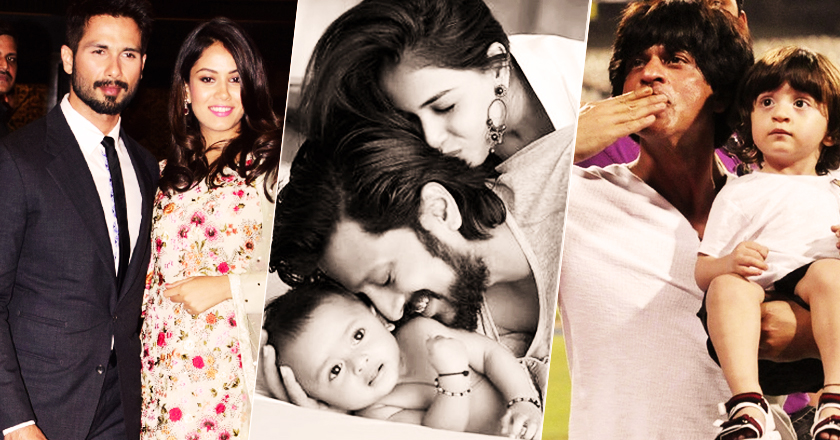 Every expecting parent spends sleepless nights over the ultimate question of 'what do we name our child?' The name has to be light to the tongue, but heavy on the memory; sweet to hear, but intimidating to speak; in short, it has to be perfect. Despite all their fame and glamour, Bollywood celebrities who have tied the knot have to walk down a similar road when deciding on their baby's name.
Here we have a list of the top ten Bollywood couples who opted for the road less travelled when it came to choosing a name for their little one!
1. Ritesh Deshmukh & Genelia D'Souza 
Ritesh and Genelia had their first son in 2014 and the second one in 2016. They named the older one Riaan, which means 'Little King' in Hindi, and the younger one was christened Rahyl, which means 'innocent' in Hebrew! More interestingly, it also has a Quranic connotation, and means 'traveller'.
2. Shahrukh Khan & Gauri Khan
This beloved Bollywood couple has three children: Aryan, Suhana and AbRam. The first two children's names are simple enough to understand: Aryan is a warrior, and Suhana means charming. However, the last son's name AbRam comes across as very interesting!
Shahrukh Khan has been quoted as saying that it is a mix of the Prophet Abraham and 'Ram', which is a Hindu God. Khan especially flaunted the secularism of the name.
3. Shahid Kapoor & Mira
Shahid & Mira recently became parents to an adorable baby girl and we just cannot keep chill! As far as the name is concerned, the couple kept it simple- naming their newborn Misha- a hybrid of their names Shahid & Mira.
4. Farhan Akhtar & Adhuna Bhabhani
 Farhan and Adhuna decided to go for something truly unique when they decided to settle for names like Shakya and Akira for their daughters. Shakya represents chakra, which is the circle of energy, and Akira is Japanese-oriented and means intelligent.
It is fascinating how this couple has delved into such depths to choose the perfect names for their progeny.
5. Hrithik Roshan & Suzanne Roshan
These two didn't go on much of a tangent when they decided to give names that started with 'Hr' to both of their sons; however, the depth of the meanings of the names makes up for that.
One son is named Hrehan, which means 'the one God chose', while the other is named Hridhar, who is 'someone with a big heart'. Let's hope they both live up to their names – no pressure!
6. Madhuri Dixit & Shiriram Nene
This couple decided to go for a little bit of a cultural mix as well; they named their kids Aarin and Ryan. Aarin means active or happy, and it is derived from non-Quranic Arabic. Ryan, on the other hand, is mainly Irish, and it symbolises kingship or royalty.
We really respect how couples are beginning to diversify their choices, and are opting for names other than Priya and Raj.
7. Manyata & Sanjay Dutt
These two named their son Shahraan, and their daughter Iqra. Shahraan can be divided up into two words: 'Shah', which means royal, and 'Raan', which means 'knight'. Iqra is both Arabic and Hebrew, and it means to read.
A lot of Muslims name their daughters Iqra, so this choice may have come across as a surprise for the couple's friends, family and fans, but they went ahead with it. We appreciate this move, and applaud the fact that this couple chose diversity!
8. Lara Dutta & Mahesh Bhupathi
The adorable girl in Lara's arms was named Saira by her parents; Saira is derived from Sarah, which is a Hebrew name, and it means princess. It must be said; she looks befitting of this grand title, and we hope she can bring fortunes of happiness to her family!
9. Celina Jaitly & Peter Haag
The couple had twins in 2012- they decided to go for bicultural names: Viraj, which is Sanskrit for either the sun or a king, and Winston, which means a stone of joy.
The couple itself has participated in an interracial marriage, and we think it was smart thinking on their side to name their kids cross-racially as well! We are truly inspired.
10. Ranvir Shore & Konkona Sen Sharma
This Indian couple named their child Haroon, which is a Hebrew name, and is also the name of the Prophet Moses' brother; in religious texts, he accompanied his brother as the eloquent one, as Moses was not clear of speech. Haroon means hope, quite literally.
All in all, Bollywood couples are becoming accustomed to change, as is reflected in the name choices for their children. Long gone are the days when kids could be named either Sonia or Malhotra; they embrace change!
Let's hope we can all learn from this practically as well, and can embrace and celebrate our differences. There is always something good to learn from those around you, and if nothing else, we can look at the open-minded options these stars keep in mind when opting for names for their offspring.
Stay tuned to Bransynario for more updates!