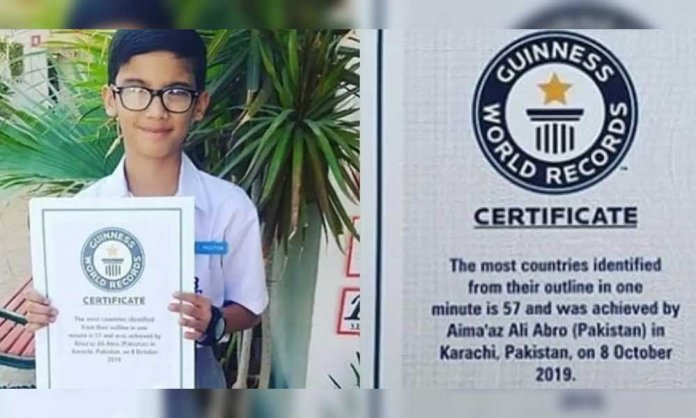 371 views
A Pakistani boy sets a new Guinness World Record by identifying most countries just by looking at their outline.
Aima'az Ali Abro from Karachi is the champion who were able to set the world record. He is just 11 year old and holding a Guinness Word record!
He was able to identify 57 countries in the shortest time of 1 minute only. The record was published on the official website of Guinness world record.
Right now the only information about the boy is that he is a resident of North Nazimabad, Karachi and have great plans for his future.
As per the official announcement on the website:
"The most countries identified from their outline in one minute is 57 and was achieved by Aima'az Ali Abro (Pakistan) in Karachi, Pakistan, on October 8, 2019,"
This is an impressive record and sends a really positive image. Years 2019 has been a good year for Pakistan! Our educational system may needs a lot of improvement and not one of the best one. But still we see young people coming up with brilliant achievements.
No matter what other say, us Pakistanis are extremely hardworking. This little boy has inspired many! We as a nation can only support our younger generation in portraying a positive image of our country.
What you guys think about this amazing news? Share your thoughts with us in the comments below.
Stay tuned to Brandsynario to know more.
Ahsan Qayyum Breaks an Indian's Record to Become Guinness World Record Holder