If you love chocolate, you must like this gooey, fluffy, light, and creamy dessert. Chocolate mousse is simple to make yet fancy enough to serve at your parties. If you in need of a quick chocolate fix, this easy-to-make dessert can be your savior. But how do you make an eggless, gluten-free version of the dessert? Let's dive into it, shall we?
1. Chocolate Mousse Recipe
The ingredients list for this recipe might seem big, but it is so easy to make, yet it will make the most delicate dessert.
Ingredients
8

 

ounces

 

semi-sweet chocolate chips

 

(about 1 1/3 cups)

1/3

 

cup

 

water

Two

 

tablespoons 

unsweetened cocoa powder

One

 

tablespoon

 

granulated sugar

1/8 

teaspoon

 

kosher salt

1 1/2

 

cups 

heavy whipping cream,

 

whipped to stiff peaks

Two

 

teaspoons

 

vanilla extract

1/3

 

cup

 

heavy whipping cream,

 

beat to soft peaks, and sweetened with 1 1/2 tablespoons of powdered sugar for garnish

cocoa powder,

 

for garnish
Instructions
Put the chocolate chips, water, cocoa, sugar, and salt in a large mixing bowl, and microwave, in short, 30-second bursts, stirring after each interval, until the mixture is melted and smooth (this can also be done over a double boiler)
Fold in the whipped cream and vanilla extract.
Divide the mixture evenly between 6 dessert glasses, cover, and chill in the refrigerator until set (about 1 hour).
Top with sweetened whipped cream and sprinkle with cocoa powder (optional)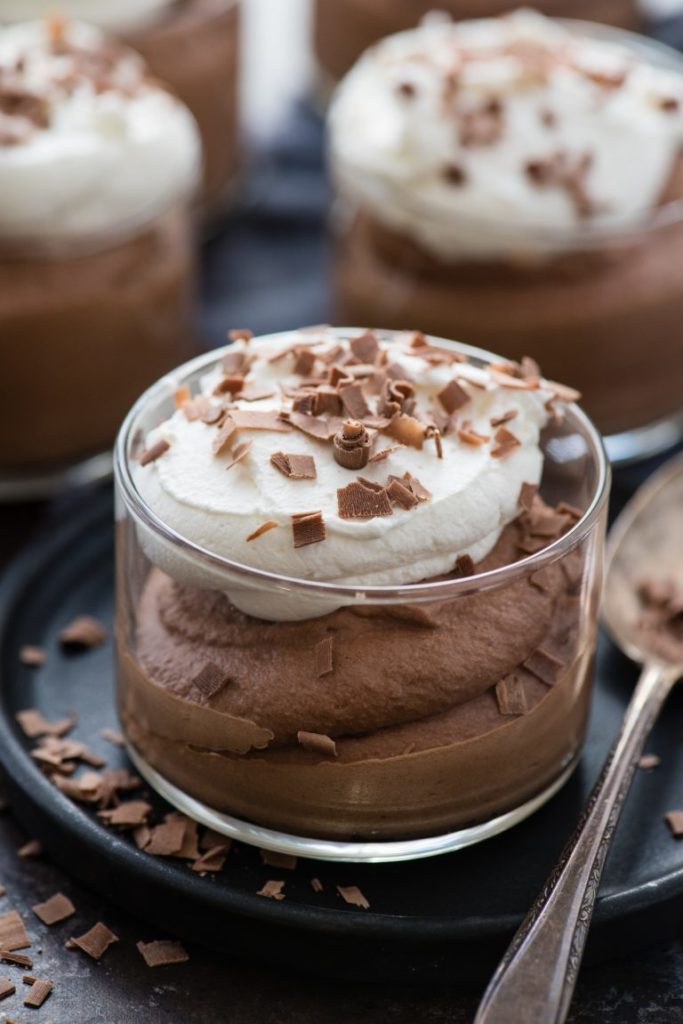 2. 3-Ingredient Chocolate Mousse 
This eggless dessert is light, creamy yet thick, and sweet. Top with some whipped cream and cocoa powder for brownie presentation points.
Ingredients
1 cup

 heavy whipping cream

Three tablespoons

cocoa powder

Six tablespoons

 powdered sugar

One teaspoon

 vanilla extract (optional)
Garnishing (Optional)
1/3 cup

heavy whipping cream
cocoa powder for sprinkle
Instructions
For Eggless 3 Ingredient Chocolate, Mousse first takes the chilled mixing bowl, adds the whipping cream to it, and whips until it becomes thick and bubbly.
To this whipped cream, add cocoa powder and powdered sugar and mix it carefully with the spoon.
Next, add the vanilla extract and again whip the cream till it becomes stiff peaks form.
Finally, put the mixture equally in all serving bowls or glasses, top them with whipped cream, and sprinkle a little cocoa powder. This is best served within a minimum of 1 hour.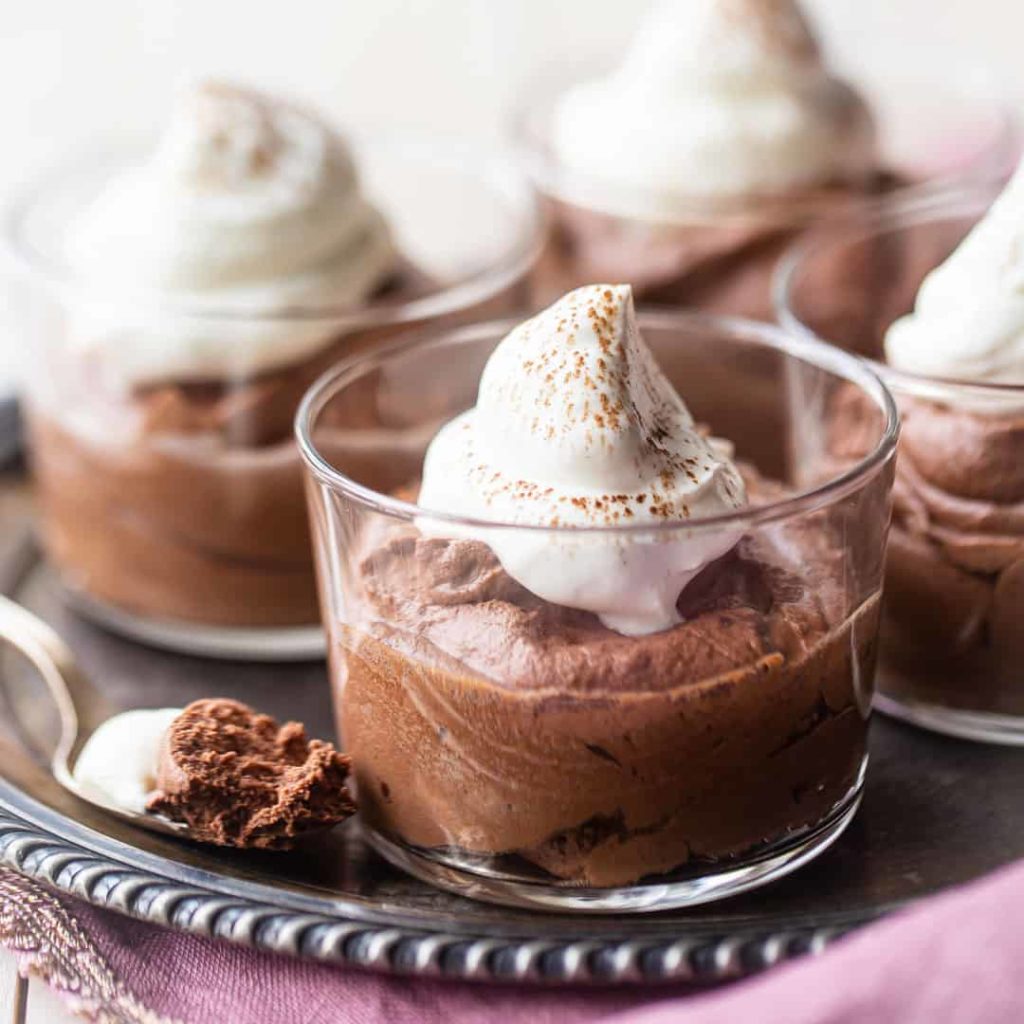 3. Thick Chocolate Mousse 
This double chocolate thick mousse recipe is perfect for you if you like to go a little extra with the chocolaty flavor.
Ingredients
8

 

oz.

 

semisweet chocolate

, 

chopped

1

 

tsp

 

vanilla extract

1

 

pinch

 

salt

3

 

cups

 

heavy cream

, 

divided

1/4

 

cup

 

powdered sugar
Instructions
In a small saucepan, bring 1 cup of the heavy cream to a bare simmer. Pour the cream over the chopped chocolate, let sit for 1 minute. Add vanilla extract and a pinch of salt, then whisk until smooth. Cover and chill in the fridge for about 20 minutes to cool.
Beat 2 cups heavy cream and powdered sugar in a medium bowl with a hand mixer or stand mixer on medium-high speed to stiff peaks, about 3 minutes. Put 1/2 of the whipped cream in a container and store in the fridge until needed for decorating.
Give the chocolate mixture a whisk, then fold it into the remaining whipped cream with a silicone spatula until no streaks remain.
Distribute between glasses or bowls and cover with plastic wrap. Refrigerate for at least 6 hours or overnight.

Garnish with whipped cream and serve.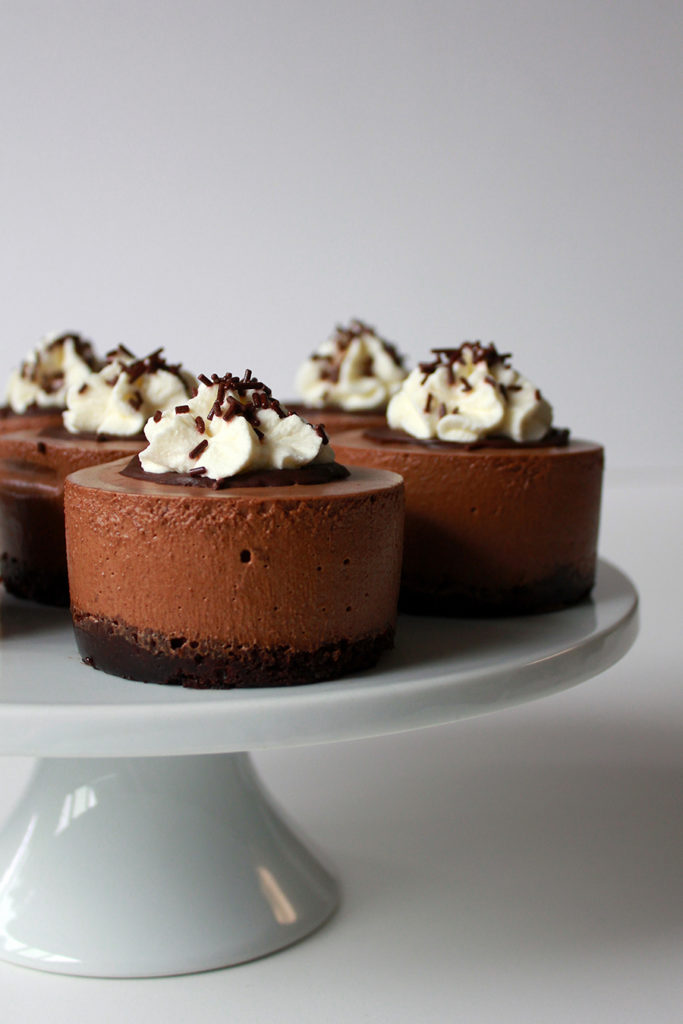 4. 2-Ingredient Chocolate Mousse 
If you do not have any fancy ingredients, use these two essential ingredients for a quick fix of sweetness.
Ingredients
Mousse
 2 cups heavy whipping cream
 1 cup semi-sweet chocolate chips
Instructions
In a microwave-safe bowl, combine 1/2 cup heavy cream with the chocolate chips. Microwave for 2 minutes, stirring and adding additional time if needed. Allow the melted chocolate to cool to room temperature.
Pour the remaining 1 & 1/2 cups heavy cream into the chilled bowl and beat on high with an electric mixer until stiff peaks form.
Add the cooled chocolate to the whipped cream and beat until the mixture is thoroughly combined.
Divide the mousse into individual serving containers. Cover the containers with plastic wrap and refrigerate for at least 3 hours before serving.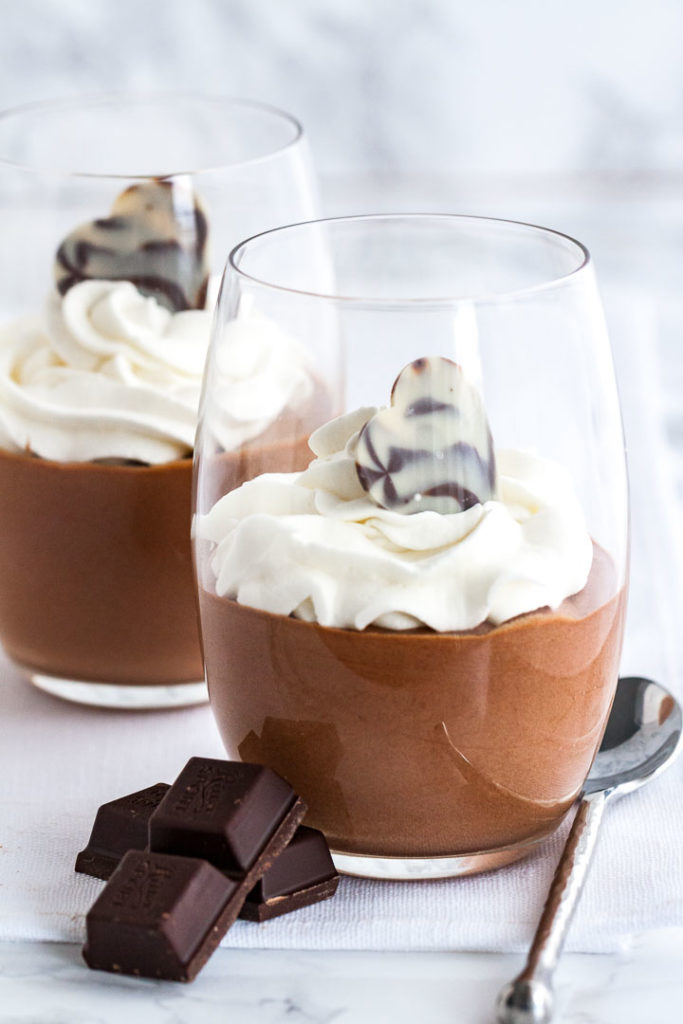 5. Eggless Chocolate Mousse With Ganache 
Ingredients
For the ganache
 225 gms Dark chocolate
1 cup cream
1 tbsp butter
For the mousse
 2 cups heavy whipping cream
1 tsp Vanilla extract
Instructions
Ganache
Chop the chocolate into even pieces. Heat the cream for 30 seconds – 40 seconds or until you can see bubbles around. Do not overheat the cream. It will curdle and overflow.
Pour the cream over the chocolate, make sure all the chocolate is covered. Set aside for 5 minutes.
After 5 minutes, whisk the chocolate and cream well. Add the butter and mix well.
Make sure it's a homogeneous mix. Set aside.
Mousse
Take 2 cups of cream and add 1 tsp vanilla extract. Whip well until it forms soft peaks, about 7 minutes.
Now add the cooled ganache and whip well until it forms stiff peaks.
Scoop into serving bowls and let it sit for 2 hours in the refrigerator.
Garnish with chocolate chips, curls or nuts or even whipped cream and serve.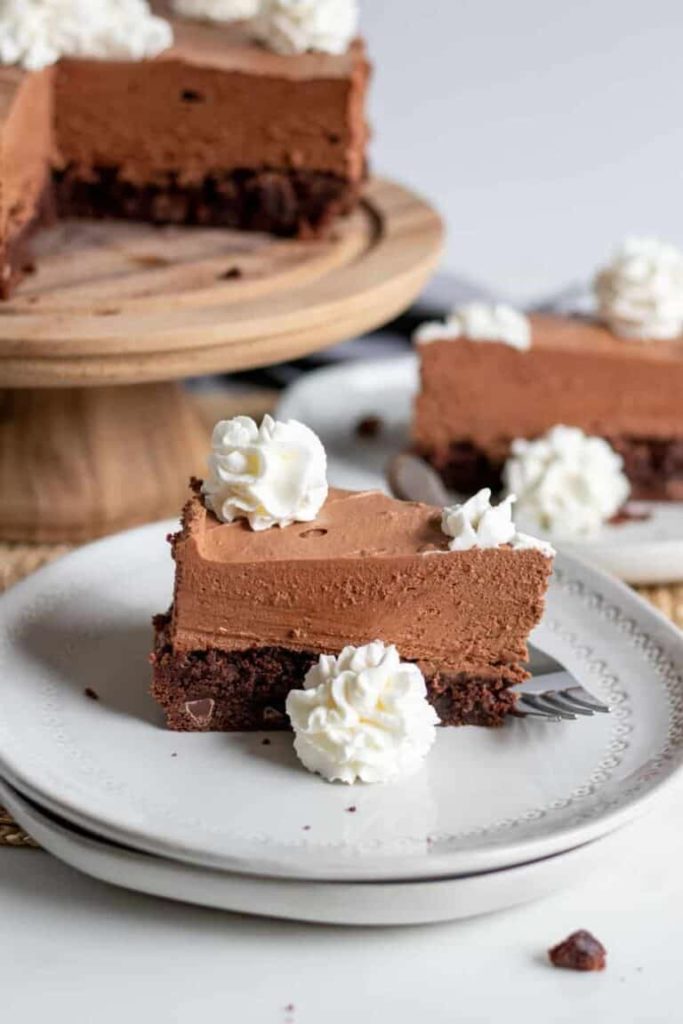 Let us which recipe you liked the most in the comments below.
Stay tuned to Brandsynario for the latest news and updates.