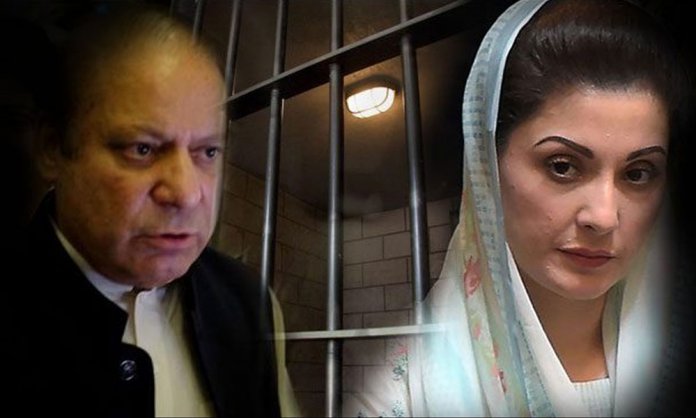 Pakistan Muslim League-N's (PML-N) Quaid and Ex-Prime Minister, Nawaz Sharif, was arrested on the charges of corruption. Sharif was arrested on Friday, 13th July as he returned to Pakistan with daughter Maryam Nawaz who was also found guilty.
While in Rawalpindi's Adiala jail, both father and daughter shared an audio message clip for all of their supporters who have protested against the court's ruling of the verdict in the corruption case.
In the audio clip, while addressing his PLM-N leaders and workers all across Pakistan, he started by saying;
"My daughter, who's a daughter of the nation, has also been lodged in jail, neither any dictator could break off that relationship in the past nor those pulling the strings would be able to do so today."
He also requested everyone to pray for his wife who is currently on the ventilator in a hospital in London. He further added that many have turned Quaid-e-Azam's Pakistan into a laughing stock.
Askari Park's Fatal Ride Accident Leaves Social Media in Shock
 "That's why I have raised the slogan of 'Vote Ko Izzat Do' (Give Respect to Vote. Now it's your turn to carry this flag (movement) forward. Spread my message in every nook and cranny, and inflict a humiliating defeat on those who insult your vote.

Come out of your houses on July 25 for a victory in the election. Give them such a crushing defeat that they are not able to raise their head ever in future. God willing, a great success is awaiting you. May Allah Almighty help you in your mission!"
 Whereas in a separate audio message, Maryam Nawaz also reached out to their supporters. She said;
"Raise the worth of the country, raise the worth of your vote. Had I not been in a jail, I would have been fighting with you all, and now that I am imprisoned, I am still with you every moment. Your daughter appeals to you to keep the preparation of the elections underway,"
The father-daughter duo was in London visiting Kulsoom Nawaz when the verdict was announced. Despite their appeal, the court did not postpone their decision.
"You know I have left my mother in a state of sickness back in London. When I reached London with my father, she was unconscious, and the day we left London for Pakistan, she opened up her eyes for a few seconds, saw us but we could not talk. You understand the mother-daughter relationship,"
"Controlling my emotions, I have come here and surrendered to the law of the land. I appeal to you all to pray for my mother's health so that I can see her fit and hug her," she added.
Maryam has stated that she is not serving jail time because she was found guilty in a crime (which she did not do) but she had surrendered because she is Nawaz Sharif's daughter and sacrifices for the country is needed.
"I am not here because I have committed a crime but because I am Nawaz Sharif's daughter. I am a daughter of a brave father. A brave daughter of brave nation. They wanted me to be Nawaz Sharif's weakness, rather I have emerged as his strength,"
What is your view about then Avenfeild corruption case and verdict?
Stay tuned to Brandsynario for more news and updates.
Arrests Made After Indian Mob Kills Another Man over WhatsApp Child Kidnap Rumour