Kubra Khan just schooled a troll who made fun of her name and we're here for it!

Kubra Khan Doesn't Hold Back
Kubra Khan is Rabia Khan's stage name. A British-Pakistani actress who made her acting debut with Na Maloom Afrad, Kubra Khan is making waves in the entertainment industry.
Recently in 'ask me a question' segment on her Instagram, a troll let loose. He asked her a horrid question in which he likened her name to that of Cobra. While many other trolls may have cheered him on, Kubra Khan did not take the joke lightly.
Snap Back
Khan snapped back with a proper list of three points. She clarified the pronunciation of her name so no other individual comes at her for this again.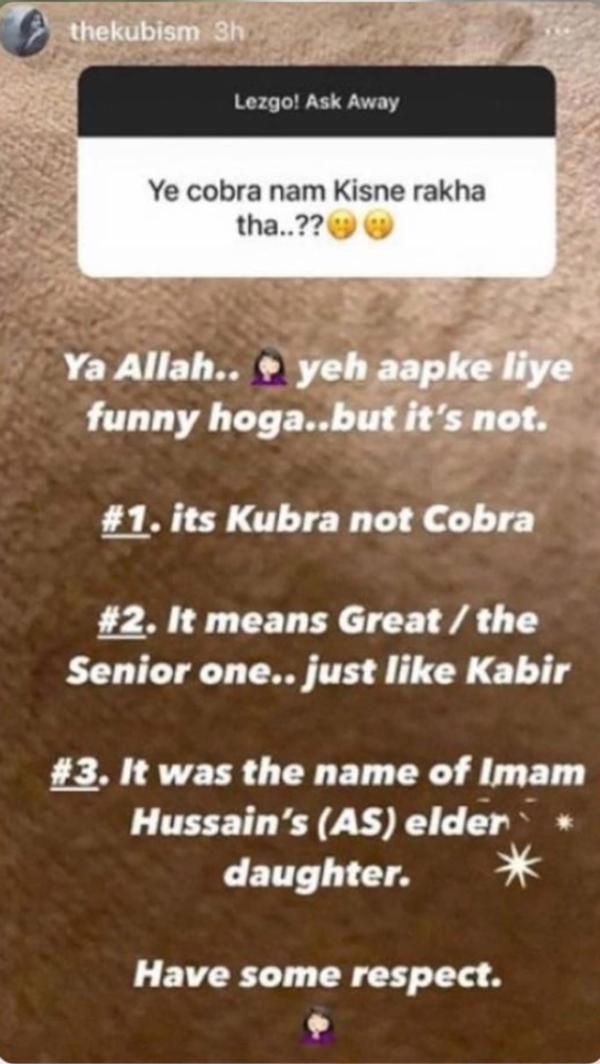 Moreover, she highlighted the source of her name so others can get the information about it. Lastly, she also shared how this was the name of Imam Hussain's (AS) eldest daughter's name.
She could not have done this in a better way. She snapped back, respectfully, with information. This not only must have taught the troll a lesson but also embarrassed it for sure for being so rude.
The Whole Name Pronunciation Thing
Name pronunciation is a whole thing. It can be an issue. Of course one can not get unique names right however, deliberately making fun of them or trolling them is never okay.
Wrongful pronunciation of names is also used as a tool by racists to marginalize and humiliate minorites. When Hassan Minhaj refused to accept Ellen's wrongful mispronunciation of his name, he took a stand for everyone. Names are beautiful, let's make it a point to say them right.
Online Trolling in Pakistan
Online trolling is also especially on the rise in Pakistan. Many celebrities have fallen prey to the online trolling system and suffer from it. The latest targets include Hania Aamir and Zoya Nasir among many others because once netizens start against someone, they rarely stop.
View this post on Instagram
Both have spoken up against this and have had much support. Online trolling can bring people's mental illness arise, can give them high stress and even lead to unfortunate incidents like suicide.
View this post on Instagram
There are better ways to say the same thing! If the guy who made fun of Kubra Khan's name just said 'im confused about how your name is pronounced, we would be in a better place.
Stay tuned to Brandsynario for the latest news and updates.