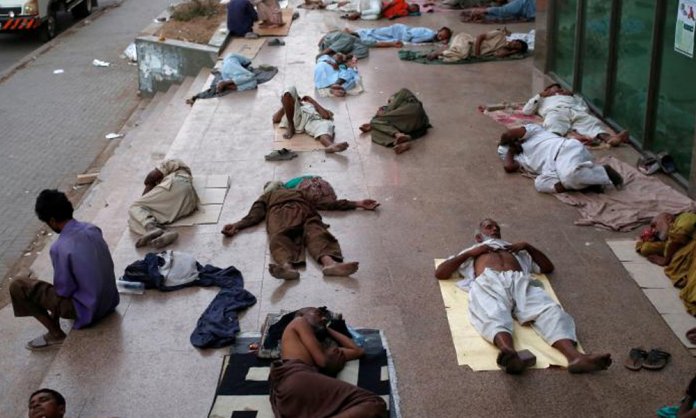 While Karachiites have still not got over last week's deadly heatwave, Pakistan Metrological Department (PMD) has issued a warning for a bumper week of scorching weather.
The weekend witnessed the temperature going down to 39-degree Celsius under the influence of high-velocity winds from the westerly direction.
However, according to PMD, the mercury is all set to rise again to at least 43-degree Celsius for the next 3 days.
Director Karachi Met Office Abdur Rashid reported to The News: 
"We were not expecting back-to-back heatwaves gripping Karachi in quick succession. Unfortunately, Karachi is going to be gripped by another heatwave possibly from next Tuesday next"
However, according to an update by Weather Updates PK, the upcoming heatwave will be of high intensity, with soaring temperatures up to 47 degree Celsius.
Seems like the climate is about to get even worse than expected!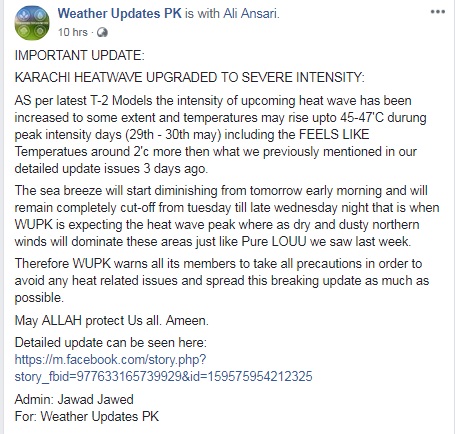 With the weather showing no signs of imminent rain, this would be the fourth heatwave that Karachi will be witnessing this year.
Last week alone, as many as 65 people lost their lives due to heatstroke in the city, reported Dawn News.
Precautions During Heat Wave
The hot and dry spell over the next couple of days means that extra precautions are a must. Following are some precautions that one must observe to stay cool during the heat wave.
Stay hydrated and drink as much water as you can
Avoid going outdoors unnecessarily
Keep your house cool and ventilated
Avoid eating hot, oily and heavy food
Apart from that, it is suggested to water outside in shade for birds and animals as they too suffer from extreme heat.
Stay tuned to Brandsynario for more updates!
Featured Image: Reuters