Time and again, Sonam Kapoor Ahuja has expressed her love for Pakistan and its people.
We all know the beauty is great friends with the heartthrob, Fawad Khan and she even enjoyed a candid moment with Mahira Khan at Cannes 2018.
Pakistani Stars Celebrating Independence Day as Pakistan Turns 71
Last month, in a chat with her followers on Instagram, the diva literally won our hearts by telling the world that how much she is dying to come to Pakistan!
LOVE PAKISTAN AND I'M DYING TO COME THERE AND HANG OUT.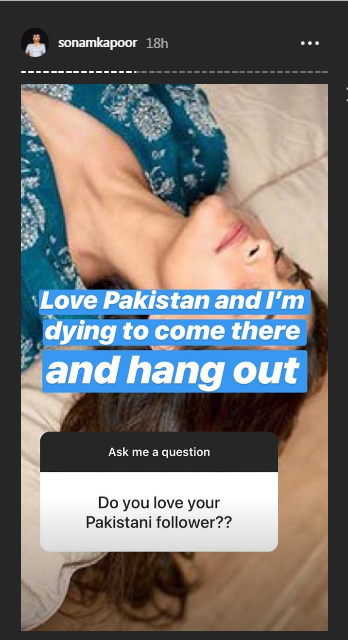 And yet again, Sonam has proved that she is that one Bollywood superstar who will always root for Indo-Pak friendship no matter what!
With Pakistan celebrating its Azaadi yesterday, the fashionista took to Twitter and wished us all a happy independence.
In times when cross-border tensions are always on the rife, this was indeed very sweet of the dusky diva!
Happy Independence Day to all my Pakistani friends and loved ones!

— Sonam K Ahuja (@sonamakapoor) August 14, 2018
However, the pure-hearted greeting received immense backlash from the actress' Indian fans and followers. Sadly, people called her a traitor and a Pakistani supporter, simply for wishing independence to her neighbors.
There was a massive outpour of hate on her Twitter!
Itna fuckistan se pyaar hai, tauba tauba….
Dekhte hai kal kitne fuckistani fan tuje wish karta hain…
🤔🤔😏😏

— Mrittunjoy Biswas (@MrittunPrava) August 14, 2018
She would never condemn Pakistan on atrocities and innocent killing , but will shower her unconditional love for them , who indeginously doesn't respect India. #Publicity hungers

— Avanish Pandey (@avanish003) August 14, 2018
Arrey ye ameer papa ki pariyon ko kya pata Patriotism kya hota hai

— Kshitij Pandey (@Kshitij43536255) August 14, 2018
Trolls claimed her that her movies will still not get released in Pakistan!
Maidam ke pakistani frnd ne veer de wedding pakistan main nahi chalne di. Or film super flop ho gai. Fir bhi maidam ka kaleja dekhiye halala pakistaniyon se hi karwana chahti hai. Kya maidam buddho se shadi karogi to yahi hoga. Tum jaisi actres paison ke liye kuch bhi…..

— Keshav Yadav (@KeshavY25974849) August 14, 2018
Phir bhi Veere Di wedding release nhi Hoga😁😁😁

— Debasish Debnath (@Deba_scorpion) August 14, 2018
And an Indian even threatened to sue her!
Pakistani ke liye India me jagah nahi hai , I will see you in court sonam kapoor ,I am going to file a case against you .

— socialist live for India (@dipubhaim) August 14, 2018
Insane, Y dnt u leave india and live in with your so callled Pakistani Friends. Will never watch your any movie now

— avnish rai (@avnishraicb) August 15, 2018
Despite the backlash, it was heart-warming to see that Sonam rose above all differences and extended her genuine love towards Pakistan.
What do you think about Sonam Kapoor's tweet? Let us know in the comments below.