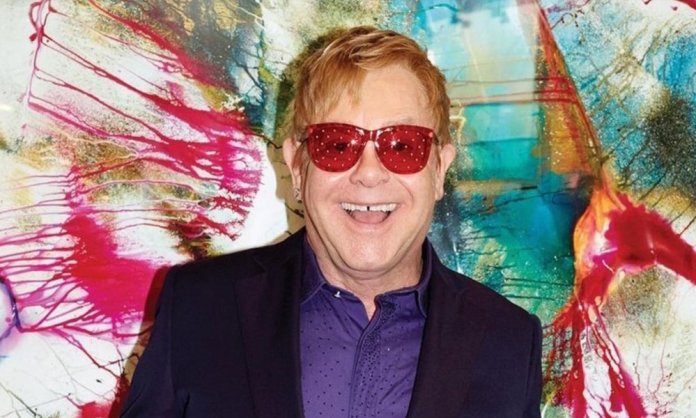 Elton John has announced he's releasing an album next month featuring new versions of some of his best-loved songs, performed by superstars including Ed Sheeran, Florence + The Machine, Mary J. Blige, Lady Gaga and Miley Cyrus.
"Revamp" is set for release on April 6 and is available to pre-order as of Thursday. The album will include 13 songs by John and his co-writer, Bernie Taupin, reinterpreted in a variety of genres, with other contributing artists to include Q-Tip, The Killers, Queens of the Stone Age, Pink and Logic.
The tracklisting is as follows:
1. "Bennie And The Jets" – Elton John, Pink and Logic
2. "We All Fall In Love Sometimes" – Coldplay
3. "Guess That's Why They Call It The Blues" – Alessia Cara
4. "Candle In The Wind (2018 Version)" – Ed Sheeran
5. "Tiny Dancer" – Florence + The Machine
6. "Someone Saved My Life Tonight" – Mumford & Sons
7. "Sorry Seems To Be The Hardest Word" – Mary J. Blige
8. "Don't Go Breaking My Heart" – Q-Tip featuring Demi Lovato
9. "Mona Lisas And Mad Hatters" – The Killers
10. "Daniel" – Sam Smith
11. "Don't Let The Sun Go Down On Me" – Miley Cyrus
12. "Your Song" – Lady Gaga
13. "Goodbye Yellow Brick Road" – Queens of the Stone Age
On the same day that "Revamp" is set for release, a second covers album, "Restoration," will drop featuring some of John's songs interpreted by country music stars such as Rosanne Cash, Emmylou Harris, and Willie Nelson.
Earlier this week, Elton John and the Recording Academy announced that the Grammy tribute concert "Elton John: I'm Still Standing," which was recorded in January and featured many of the same artists who will appear on the album, will air on CBS in the US on April 10.