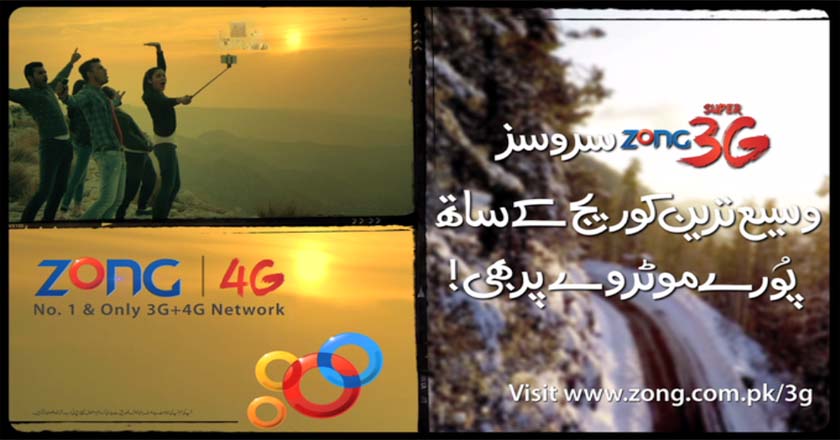 Zong has revealed its new Super 3G TVC, featuring the vocals of famed Coke Studio singer and musician Asrar.
Asrar, who is known for his soulful Sufi songs for Coke Studio, is multi-talented artist who has also tried his hand at lyric-writing and music compositions. He has recently released his new single "Nasha Nasha" in lieu of Valentine's Day 2015.
Zong promotes its Super 3G services in the TVC, with a group of friends on a road trip along the Motorway, having fun, taking pictures, making memories and updating social media while on the road. All thanks to Zong's Super 3G services that span across Pakistan's major cities and even the entire Motorway.
The TVC reflects the on-going trends developing among the young generation, such as the "selfie craze" which has overwhelmed traditional photography. It features the amazing scenery of Pakistan, showcasing the lush fields, lakesides, snowy mountain roads and ancient heritage sites.
With this ad, the network has become the first one to show the use of selfie stick in Pakistan.
A clever use of social media is focused upon, such as map navigation and information through Zong's wide spread, fast-paced 3G network. But the best part about the ad is getting to listen to the melodious tunes of Asrar's voice.
All in all, a commendable effort by the Chinese mobile phone carrier. 
CREDITS:
Brand: Zong 3G Services
Campaign: Coverage – TVC – 45 sec
Director: Asad Ul Haq
Agency: Spectrum Y&R
Post/Animation: Sharp Image
Singer: Asrar
Music: Kashan
DP: Kaka Tong
Watch the ad below: