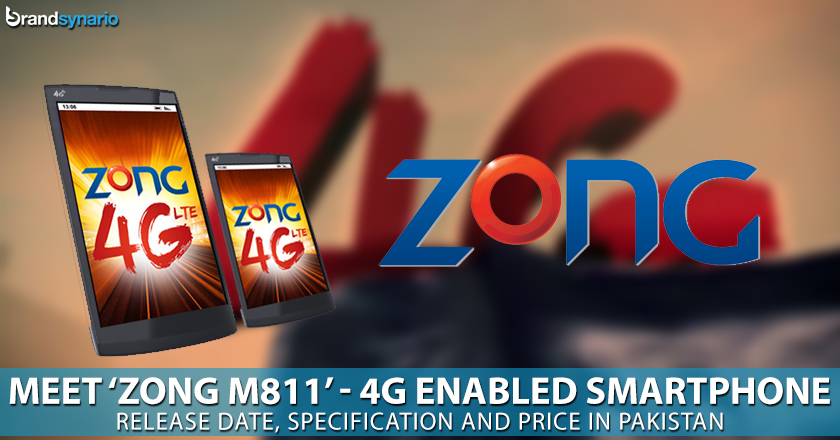 China owned telecommunication- Zong is on the run to be the first in everything! After beating Warid to be the first 4G network in Pakistan, the telco giant has launched its own 4G smartphone.
In the launch event of its 4G services, Zong announced that it will be launching its very own 4G enabled smartphone, titled Zong M811, which will probably hit the stores in Pakistan in the coming 10 days. The price of the smartphone is estimated to be around Rs.21.900.
As for the specifications, Zong M811 supports 5 network modes, which includes 2G, 3G and 4G along with 10 frequencies, which makes it compatible with the every other GSM network worldwide.
Also M811 offers a 5 inch IPS display with screen resolution of 1280×720 pixels. The cell is run by a Qualcomm Quad-Core processor at 1.2 GHz and 1GB of RAM along with 4GB of internal memory. As for the software, M811 runs on Android 4.3 Jelly Bean, although details about customizations are not disclosed yet.
As for the design, Zong's M811 has curvy corners with a thin body of almost 8.95mm from outside with a total weight of 133 grams. The phone has an 8MP camera along with a LED flash for richer shots during low light conditions; however there is a 1.3 MP front camera for all the selfie-lovers.
Furthermore the cellphone supports a 2500mAh battery, which would last for 14-18 hours of normal usage on a 4G network.
This is not the first time that Zong has launched a phone of its own, in past Zong also launched a low-price, easy-to-use cell phone.