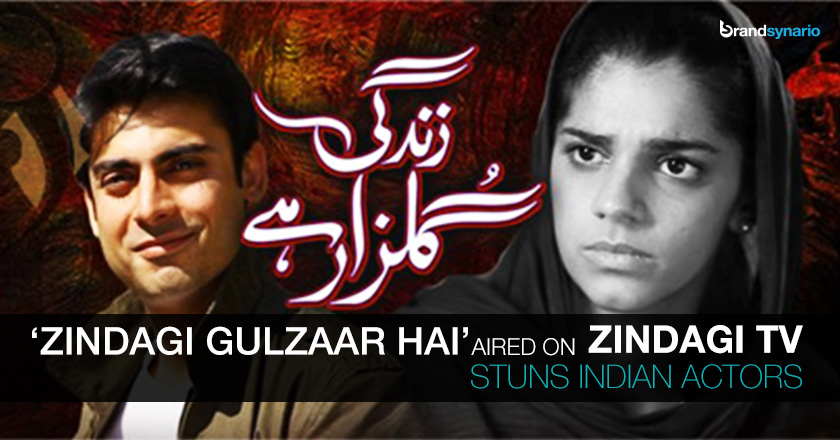 With the commencement of Zindagi TV owned by Zee Network in India, Pakistan's drama industry has finally shocked and mesmerized the Indian audience and celebrities alike.
Hum Tv's 'Zindagi Gulzaar Hai' and 'Aun Zara' of A-Plus, have gained roaring popularity on Indian news and social media with headlines of the season's finale making news on television.
The on screen couple, Zaroon (Fawad Khan) and Kashaf (Sanam Saeed) have become a hot favorite of many. Famous Bollywood celebrity, Divya Dutta apparently is swooning over Fahad's good looks and intense acting.
Awww zaaroon! Charm personified! Gripping romance this zindagi gulzar hai!

— Divya Dutta (@divyadutta25) July 10, 2014
Another Indian Actor, Kamya Punjabi tweeted that she desires to work in Pakistani dramas.
I so want to go to pak n be a part of their shows! I hope n wish zee zindagi changes the vision of the makers in television here!

— Kamya Punjabi (@iamkamyapunjabi) June 24, 2014
Legendary director, Subhash Ghai also expressed his opinion in his tweet.
#ZINDAGI at #zee draws my attention for intersting plays with real people with real homes than our serials full of make up n made up twists

— Subhash Ghai (@SubhashGhai1) July 13, 2014
These drama serials aren't just a source of entertainment but are breaking many misconceptions and stereotypes about Pakistani audience in India.
According to Indian media, the limited episode count, closer to reality storylines and brilliant acting has contributed to the success of Pakistani dramas in India.
Popular Indian filmmaker, Kunal Kohli, while appreciating the Pakistani soaps said, "Must say that the quality of shooting and writing of the shows on Zindagi is very refreshing."
After receiving immense admiration and love, Sanam Saeed has been grateful and ecstatic that 'Zindagi Gulzaar Hai' has become one of the most famous Pakistani dramas across the border.
In an interview, the 29-year-old said, "India uses Bollywood, rather cinema, to tell its stories. It is one of the largest filmmaking nations in the world and so your talents get to tell stories about politics, love and drama through films. In Pakistan, our medium is the small screen,"
Stressing over the fact that Pakistan has some brilliant writers who have a strong command on their mother tongue Sanam said, "We don't make many films, and hardly have theatres. A majority of people seek entertainment while sitting at home and TV gives it to them, so we excel on that part."
Regarding Indo-Pak unity, Sanam stressed that we are not different. She said, "I don't understand why we are considered different. We were one nation. We are not different. In fact, there is so much similarity between us culturally, in terms of food, clothes, family, bonds and language.
So, I have never been under the impression that we [India and Pakistan] are different. Nevertheless, I'm glad that the shows are having a positive impact on people in India – it's the same effect that they had on people here [in Pakistan],"