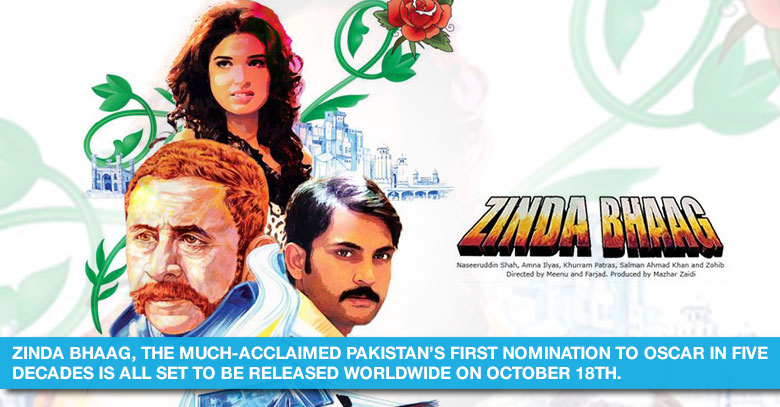 By Tehreem Samad
Zinda Bhaag, the much-acclaimed Pakistan's first nomination to Oscar in five decades is all set to be released worldwide on October 18th, Mazhar Zaidi, Producer of Zinda Bhaag announced on Twitter.
The tweet said, "Good news! Zinda Bhaag releasing in across US on October 18th!! LA, San Fr, Chicago, DC, Virginia, NYC, Jersey, Atlanta, Dallas, Houston."
Zinda Bhaag has already created a buzz around the globe after being sent for nomination in the Best Foreign Film Category of the Oscars. The reason for its huge anticipation is the fact that it is the first Pakistani movie, in 50 years, to be sent in The Academy Awards.
Zinda Bhaag is a bilingual movie, with stars like Nasser Uddin shah. Zinda Bhaag is a comedy packed thriller directed by Meena Gaur and Farjad Nabi. The movie comes straight out of the mohallas (communities) of Lahore and captures the lifestyle of young Lahoris. The movie revolves around the life of three friends, their attempts to settle abroad and the intense drama associated with it.
As far as the music is concerned, its album jumped to 140 from 225, in one day, on iTune's charts on August 25. Zinda Bhaag includes rendition, sung by Abrar-ul-Haq, of Pakistan's first ever rap song 'Paani da Bulbula'. It was originally sung by Yaqub Atif Bulbula and it became a massive hit amongst youth in the 60s.
With Eid-ul-Azha just around the corner, Zinda Bhaag will provide an interesting glimpse of desi culture to all Pakistanis stationed abroad.
Way to Go Zinda Bhaag!