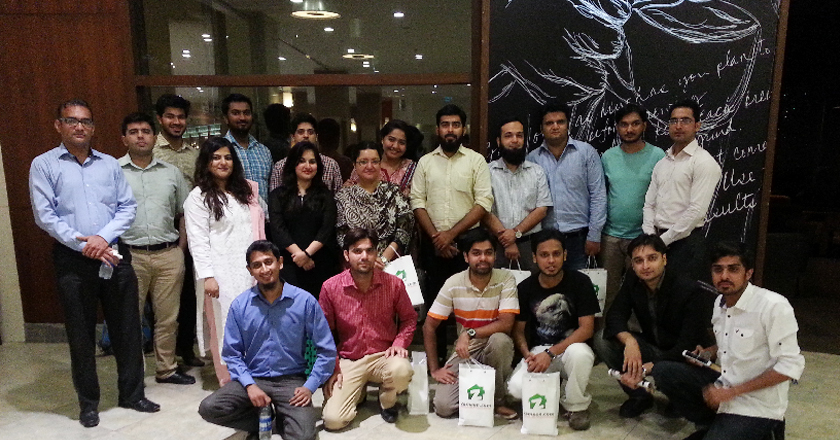 Zameen.com arranged its 4th Bloggers Meet-up on 28th May, 2015 at Gloria Jean's Coffee, Dolmen City Mall, Karachi. This event was intended to serve as a platform for increasing networking among bloggers, share SEO tips and tricks and introduce bloggers to the insights, workings and achievements of Zameen.com.
First talking about Zameen.com, it is the leading pioneer in real estate portals founded in 2006. With loads of search features and a particularly easy to navigate website, it has fast become a dominant part of property related activities.
Zameen.com has achieved great success since its inception, winning CNBC Pakistan Best Property Portal Award just a year after it was founded. In 2008 Zameen.com won CNBC Best International Portal Award catapulting it to the top. It is still growing strong with more than 1,200,000 listings as of 2015.
The meet-up sought out to introduce the bloggers to each other both from Karachi and Lahore in the first round.  Introduction of the Zameen.com and Zameen Team was the focus of the second round. The third round closed with sharing of SEO tips & tricks from bloggers as well as Zameen Team.
Shaista Zulfiqar, , Senior Manager Communications and PR at Zameen.com facilitated the bloggers with the introduction of Zameen.com and also answered queries. She explained how in just 2013, Zameen.com launched an Online property channel, mobile compatible site, App and an Urdu site.
The Digital Marketing Manager of Zameen.com, Mr. Shehryar Qureshi shared insights about the company including stats about the portal visitor stats, social media stats and some handy tips regarding retaining readers and reducing bounce rate.
Team Zameen talked about the power that bloggers hold and how it can be turned into a force to change the condition of the country for good. They invited the bloggers to write about societal problems and increase awareness on a national level.
All in all the bloggers meet-up served its purpose gracefully. It was great to see bloggers networking, sharing tips, having fun and motivated the bloggers and team to collaborate further in increasing awareness.