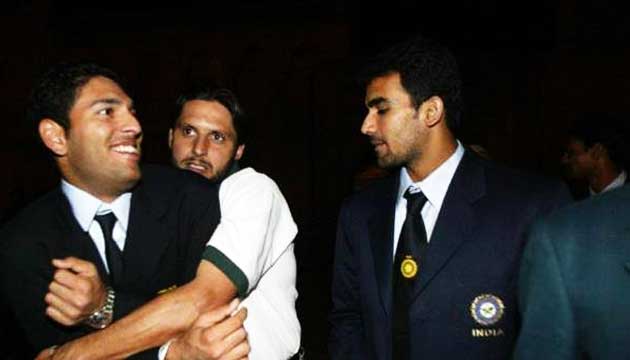 Divided by borders but united by cricket, Pakistani and Indian cricketers are always thought to be arch enemies but a recent video message by Indian cricketer, Yuvraj Singh proves otherwise.
The 33-year-old all-rounder who recently got engaged shared a candid video message for Shahid Afridi. Watch the video below:
[fb_embed_post href="https://www.facebook.com/ShahidAfridiOfficial10/videos/vb.671486682914093/997917223604369/?type=2&theater/" width="550″/]
In the video, Singh has sent his best wishes to Afridi's Team Peshawar for Pakistan Super League 2016 to be held in UAE.
See More: Famous Cricketers and Their Amazing World Records
Yuvraj and Afridi, who are known for their hot tempers on the field, have always managed to create tension whenever they came head-to-head against each other, but Yuvraj's message clearly tells that off the field, he respects Afridi for his amazing batsman skills and soft-heartedness.
See another example of Shahid and Yuvraj's bond in the image below: