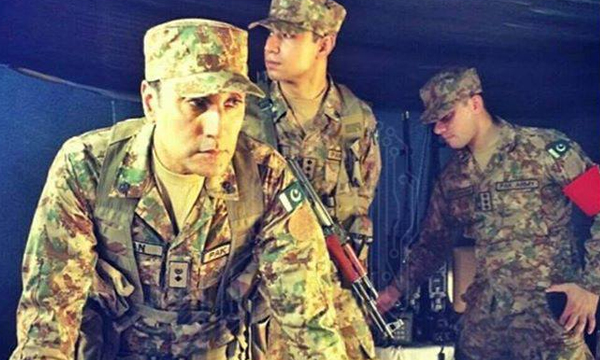 Adnan Siddiqui's debut film will show off his romantic persona.
One of the most notable faces of Pakistan's Entertainment industry, Adnan Siddiqui will be seen in a romantic avatar in Hassan Waqas Rana's much-anticipated film Yalghaar.
The actor said that his role in the film will show the lighter side of the army man.
"I play a patriotic soldier in the film and apart from showing the military life we have tried to portray the romantic side of soldier where he has poetic conversation with his wife," he said
Siddiqui added that to get into the skin of his role he had to undertaken vigorous training and attended pre-shooting workshop.
See some BTS Shots from Yalghaar shooting:
"Before the shoot kicked off the director had arranged workshops for us. I actually went to the military area and spend some time real soldiers to understand my role. I met Asim Bajwa and Col Ayubi and was briefed about my role including how a soldier look, stand, talk and behave in certain circumstances," he said.
Siddiqui, who calls Hasan Waqas Rana 'Doc', praised him for his professional attitude.
"I am lucky to work with Doc as he is thorough professional and knows ins and outs of his work completely," he added.
Pakistani Movies Releasing in 2016: Complete List, Trailers & Details
Talking about the revival of film industry he added that our country had a potential of becoming 100 crore market but we needed investment and daring attitude to produce good projects.
Siddiqui also had plans to venture into production and he had been in talks with his Yalghaar actress Aleeze Nasser to make a collaboration for future projects.