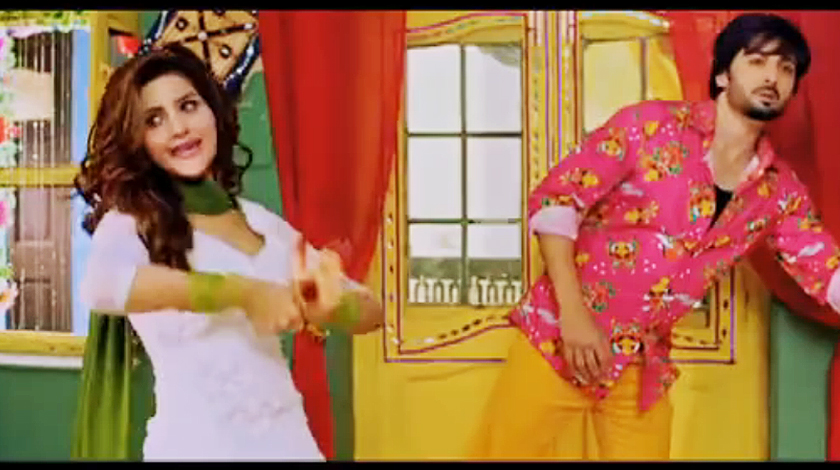 Sohai Ali Abro charms audiences with her moves in yet another song from her upcoming movie 'Wrong Number'. The dance number, 'Kundi', also features Danish Taimoor as a reluctant participant.
In 'Kundi', Sohai dances cheekily around a brightly lit and colourfully decorated set. Danish Taimoor's character seems less than enthusiastic by the current situation and seems to be focused on looking for a way out of it.
Read More: Wrong Number Trailer Released – Watch Video
Sohai's character is less than concerned about his annoyance and continues to merrily dance around him.
You can view the video for 'Kundi' below:

A model, dancer and an actress, Sohai became an overnight star with her stunning performances in various TV serials including Khoya Khoya Chand, Pyare Afzal and Tanhai.
As can be seen by this dance number 'Kundi', and a previously released item song called 'Selfiyan Re Selfiyan', the movie has allowed her to freely showcase her talents in dancing. She has managed to convey different types of sultry, cheeky, and cutesy moods through her performances in the aforementioned item songs.
The movie "Wrong Number" is a romantic- comedy film starring Danish Taimoor, Sohai Ali Abro, Shafqat Cheema, Javaid Sheikh, Janita Asma, Danish Nawaz and Nadeem Jafri.
Directed by Yasir Nawaz, the movie is in line to give competition to many new films releasing this Eid 2015.
Contributed By Hunza Gul.