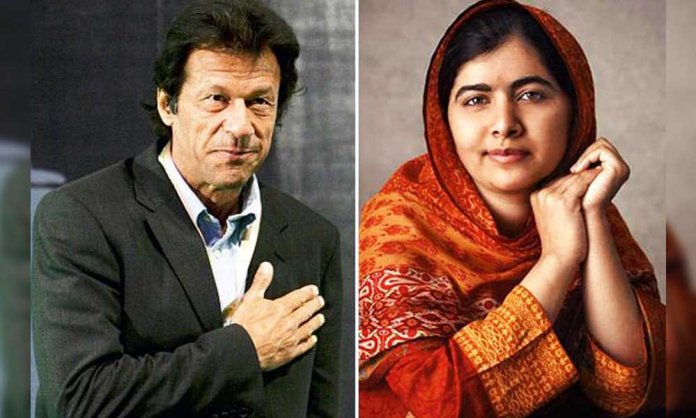 Prime Minister Imran Khan and Malala have been chosen as one of the 'World's Most Admired People of 2019'.
Pakistan's newly sworn-in Prime Minister Imran Khan grabbed the 17th spot in men's list while the Nobel Peace Prize winner Malala Yousafzai is the 6th most admired woman in the world.
Last year, Imran Khan has secured the 20th position and Malala held the 7th spot. Bill Gates and Michelle Obama have both been named as the most admired individuals of the year according to an annual survey conducted by research firm, YouGov.
Bill Gates has secured the title of the most admired man each year since the beginning of the survey! Former U.S. President Barack Obama came second, followed by Jackie Chan, Xi Jinping, and Alibaba founder Jack Ma. Indian Prime Minister Narendra Modi is also amongst the Top 10.
Shahid Afridi Meets PM Imran Khan to Discuss Cricket Academy
Although the women's list changed this year, the men's list has remained the same since last year's survey.
The 20 Most Admired Men The World 2019
Bill Gates
Barack Obama
Jackie Chan
Xi Jinping
Jack Ma
Narendra Modi
Christiano Ronaldo
Dalai Lama
Lionel Messi
Vladimir Putin
Warren Buffett
Amitabh Bachchan
Elon Musk
Donald Trump
Pope Francis
Shah Rukh Khan
Imran Khan
Salman Khan
Recep Tayyip Erdogan
Andy Lau
The 20 Most Admired Women The World 2019
Michelle Obama
Oprah Winfrey
Angelina Jolie
Queen Elizabeth (II)
Emma Watson
Malala Yousafzai
Peng Liyuan
Hillary Clinton
Tu Youyou
Taylor Swift
Madonna
Angela Merkel
Deepika Padukone
Priyanka Chopra
Ellen Degeneres
Aishwarya Rai
Sushmita Sen
Theresa May
Melania Trump
Yang Mi
Stay tuned to Brandsynario for all the latest news and updates.
"Blackmail me and I will expose you" : Imran Khan's Nephew Accuses Meesha's Team of Misusing #MeToo