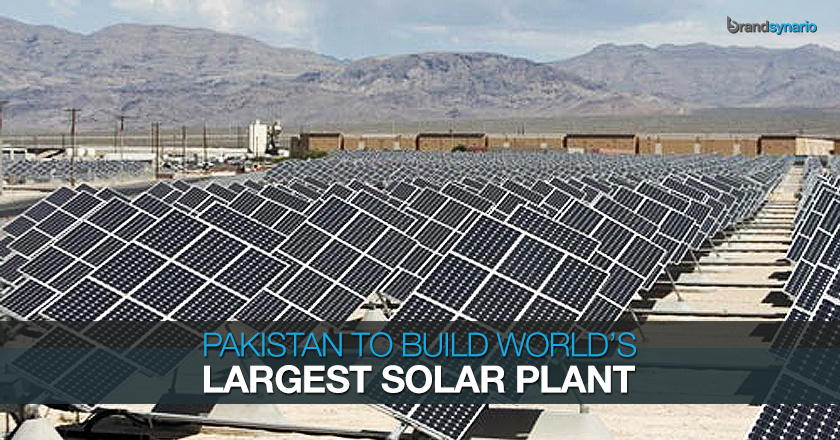 One of the biggest problems of Pakistan is the shortage of electricity, a dilemma that none of the previous governments have been able to solve till now. 
But the initiative taken by this government, currently in power gives us some hope. Thanks to the recent inauguration of Pakistan's first and world's largest solar power park at Bhawalpur Pakistan.
The solar power park is to generate 1000 MW electricity by 2016.
This new initiative has been launched under the name of Pakistan's founder, i.e. Quaid-e-Azam Solar Power Park, aiming to hold an investment of 131 Million Dollars by Government of Punjab, Bank of Punjab and TBEA Ltd. of China.
Entering in its first phase this December, the Solar Power Park will have 400,000 solar panels installed that will be able to produce 100 MW of electricity.
Some of the key highlights of this Solar Power project are:
Overall capacity: 1,000 Mega Watts
Phase 1 Capacity: 100 MW
Completion of Phase 1: December 2014
Phase II Capacity: 300 MW
Phase III Capacity: 600 MW
Final Capacity: 1,000 MW
Completion of final phase: Dec 2016
Dedicated Area: 6500 Acres (Phase 1 Area: 500 Acres)
Boundary Wall: 9 KM
Annual Solar Energy Generation after Completion: 2,000 kWh/m2
After the completion of this project Pakistan will be listed amongst the top 10 countries that are producing more than 1000 MW of electricity from solar power.
The current electricity production capacity of Pakistan is only 23,000 MW which is half the amount required. Thus, initiatives like the electricity generation from Solar Power and those currently under initial phases in Thar provide a hope for solution of this major issue.